Obama Weighs Sending Special Forces to Iraq as Advisers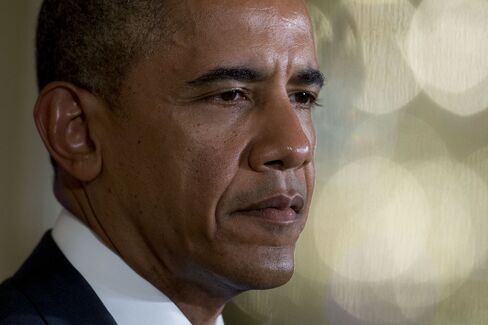 The Obama administration weighed options said to include sending as many as 100 troops to Iraq as advisers, as the U.S. urged a wider sharing of power there.
The Pentagon has given President Barack Obama a plan to send the special operations forces to Baghdad to help the country's military gather and analyze intelligence on Sunni militants, a U.S. defense official said. Obama hasn't yet signed off on the proposal, said the official, who asked for anonymity to discuss the deliberation.
The president, who has said he won't send ground combat forces, was meeting with his national security team this afternoon. A statement by the president, originally set for 12:30 p.m. Washington time, was delayed by at least 45 minutes as the meeting went on longer than scheduled, according to the White House.
The crisis in Iraq can't be resolved without political change, U.S. officials said, a sentiment endorsed by a French official who warned at a briefing in Paris today that the Middle East could find itself engulfed in a religious war. While France supports immediate military action, the use of force must go hand in hand with steps to ease political divides in the nation, the official said, speaking on condition of anonymity to discuss the French position.
The U.S. yesterday urged the Shiite-dominated government of Iraqi Prime Minister Nouri al-Maliki to be more inclusive of minority groups to help roll back gains by the rebel Islamic State in Iraq and the Levant, an al-Qaeda breakaway. Today, U.S. Secretary of State John Kerry said the U.S. isn't coming to Maliki's rescue.
"This isn't about Maliki. What the United States is doing is about Iraq," Kerry said in an interview with NBC news. "It's going to be focused on the people of Iraq -- Shiite, Sunni, Kurd."
Airstrikes Sought
Iraq has asked the U.S. to use airstrikes to help defeat the Sunni fighters, whose rapid military success has raised the specter of sectarian civil war in OPEC's second-largest oil producer. The conflict threatens to draw in the U.S. as well as regional powers including Shiite-ruled Iran and Sunni Gulf Arab states.
The United Arab Emirates yesterday summoned its envoy in Iraq for consultations and expressed "its deep concern at the continuation of the policy of exclusion, sectarianism and marginalization," according to the state-run WAM news agency. Saudi Arabia, the region's biggest Sunni power, also blamed "sectarian policies" for the crisis.
Maliki yesterday said all Iraqis, minority Sunnis and majority Shiites, stand united against terrorism. He warned that fighting could spill into neighboring states and blamed regional countries he didn't name for providing ISIL with moral and logistical support.
Oil Prices
Brent crude for August settlement traded at a nine-month high, rising as much as 54 cents to $114.80 a barrel on the London-based ICE Futures Europe exchange, the highest intraday level since Sept. 9. It traded for $114.56 a barrel at 11:56 London time.
Control of a major refinery at Baiji north of Baghdad has swung several times. The Salahuddin provincial police command said in a statement today that Iraqi security forces regained full control after overnight fighting. Military spokesman Qassim Ata said more than 70 terrorists who tried to storm Baiji were killed.
"Baiji refinery is totally under the control of the Iraqi armed forces," Ata said.
Exxon Mobil Corp. and BP Plc have begun removing employees in Iraq, and Obama notified Congress this week he would deploy as many as 275 troops to protect the U.S. embassy in Baghdad and other diplomatic installations.
Balancing Questions
Obama is balancing questions about the long-term viability of the Maliki government against calls from some Republicans to intervene more aggressively -- and from some Democrats to refrain from deepening engagement three years after the U.S. ended its combat mission in Iraq.
The president briefed Democratic and Republican congressional leaders at the White House yesterday on what the administration termed "options for increased security assistance" for Iraq.
"The president said he is not currently considering actions that would require congressional approval but was very clear that he would consult with Congress if that changed," Senate Majority Leader Harry Reid, a Nevada Democrat, said in a statement after meeting with Obama.
Underscoring the U.S. stance, Vice President Joe Biden yesterday spoke by telephone with Maliki, top Iraqi legislator Osama al-Nujaifi and Kurdistan Region President Massoud Barzani to express U.S. solidarity with Iraq against the militants. Kurdish armed forces have also clashed with ISIL insurgents.
Biden "emphasized the need for the prime minister -- and all Iraqi leaders -- to govern in an inclusive manner, promote stability and unity among Iraq's population, and address the legitimate needs of Iraq's diverse communities," according to a White House statement.
The Sunni Muslims are a majority in Anbar Province to the west and in areas north of Baghdad. These regions lack the oil wealth concentrated in the Shiite-dominated south and the semi-autonomous Kurdish regions in the north.
Before it's here, it's on the Bloomberg Terminal.
LEARN MORE