After That Prescription, Let's Test Your Memory
Alzheimer's screenings by Rite Aid pharmacists draw criticism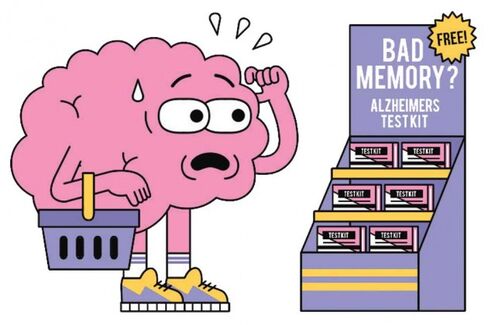 In recent years, local pharmacies have become the go-to places for a variety of medical tests—everything from identifying HIV infection to checking fertility levels. Memory tests given at Rite Aid drugstores as an early warning for Alzheimer's, however, are drawing fire from doctors who say the screenings don't work well and may cause fear among people who don't have the disease.
The drugstore chain is making the tests available this month at more than 4,000 stores in partnership with the Alzheimer's Foundation of America (AFA), a coalition of 1,700 nonprofit, social service, and health-care groups that help support patients' families and caregivers. The 5- to 10-minute test of oral and written questions screens for early memory loss, including symptoms tied to Alzheimer's and dementia, according to the foundation.
The screenings raise disease awareness and may spur a consumer to see a doctor early, says Carol Steinberg, the foundation's president. Some physicians, though, argue that the tests can be inaccurate and that people who do poorly may spend time and money worrying about a disease they don't have. They say the tests should be given in a medical setting, with the results assessed by a professional trained in memory loss detection.
"Teaching someone how to perform a cognitive assessment is not a trivial matter," says David Knopman, a professor of neurology at the Mayo Clinic in Minnesota. "It takes some training and background in knowing about neurology." Knopman is a member of the scientific advisory board of the Alzheimer's Association, which bills itself as the largest nonprofit funder of Alzheimer's research. The group doesn't support the in-store tests.
Alzheimer's, the most diagnosed form of dementia, affects about 5 million people in the U.S., and that number is expected to triple by 2050. There is no cure for the disease. Alzheimer's may be the country's third-leading killer, accounting for as many as half a million deaths annually, researchers reported in the journal Neurology in March.
The tests at Rite Aid were first offered on June 4 at no cost as part of the chain's "wellness65+ Wednesday" events, which encourage the elderly to manage their health. Rite Aid is offering additional screenings this month at select stores. "We'll continue to explore ways to bring AFA screenings and resources to our customers and the communities we serve," says Ashley Flower, a spokeswoman for Rite Aid, the third-largest U.S. drugstore chain. She says pharmacists have been instructed on how to administer the screenings. The AFA provided the paper tests, called a Mini-Cog.
The test involves asking patients to remember three unrelated words, drawing the numbers of a clock into an empty circle, drawing hands to a specific time on that clock, then asking the patient to recall the three words again. The test may show memory issues, but there is limited evidence supporting its use as a diagnostic tool for dementia, researchers said in an October study in the Annals of Internal Medicine.
While the drugstore chain's partnership with the foundation may help educate people about dementia, "there are huge problems with large-scale screening at this point," says Arthur Caplan, director of the division of medical ethics at NYU Langone Medical Center in New York. "This diagnosis is so feared, so terrifying to people, that doing a well-intended but not extremely accurate or well-counseled program can lead to a lot of trouble."
Tracey Meade, a former Rite Aid employee and now an assistant professor at South University School of Pharmacy based in Savannah, Ga., says the use of screening tools is taught in pharmacy schools, and students learn about cranial nerves, disease states, and treatments available for neurological diseases. "Screening tools are very useful, especially to retail pharmacists, and students probably have a higher degree of knowledge than other health-care professionals realize," Meade says. And because pharmacists are available at off-hours, she says it's important for patients to be able to connect to them and learn how to improve their health.
Steinberg of the Alzheimer's Foundation says pharmacists are trusted health-care professionals who communicate with people with illnesses all the time, similar to nurses or social workers. The screening results are not a diagnosis, she says, and the pharmacist would prompt a patient to follow up with a doctor. There are also educational materials on brain health available for customers at Rite Aid stores.
Some health professionals see a middle ground. The "great advantage" to the Rite Aid campaign is that it raises awareness about getting tested for cognitive function early, which should be just as routine as blood pressure checks, says Marsel Mesulam, director of the cognitive neurology and Alzheimer's disease center at the Feinberg School of Medicine at Northwestern University. "Anyone who feels like it, should go—as long as it's understood that these tests require a lot of interpretation."
Before it's here, it's on the Bloomberg Terminal.
LEARN MORE