Zoopla Rises After IPO Prices Homes Website at $1.6 Billion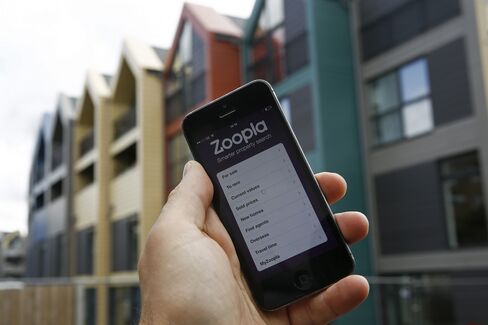 Zoopla Property Group Plc, owner of real estate websites Zoopla and PrimeLocation, rose on its first day of trading as controlling shareholder Daily Mail & General Trust Plc profits from a surging U.K. housing market.
Zoopla was priced at 220 pence a share on the London Stock Exchange, for a market value of 918.8 million pounds ($1.6 billion). The stock rose as much as 7.3 percent to 236 pence and was up 3.9 percent at 12:18 p.m.
The IPO is the latest in a London market that has seen the busiest first half since 2011, data compiled by Bloomberg show. Zoopla's competitor Rightmove Plc is down 20 percent this year, underperforming global peers and the FTSE 350 Real Estate Index.
Daily Mail and principal selling shareholders, other than co-founders Alex Chesterman and Simon Kain, will own a combined 52.6 percent of the stock following Zoopla's initial public offering. The Daily Mail stake alone will amount to 33.7 percent and keeping the largest stake suggests it thinks Zoopla is under-valued, Liberum Capital Ltd. said in a note to clients.
"Zoopla's flotation has been caught marginally offside by the Bank of England flagging that the housing market must be dampened," Bruce Dear, head of London real estate at Eversheds LLP said in a note. "This explains their sensible 'lower half' pricing. How Zoopla must wish it had made its IPO run three months ago."
Zoopla, which was merged with London-based Daily Mail's online property-listings division in 2012, had a record 39.9 million average monthly visits to its websites in the six months through March.
Housing Boost
The U.K. housing market is getting a boost from low borrowing costs and government incentives as well as an improving economy. Bank of England policy makers said a rate increase this year may be more likely than investors anticipate.
Owners of Foxtons Group Plc, a U.K. real estate broker, raised 390 million pounds in an IPO in September. Deutsche Telekom AG agreed in November to sell 70 percent of its Scout24 unit, which includes a real-estate portal, to Hellman & Friedman LLC for about $2.1 billion.
Zoopla and PrimeLocation let users search for property to rent or buy, find brokers and compare rental and sale prices in different towns. Customers can search for a home based on commute time, and can also get advice on decoration or buying in France.
Before it's here, it's on the Bloomberg Terminal.
LEARN MORE