Soccer Players Wide-Eyed as 'Felony Foam' Makes World Cup Debut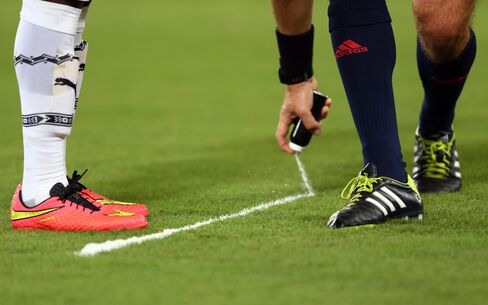 June 18 (Bloomberg) -- Netherlands defender Bruno Martins Indi's eyes widened when referee Nicola Rizzoli sprayed a white foam on his cleats midway through his team's 5-1 victory against World Cup holder Spain.
Indi, who plays for Rotterdam-based Feyenoord, was standing in a wall of players defending a free kick when the foam hit his white shoes on June 13. He looked down at his feet and complained to Rizzoli. Vanishing spray, an innovation to mark out distances for free kicks, is being used at the World Cup for the first time, proving a novelty to European players and referees alike.
"We had a few referees that were a bit reluctant at the beginning," FIFA's head of refereeing Massimo Busacca said in response to e-mailed questions about the spray. "Once they saw advantages of the vanishing spray, they were all in favor."
The sight of referees on the field with cans of the shaving cream-like substance in hip holsters has also become a talking point on social media sites like Twitter. A reference to the spray as "felony foam" by a user called USA Soccer Guy was re-tweeted 417 times.
The water-based spray disappears about a minute after use, according to the supplier, Argentine company 915 Fair Play. Its website says the spray, called 915 Fair Play Limit, has been used in 18,000 matches and 100 competitions. The company didn't respond to e-mails for comment.
South America
FIFA has allowed South American nations to use the foam since 2011. It's also been adopted by Major League Soccer in the U.S. and in Korea's K-League.
The 32 competing national squads learned how the spray would be used at a FIFA meeting in Brazil in March. Busacca said it helps prevent encroachment by teams defending free kicks.
"Their reaction was positive," Busacca said. "Same as the referees, the teams see it as a good way to make the 9.15 meter (30 feet) distance between the wall and the ball be unmistakably respected."
Busacca, a former World Cup referee from Switzerland, said he'll analyze the results to see if the use of foam leads to more goals after free kicks. The first 13 games of the tournament produced 41 goals at an average of 3.2 per game. If that ratio is sustained throughout the monthlong tournament, it would be the highest average since the 1958 event in Sweden.
For some players the use of artificial aids -- FIFA also is relying on technology to confirm whether balls have crossed the goal line at a World Cup for the first time -- are a step too far.
"Soccer maybe should be more classic, why so many gadgets?" Mexico defender Carlos Salcido, 34, said in an interview in Fortaleza, Brazil. "But everyone has the right to invent things."
To contact the reporter on this story: Tariq Panja in Rio de Janeiro at tpanja@bloomberg.net
To contact the editors responsible for this story: Christopher Elser at celser@bloomberg.net Sara Marley, Michael Sillup