N.Z. Building Boom Supports Growth as Wheeler Eyes Rate Rise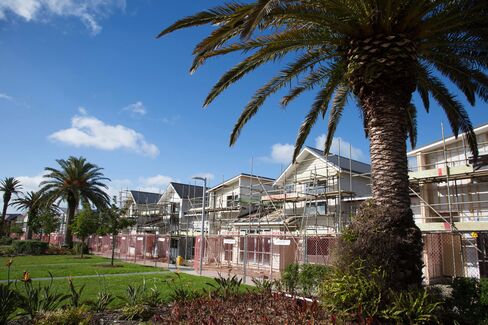 New Zealand's building boom sustained economic expansion in the first quarter as the central bank considers whether to raise interest rates again as soon as next month.
Gross domestic product increased 1 percent from the fourth quarter, when it rose a revised 1 percent, Statistics New Zealand said in Wellington today. That's less than the 1.1 percent forecast by the Reserve Bank and by economists in a Bloomberg News survey. Still, from a year earlier GDP rose 3.8 percent, the fastest pace since 2007 and more than the 3.7 percent median estimate.
The NZ$40 billion ($35 billion) rebuilding of earthquake-damaged Christchurch, surging dairy exports to China and the strongest immigration in 11 years mean the economy is expanding faster than its capacity, stoking price pressures. RBNZ Governor Graeme Wheeler on June 12 raised the official cash rate by a quarter percentage point to 3.25 percent, the third increase this year, and signaled more to come.
"While the headline was a bit softer than we or the Reserve Bank had expected, taking revisions to previous quarters into account today's result still suggests that the economy had developed considerable momentum at the start of the year," said Michael Gordon, senior economist at Westpac Banking Corp. in Auckland. "Today's numbers will do nothing to dissuade the Reserve Bank from its intention to continue hiking the OCR in its July review."
New Zealand's dollar eased to 87.09 U.S. cents at 2:15 p.m. in Wellington from 87.35 cents before the report.
Faster Inflation
Annual inflation will accelerate to 2.1 percent by mid-2015 from 1.5 percent in the year through March, the RBNZ said last week. Wheeler targets 2 percent annual inflation.
Fourth-quarter growth was revised up from 0.9 percent, and annual growth accelerated from 3.3 percent in the 12 months through December. The RBNZ forecasts it will quicken to 4.2 percent in the current quarter before slowing to 3.3 percent by the end of the year.
Nine of 12 economists surveyed by Bloomberg News after last week's decision forecast Wheeler will raise borrowing costs to 3.5 percent at his next decision on July 24. The rate will rise to 3.75 percent by the end of the year, according to the survey median.
Construction Boom
In the first quarter, construction increased the most in 14 years, rising 12.5 percent from the fourth quarter, the statistics agency said today. Building activity in Christchurch and the surrounding Canterbury province surged 25 percent as the region rebuilds from devastating earthquakes in 2010 and 2011, the worst of which killed 185 people.
Other contributors to quarterly growth were mining, led by oil and natural gas extraction, and retailing, led by furniture and appliance purchases, the agency said. Farm production increased 1.2 percent, led by dairy.
Overall manufacturing was little changed as food and machinery output slowed.
The expenditure measure of GDP rose 1.3 percent in the first quarter, led by investment and exports. Household spending was little changed.
Exports, which make up about 30 percent of the economy, rose 3.1 percent, led higher by meat and dairy products as well as primary products such as apples and kiwifruit, the statistics agency said. Imports gained 1.7 percent, led by purchases of capital goods.
Investment in residential building jumped 11.6 percent, the most since 2002, while non-residential investment surged by a record 17.5 percent, the agency said. Business spending on plant, machinery and equipment declined.
Before it's here, it's on the Bloomberg Terminal.
LEARN MORE