Korea Rate Bets Undone as Choi Nomination Flags Growth Push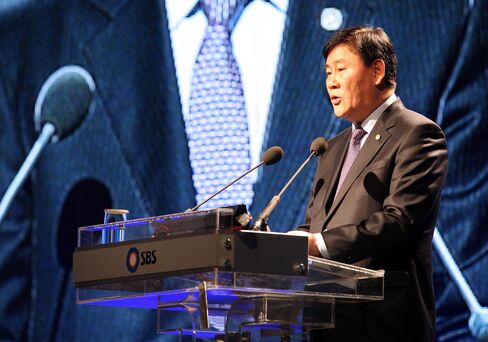 Choi Kyung Hwan is wiping out expectations for an interest-rate increase in South Korea.
Since the ruling party lawmaker was nominated for the top Finance Ministry post by President Park Geun Hye on June 13, money markets have ruled out any lingering prospect that the Bank of Korea would boost its key rate this year for the first time since 2011. Yields on three-year government notes have tumbled to the lowest level in almost 13 months.
While BOK Governor Lee Ju Yeol had already damped speculation of a rate increase by year-end amid signs that inflation will not exceed the bank's target range as growth in Asia's fourth-biggest economy slows, the nomination is proving to be the final straw for traders. Choi last week described South Korea's recovery as "slow" and Nomura Holdings Inc. said it is likely he will support measures to stimulate property demand and spending, putting pressure on policy makers to keep borrowing costs lower for longer.
"Nominee Choi is seen as pro-growth," Park Jong Youn, a Seoul-based fixed-income analyst at Woori Investment & Securities Co., one of 21 firms that deal directly with the government at debt auctions, said in a June 13 telephone interview. "Rate-cut speculation will emerge as economic data falls below expectations in the second half," he said, predicting there will be no change before at least mid-2015.
Cabinet Changes
Choi's nomination was part of a cabinet shuffle by Park designed to help reverse a slump in popularity that's left her approval rating at a one-year low following the April ferry disaster that killed almost 300 people. Though parliament has a right to a hearing before any cabinet change, there is "little chance" of an attempt to prevent Choi taking the position, according to Kim Kyung Soo, a professor of economics at Sungkyunkwan University in Seoul and a former BOK official.
The difference in yield between three-month certificates of deposit and where forward contracts signal they will be in six months turned negative on June 13, the day Choi was named, data compiled by Bloomberg show. It was minus three in Seoul today, down from this year's high of eight on April 23. That compares with minus 21 basis points on May 8, 2013, the day before the central bank's last rate cut. The three-month yield tends to move in step with the benchmark seven-day repurchase rate.
Government bond yields have also retreated. The yield on three-year notes has dropped five basis points, or 0.05 percentage point, to 2.73 percent since the day before Choi's nomination, Korea Exchange prices show. That's the lowest for a benchmark note of that maturity since the month of the rate reduction. It fell 10 basis points last week, the biggest decline in a year.
Historical Pressure
While the BOK is independent, a labor union representing central bank workers said in April 2013 that the government was pressing for a loosening of policy to support the economy. The monetary authority cut the rate the following month to 2.50 percent from 2.75 percent, a decision forecast by six of 20 economists surveyed by Bloomberg.
The finance ministry and central bank have their own mandates and they should respect each other's roles, BOK Governor Lee told reporters in Seoul on June 13, when asked how he would work with Choi.
The monetary authority kept its key rate unchanged for a 13th straight month on June 12. Lee said after the meeting that a surge in the won was hurting the economy and added on June 13 that there was "less clarity" on whether growth will meet the bank's 4 percent forecast this year.
Rate Swaps
"There are always expectations for a rate cut with a new finance minister, as investors think the incoming chief will be eager to introduce some changes," Moon Hong Cheol, a Seoul-based fixed-income analyst at Dongbu Securities Co., one of the firms that bid at the government auctions, said in a June 16 interview. "The governor also stepped back from his hawkish stance."
One-year interest-rate swaps have fallen three basis points since June 12 to a 13-month low of 2.63 percent, according to data compiled by Bloomberg. Eleven of 24 economists surveyed by Bloomberg predict borrowing costs will rise by as much as 50 basis points this year, while one sees a 25 basis-point cut and the rest no change.
Choi "will want a rate cut, easier property market controls and even an extra budget to boost domestic demand," Kim at Sungkyunkwan University said in a June 16 phone interview. "The BOK may be forced to cut interest rates as early as next month if they can't prove their rosy growth outlook and warning on inflationary pressures is correct."
Barclays Expectations
South Korean manufacturers' confidence dropped to a four-month low in June, while consumer sentiment in May was the weakest in eight months, Bank of Korea data show. Inflation accelerated to 1.7 percent last month, the fastest pace since October 2012. The BOK's target range is 2.5 percent to 3.5 percent. Consumer-price gains will quicken to 2.7 percent in the fourth quarter, according to the median estimate of 15 economists surveyed by Bloomberg.
An increase in borrowing costs may still come this year because South Korea's economy is driven more by external factors such as the U.S. recovery, according to Wai Ho Leong, a Singapore-based economist at Barclays Plc.
There may be a "slight" delay in monetary tightening in the wake of the ferry disaster, Leong said in a June 16 e-mail. The bank originally forecast there would be a rate increase in September, he said.
Government agencies will work together to revive business sentiment hurt by the ferry sinking, Choi told reporters in Seoul after his nomination. Park also appointed lawmaker An Chong Bum as chief economic adviser last week.
Won's Gains
"Bonds will be supported as the central bank awaits data to confirm the effects of the ferry disaster on consumption and the strength of the won on exports," Moon Dong Hoon, the Seoul-based head of fixed income at KB Asset Management, which oversees 33 trillion won ($32.4 billion), said in a June 12 phone interview. "I expect the monetary authority to be data-dependent when deciding on the benchmark rate."
Exports are being hurt after the won strengthened 11 percent in the past year, the biggest advance among 31 major currencies tracked by Bloomberg. Overseas shipments unexpectedly shrank 0.9 percent last month, the biggest drop since September, official data show.
South Korea's economy expanded 3 percent in 2013, accelerating from 2.3 percent a year earlier. The median estimate of 38 economists surveyed by Bloomberg News is for a growth rate of 3.6 percent in 2014.
BOK Forecast
The central bank may cut its 4 percent economic-growth forecast for this year by 0.1 percentage point to 0.2 percentage point, Kwon Young Sun, a Hong Kong-based economist for Nomura Holdings, wrote in a June 12 research report.
"The governor's lack of confidence on the economic outlook and the nomination of a new finance ministry chief have brought some changes to the market's interest-rate outlook," Lim Kwang Taek, who oversees 6 trillion won as the Seoul-based managing director of fixed income at Korea Investment Management Co., said in a June 16 phone interview. "It seems we can't rule out the possibility of a rate cut, and bonds will be supported for now."
Before it's here, it's on the Bloomberg Terminal.
LEARN MORE