Exxon, BP Evacuate Iraq Workers as Oil Drilling Continues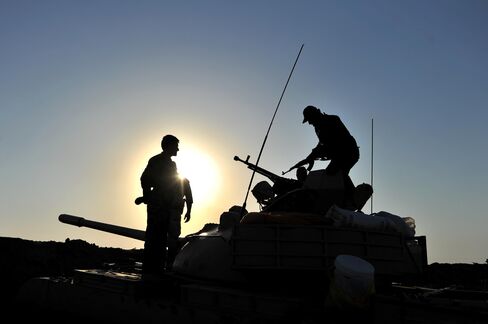 Exxon Mobil Corp. and BP Plc began removing employees from Iraq, OPEC's second-largest oil producer, after Islamist militants seized cities north of Baghdad and attempted to capture a refinery.
Exxon evacuated some workers from the West Qurna oil field, according to a person familiar with the company's Iraq operations. BP Plc removed non-essential workers, Chief Executive Officer Bob Dudley said June 17. Malaysia's Petroliam Nasional Bhd. moved 28 of its 166 Iraq employees to Dubai, the company said by e-mail yesterday. Royal Dutch Shell Plc isn't evacuating staff yet and is ready to do so, Andy Brown, head of Shell Upstream International, said in an interview in Moscow.
The companies all said they're continuing to pump oil and there are few signs Iraq's production has been curbed after Islamic State in Iraq and the Levant fighters took northern cities including Mosul. Police near the Baiji refinery, the nation's largest, said government forces are now in control after a battle with ISIL. Crude shipments from the south, where most production is located, may accelerate next month and Kurds are defending the Kirkuk oilfield in the north.
"The only infrastructure that is currently producing and supplying international markets is in the south and will remain untouched," said Kyle Stelma, managing director of Dubai-based Dunia Frontier Consultants, which researches Iraq for clients.
ISIL Fighters
Fighters from ISIL battled government forces for control of the Baiji refinery in northern Iraq yesterday, a day after clashes in Baquba, 34 miles (55 kilometers) northeast of the capital. A military spokesman said elite Iraqi forces were defending the Baiji refinery.
A fuel tank at the refinery caught fire after shelling by militants yesterday, according to the provincial police command. The refinery halted operations on June 15 after oil-product shipments were stopped to nearby areas and its storage tanks were full, according to Iraq's Oil Ministry.
Brent crude rose to a new nine-month high. The international benchmark advanced to as much as $114.80 a barrel as of 8:53 a.m. in London, the highest since Sept. 9. It was last at a nine-month high on June 13.
Companies including Chevron Corp., Total SA, Marathon Oil Corp., Crescent Petroleum and Abu Dhabi National Energy Co., which are drilling in the Kurdish region, are continuing to operate. Marathon hasn't evacuated employees, spokeswoman Lee Warren said. Chevron's operations continue "as normal," spokesman Kurt Glaubitz said. Toronto-based Oryx Petroleum Corp. Ltd. announced yesterday successful testing and a ramp-up in drilling activity in the Kurdish region.
War Risk
The success of ISIL, a Sunni Muslim al-Qaeda breakaway group, threatens to re-ignite a sectarian civil war in the country. It also risks escalating into a conflict that draws in the U.S. and Iran in defense of Prime Minister Nouri al-Maliki's Shiite-led government, three years after the withdrawal of U.S. forces. Iraq is the largest oil producer in the Organization of Petroleum Exporting Countries, after Saudi Arabia.
BP's Dudley said the violence was "terrible" and would have "far-reaching, wide-ranging implications" for the region, although it isn't likely to spread all the way to the country's southern oil fields.
Iraqi forces killed a Saudi fighter during ISIL's "failed attack" on the Baiji refinery yesterday, state-sponsored Iraqiya television reported. Baiji has about 40 percent of Iraq's refining capacity, data compiled by Bloomberg show.
"Iraq will have to increase the import of oil products to make up for the loss of Baiji's production," Robin Mills, the head of consulting at Dubai-based Manaar Energy Consulting and Project Management, said in an interview in Dubai. "Baiji mainly supplies the north, but also Baghdad."