Fed Decision Day Guide From Dot Plots To Exit Strategy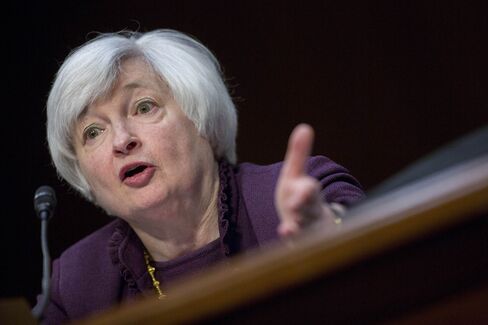 June 18 (Bloomberg) -- Here's what to look for when the Federal Open Market Committee releases its policy statement at 2 p.m. today in Washington along with new economic projections. Federal Reserve Chair Janet Yellen plans to give a press conference at 2:30 p.m.
-- Sticking to zero: Yellen will probably emphasize that the Fed will keep its main interest rate close to zero for at least a year even with inflation rising toward the Fed's 2 percent goal and the job market improving faster than officials expected, said Roberto Perli, a partner at Cornerstone Macro LP in Washington.
-- The 6.3 percent unemployment rate is already at the top end of the range that most officials in March forecast for the end of this year.
-- Similarly, the personal consumption expenditures price index, the Fed's preferred inflation gauge, rose 1.6 percent in the year through April, a rate most officials expected at year-end. The consumer price index, a separate inflation measure, rose last month by 0.4 percent, the biggest gain since February 2013.
-- Yellen will probably say "rate hikes are at least a year away," said Perli, former associate director of monetary affairs at the Fed. "Fed policy is likely to remain very supportive of equities," he said in a note to clients.
-- Lingering chill: Fed officials will probably lower their estimates of 2014 gross domestic product growth to account for a first-quarter contraction caused in part by harsh winter weather, said Michael Gapen, a senior U.S. economist at Barclays Plc in New York.
Growth Estimate
-- Fed officials' estimates for growth this year will probably fall to a range of about 2.6 percent to 2.8 percent from 2.8 percent to 3 percent in March, Gapen said.
-- Still, officials will probably stick to an estimate of 3 percent growth for "the second half of this year and beyond" amid signs the economy is gaining strength, said Millan Mulraine, deputy head of U.S. research and strategy at TD Securities USA LLC in New York.
To contact the reporter on this story: Matthew Boesler in New York at mboesler1@bloomberg.net
To contact the editors responsible for this story: Chris Wellisz at cwellisz@bloomberg.net James L Tyson