Canada's Oliver Says Early Yuan Hub Talks Under Way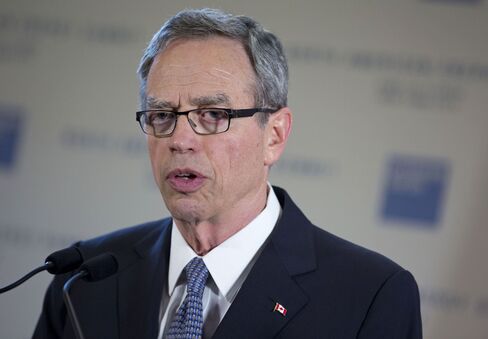 Canada has held talks with the Chinese government about establishing a trading hub for the yuan in North America, according to Finance Minister Joe Oliver.
"There have been some very preliminary discussions with the Chinese government," Oliver told reporters yesterday in Ottawa, without elaborating.
Canada's New Democratic Party, the main opposition in parliament, said yesterday in an open letter to Oliver that the government should work to make Canada the first yuan-trading hub in North America, after business and government leaders in Toronto and British Columbia said efforts to set up the hubs need support from the federal government.
"This is a very positive sign," said Janet Ecker, chief executive of the Toronto Financial Services Alliance, a group of business and government representatives. "What people do needs the political approval of China, government approval. So that's an important step, and that's something that can only happen government-to-government."
Cities around the world are racing to establish trading centers for the yuan, which surpassed the euro last year to become the most widely used currency in trade finance after the U.S. dollar. The $5.3 trillion-a-day currency market keeps itself open 24-hours by rotating between three time zones: Asia, Europe, and North America. While Asia and Europe have multiple yuan trading hubs the Americas have none.
"In principle, I think it could be a good idea," Oliver said, adding "at the end of the day, this is a private sector decision. There has to be enough trading activity to merit it."
Regional Hubs
Peggy Nash, the NDP's spokeswoman on finance issues, said in her letter "there would be great advantage to the Canadian economy to secure the first North American settlement center."
China has already signed agreements to trade the yuan more freely with Singapore, London, Frankfurt and others as part of an economic restructuring that includes taking steps to loosen exchange controls.
"The other important factor here is that there are a lot of important issues here between the two countries in terms of trade, so this needs to fit in with all of those as well and be supportive," Ecker said yesterday.
British Columbia Finance Minister Michael de Jong said in a June 12 interview he's in discussions with Oliver to make sure Vancouver becomes a hub along with Toronto.
Official hub status in most other jurisdictions has consisted of two things: a currency swap agreement between the two country's central banks and the appointment of a clearing bank by the Chinese. A swap agreement gives a country's central bank access to yuan it can lend as a backstop for a commercial bank to settle transactions if it depletes its own reserves. A designated clearing bank is appointed by Chinese authorities to settle transactions in yuan, also known as renminbi.
More Turnover
Nash said in her letter that establishing a yuan trading hub would be a growth opportunity for Canada's financial industry and a way to reduce the cost of doing business with China. Currently, Canadian dollars cannot be directly converted into yuan and must first be exchanged for other currencies like euros or U.S. dollars.
Turnover in the Chinese currency jumped to $120 billion a day as of April 2013, from $34 billion a day in April 2010, the Bank for International Settlements said in its latest triennial survey of currency traders released in September. That helped make it the ninth most-actively traded currency with a 2.2 percent share of global volumes, according to the survey.
China became the world's biggest goods-trading nation in 2013 after annual trade surpassed $4 trillion on Dec. 19, China's government said last month. Brazil, the U.S. and Canada together account for one-sixth of China's trade, according to London-based Standard Chartered.
Even a partial shift by Latin American commodity exporters to invoicing in yuan would lead to a "huge" increase in renminbi flows from the Americas, economists led by Kelvin Lau, wrote in a report, which said the North American portion of that trade is "New York's to lose."
Before it's here, it's on the Bloomberg Terminal.
LEARN MORE