World Cup Pushes Brazilian Inflation Above Analyst Forecasts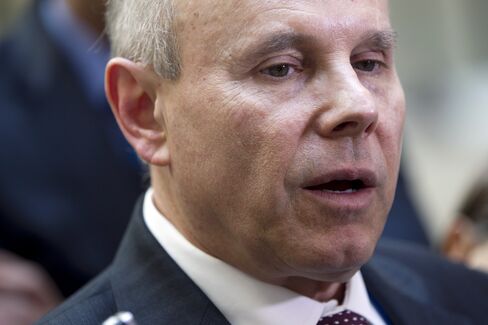 Brazil's consumer prices in the month through mid-June rose more than economists forecast, as the World Cup boosted prices for flights, hotels and tours.
Inflation as measured by the benchmark IPCA-15 index decelerated to 0.47 percent from 0.58 percent the prior month, the national statistics agency said on its website today. That was faster than the 0.42 percent median estimate from 38 analysts surveyed by Bloomberg. Flight price increases accounted for nine basis points of this month's inflation, the biggest single contribution.
After the longest rate-raising cycle in the world, the central bank in May held the Selic unchanged even as inflation continued accelerating toward the top of the government's target range. Finance Minister Guido Mantega said in April that the monthlong soccer tournament would produce a temporary quickening of inflation.
"Inflation surprised on the upside and the World Cup is behind the surprise," Enestor dos Santos, principal economist at Banco Bilbao Vizcaya Argentaria, said by phone from Madrid. If inflation breaches the 6.5 percent target ceiling in June, "that could generate some noise during the World Cup. It could fuel protests and these kinds of things. The government would be wishing to postpone this noise."
Swap rates on the contract due in January 2017, the most traded in Sao Paulo today were unchanged at 11.57 percent at 1:56 p.m. local time. The real strengthened 0.4 percent to 2.2530 per U.S. dollar.
Hotels, Tours
Hotel prices rose 4.1 percent in the month through mid-June, marking the biggest increase since records began in 2000, according to the IBGE's press office. The price of tours rose 5.3 percent and the cost of flights jumped 22.2 percent.
Price increases during the World Cup would be normal due to higher demand, while fares would fall afterward, Mantega told Agencia Estado in April.
Today's data reinforce the perception that the inflation trend is not as favorable as government officials have said, according to Flavio Serrano, senior economist at Banco Espirito Santo de Investimento. Core inflation was 0.6 percent, he said.
"We have been seeing some deceleration, but basically driven by foodstuff prices," Serrano said by phone from Sao Paulo.
Food and beverage prices rose 0.21 percent in the month through mid-June, down from 0.88 percent in the prior month. Personal expenses rose 1.09 percent after a 0.51 percent gain in May, the statistics agency said. Transport prices rose 0.5 after a 0.33 percent decline the prior month, it said.
Slipping Lead
Annual inflation quickened to 6.41 percent from 6.31 percent the prior month, above the median estimate of 6.35 percent. Policy makers target 4.5 percent inflation, plus or minus two percentage points. Consumer confidence last month plunged to the lowest level in more than five years, according to data published by the Getulio Vargas Foundation.
Inflation near the ceiling of the government's target range is crimping consumers' purchasing power ahead of the October presidential election and reducing incumbent Dilma Rousseff's lead.
Rousseff's lead over opposition candidate Aecio Neves narrowed to 16 percentage points in May from 27 percentage points in March, according to polls conducted by public opinion research company Ibope on June 4-7 and March 13-17, respectively. Each poll surveyed 2,002 people and had a margin of error of two percentage points.
Inflation accelerating because of the World Cup "doesn't help the government," Tony Volpon, head of Americas research for Nomura Holdings Inc., said by phone from New York. "We're talking about a couple tenths of a percent, but it just gives the opposition another stick with which to beat up the government, and of course they will take it."
Reduced Forecasts
Economists surveyed weekly by the central bank forecast inflation will reach 6.46 percent by year-end. They reduced their forecast for 2014 economic growth in Latin America's largest economy to 1.24 percent, following 2.5 percent expansion last year.
"The expansion of domestic activity tends to be less intense in comparison with 2013," according to the minutes of the central bank's May meeting, when policy makers held the Selic at 11 percent following 3.75 percentage points of tightening in the year through April.
Today's data will add pressure on the central bank to raise rates before October, according to Neil Shearing, chief emerging-markets economist at Capital Economics Ltd.
"We had the signal last month that rates are likely to remain unchanged until elections are out of the way, and I still think that's the most likely scenario," Shearing said by phone from London. "But it's possible inflation is going to be out of the target range next month, and that's going to test the resolve of the central bank."
Before it's here, it's on the Bloomberg Terminal.
LEARN MORE