BOE Says Investors Underestimating Chance of Rate Rise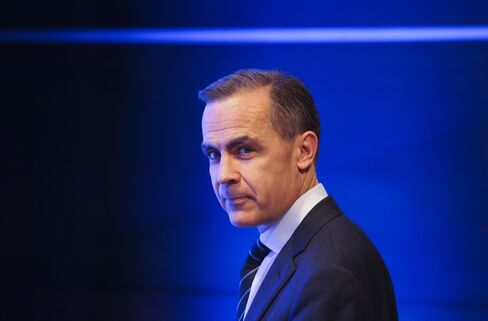 Bank of England policy makers said an interest-rate increase this year may be more likely than investors anticipate as the debate on the timing of the first policy tightening in seven years heats up.
With the economy strengthening, the nine-member Monetary Policy Committee said in the minutes of its June 4-5 meeting that the "relatively low probability attached to a bank rate increase this year implied by some financial market prices was somewhat surprising."
The minutes, coupled with comments today from Martin Weale, will further fuel speculation about when borrowing costs will rise after Governor Mark Carney said last week that tightening might start earlier than anticipated. That prompted investors to bring forward bets on the timing of such a move.
"Carney had already said it all," said Nick Beecroft, senior market analyst at Saxo Capital Markets in London. "This was therefore an unsurprising set of minutes which did however paint a picture of a committee which is becoming increasingly divided about the appropriate time for tightening."
Traders have added to bets for higher borrowing costs since Carney's comments. The implied yield on the short-sterling contract expiring in December climbed to 0.93 percent on June 16, compared with 0.73 percent on June 11.
In a speech, Weale said spare capacity in the economy may be less than the committee's central forecast of 1 percent to 1.5 percent of output and could be as low as 0.33 percent. He also said the BOE's plan for gradual rate increases "does imply that the first rise needs to come sooner than would otherwise be the case."
Unanimous Vote
The minutes showed the MPC voted unanimously to keep the benchmark rate at a record-low 0.5 percent this month, where it's been since March 2009. The report also indicated an increase isn't imminent, with all members agreeing they need to see more evidence of slack reducing first.
Inflation data yesterday support keeping policy loose. It showed consumer prices rose an annual 1.5 percent in May, the least since October 2009.
The BOE panel began shifting its view on policy last month, when it said the decision was becoming "more balanced" for some of its nine members. That phrase was repeated in today's minutes.
Forward contracts based on the sterling overnight interbank average show investors are betting the key rate will increase 25 basis points by February, compared with May before Carney's speech last week. The lack of dissension on rates in the minutes prompted money managers to pare those bets today.
Forbes Hearing
As investors and economists try to assess when the BOE may begin tightening policy, their job is being complicated by changes to the membership of the rate-setting committee.
Kristin Forbes, a professor at the Massachusetts Institute of Technology who will join the MPC next month, said today the main challenge for the next three years will be "normalizing monetary policy without undermining the current recovery."
At her appointment hearing in the U.K. Parliament, she said starting this process earlier "could provide more flexibility to make any adjustments more gradually."
"The economy is now beginning to recover, but it is unclear if the current sources of growth and employment gains are sustainable," she said. "Understanding exactly what is driving these trends is critically important in assessing how much slack exists in the economy and exactly when monetary policy should start to be normalized."
In its analysis, the MPC said in the minutes that the recovery has become more sustainable and the economy is "starting to return to normal." It also highlighted the fine line it must tread as it decides when to tighten.
"The case for raising the bank rate gradually and cautiously was reinforced by uncertainty over its likely impact on the economy, following the long period at 0.5 percent, although it could be argued that the more gradual the intended rise, the earlier it might be necessary to start tightening policy," the BOE said. "If policy were tightened prematurely however, that could be associated with considerable costs in terms of lost output."