U.S. Captures Suspected Leader in 2012 Benghazi Attack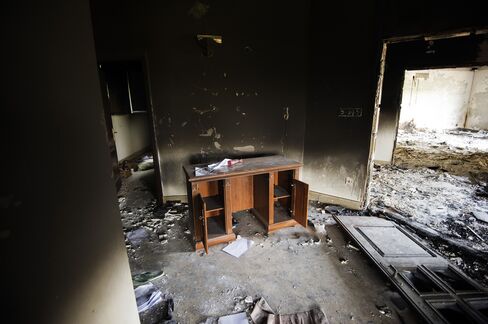 The Obama administration ruled out sending the suspected ringleader of the Benghazi attack to the Guantanamo Bay prison, reopening a debate with congressional Republicans on what to do with militants captured overseas.
Ahmed Abu Khatallah, described by the Pentagon as a "key figure" in the 2012 assault on U.S. outpost in Libya that killed Ambassador Christopher Stevens and three other Americans, is in military custody and heading to the U.S. to face trial.
"Some have suggested that he should go" to the U.S. detention center at the southeastern end of Cuba, National Security Council spokeswoman Caitlin Hayden said in a statement yesterday. "Let me rule that out from the start."
The capture of Khatallah during a secret raid by U.S. special operations forces near Benghazi on June 15 is a major break in the investigation of the deadly attack.
It's also a victory for President Barack Obama and for Hillary Clinton, who was secretary of state at the time of the attack. Both have faced criticism from congressional Republicans since the first days after the assault over the administration's initial explanation of its causes and whether the U.S. did enough to attempt to rescue Stevens and the others.
Republicans welcomed news that Khatallah was in custody while they criticized the administration's handling of suspected terrorists.
Khatallah's Status
"There has been a tendency in this administration, as you know, to treat this like a law enforcement matter -- read them their rights and get them a lawyer," Senate Republican leader Mitch McConnell of Kentucky said. "I hope they're not doing that."
Republican Senator Lindsey Graham of South Carolina, a vocal critic of the administration's foreign policy and its handling of the Benghazi attack, said Khatallah should be sent to Guantanamo Bay, questioned as an enemy combatant, and then "given due process in federal courts."
"It would be the biggest mistake for the ages to read this guy his Miranda rights," Graham said, referring to the right for those arrested in U.S. criminal cases to remain silent and be counseled by a lawyer.
"We should have some quality time with this guy -- weeks and months," Graham said. "Don't torture him but have some quality time with him."
Obama's Pledge
Obama took office promising to close the Guantanamo Bay prison, which was set up by then-President George W. Bush following the Sept. 11, 2001, attacks on the U.S. to hold detainees captured in the war on terrorism. There currently are 149 suspected terrorists at the prison, and Congress has put restrictions on the administration's ability to release or transfer them to other countries.
"We have not added a single person to the GTMO population since President Obama took office, and we have had substantial success delivering swift justice to terrorists through our federal court system," Hayden said, using the government's shorthand for the Guantanamo Bay facility.
Khatallah has been charged in U.S. District Court in Washington with three counts related to the attack, according to a criminal complaint dated July 15, 2013, and unsealed yesterday. Attorney General Eric Holder said additional charges may be filed and that the U.S. is continuing to look for co-conspirators.
The Benghazi attack has become part of broader Republican critiques of the administration's foreign policy, from its response to the Syrian civil war to the trade of Taliban prisoners held at Guantanamo Bay for Army Sergeant Bowe Bergdahl in Afghanistan and its reaction to the current strife in Iraq.
Graham's Concern
Graham yesterday tied Obama's handling of the Benghazi attack to how Obama is handling the threat posed to Iraq's government by militant Sunni insurgents who have taken over parts of the country and are threatening Baghdad, the capital of Iraq.
"We've got a Benghazi in the making," Graham said.
Obama announced on June 16 he's deploying as many as 275 military personnel to guard the U.S. embassy in Baghdad and provide security for consulates elsewhere in Iraq.
Republicans have faulted Clinton, a potential 2016 Democratic presidential candidate, for not ensuring that the U.S. diplomatic compound in Benghazi was better protected.
Clinton, in a CNN interview yesterday, said she was "very pleased" with Khatallah's capture, saying it's a clear demonstration of the U.S. commitment to see justice done.
She also said she's "still looking for answers" about the attack, and that she hopes having Khatallah in custody will help the U.S. "piece together" the motives and means of the attackers.
Fox News
In a later interview on Fox News, Clinton was asked extensive questions about the attack, which Republicans will likely keep focusing on if she decides to run for president.
"This was the fog of war," Clinton said on Fox when asked about the Obama administration's shifting statements on what sparked the violence. "We were trying to sort things out like who did what when, and information kept changing."
The Republican-led House started investigating the Benghazi incident less than a month after it occurred, spotlighting the administration's initial claim that it stemmed from "spontaneously inspired" demonstrations over an anti-Islamist video.
Officials later backed off that claim, and said that attackers linked to terrorist groups stormed the diplomatic compound and set fire to it.
Interrogations of Khatallah may provide more details on the planning of the attacks and whether anger generated by the video added fuel to it.
Republicans say that -- with the 2012 presidential vote less than two months away -- the administration may have intentionally misled the public about the origins of the attacks so as not to detract from Obama's record on combating terrorism. Various officials, including former Central Intelligence Agency Deputy Director Michael Morell, have repeatedly denied politics played a role in their first analysis of the attacks.