Platinum Strike Deal Said to Be Delayed on Union Demands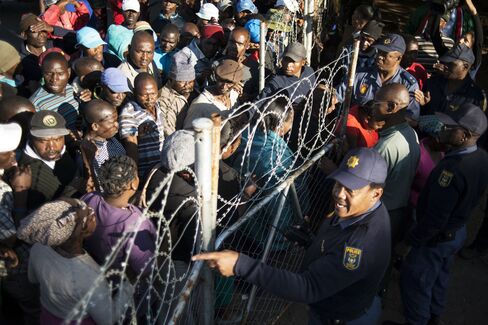 June 18 (Bloomberg) -- A deal to end a five-month strike at the largest platinum producers will be delayed by new union demands, according to two people familiar with the negotiations.
The Association of Mineworkers and Construction Union, representing more than 70,000 striking South African workers, is in talks with Anglo American Platinum Ltd., Impala Platinum Holdings Ltd. and Lonmin Plc. Union President Joseph Mathunjwa said on June 12 the labor group agreed "in principle" to the companies' proposals, subject to certain conditions.
While the platinum producers are able to address some of those conditions, other demands will need further talks, said one of the two people, both of whom asked not to be identified because the union's response hasn't been made public.
The AMCU's response was "beyond what had been agreed in principle," Mpumi Sithole, a spokeswoman for Anglo American Platinum, the world's largest producer, said by phone. The company and union leaders met today and their discussion will continue tomorrow. "AMCU is going to reflect on our feedback," Sithole said.
Workers have been on strike since Jan. 23 seeking improved benefits that include doubling of basic pay. The companies say they have lost 23 billion rand ($2 billion) of revenue in what's the longest and costliest mining strike in South African history. The country is the source of about 70 percent of the world's mined platinum.
Worker Payment
The union's new demands include a 3,000-rand payment for each employee on top of other allowances and wage increases, the people said. Workers fired during the walkout should be reinstated, while the AMCU would agree not to strike again in exchange for companies pledging to avoid job cuts, they said. Companies should withdraw criminal charges against members suspected of violence related to the strike, the people said.
"The companies simply cannot afford the additional wage demands," the producers said in a joint statement. The costs would total an additional 1 billion rand, they said.
The additional terms would cost Lonmin more than 200 million rand, the company said in a statement.
"We simply cannot afford the additional demands," Sue Vey, a spokeswoman for Lonmin, which also expects to meet soon with the union, said in an e-mail. "We call on AMCU leadership to return to and honor the conditions of last week's 'in principle' agreement" so that operations can resume, she said.
Lowest-Paid
The AMCU is still completing a final settlement, Treasurer Jimmy Gama said today by text message. "By the end of this week we shall know exactly when the agreement will be signed."
While the AMCU originally demanded an immediate increase in basic monthly salaries for the lowest-paid workers to 12,500 rand, the latest offer from producers includes an annual increase in the monthly wage of as much as 1,000 rand on the current wages of about 5,000 to 6,000 rand.
AMCU members, consulted before the union responded to the proposed settlement, raised issues including the length of the labor agreement, back pay, increases in allowances paid to miners who choose not to live in company-provided accommodation and the reinstatement of jobs, Mathunjwa said June 12.
The following day he said that the union's conditions for accepting a deal were "not a major stumbling block."
Platinum for immediate delivery rose as much as 1.4 percent and traded 0.5 percent higher at $1,446.85 an ounce by 4:50 p.m. in Johannesburg. Palladium increased 1.3 percent to $829 an ounce, paring gains of as much as 1.6 percent earlier.
To contact the reporter on this story: Andre Janse van Vuuren in Johannesburg at ajansevanvuu@bloomberg.net
To contact the editors responsible for this story: John Viljoen at jviljoen@bloomberg.net Randall Hackley