Now Your Startup Can Borrow a Wind Tunnel From NASA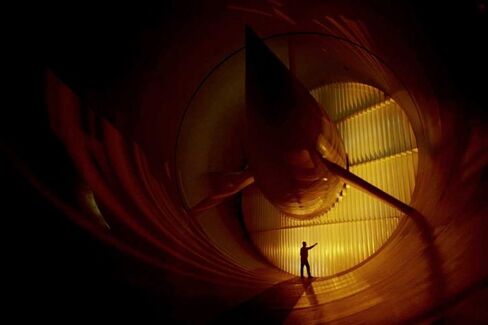 This week, President Obama is highlighting what anyone who's ever bought a driftwood birdhouse on Etsy or crowdfunded a robotic cockroach already knows: The maker movement is gaining steam. Today, Obama will announce a new program to give inventors access to $5 billion in equipment at 700 federal research and development facilities. Tomorrow, the White House will host a Maker Faire, a festival for crafters, amateur inventors, and all manner of do-it-yourself enthusiasts.
While the Maker Faire will be a better photo op, the equipment-sharing program is more interesting to budding entrepreneurs, who may gain access to NASA's wind tunnels or carbon-testing equipment at the Department of Energy's Oak Ridge National Laboratory, according to Bloomberg News. (The White House hasn't responded to requests for more information on how inventors can gain access to government researchers' fancy toys.)
Obama will announce the programs at the Pittsburgh venue of TechShop, a business that embodies the growth of the do-it-yourself movement. The company—which has locations in seven cities, including San Francisco, Round Rock, Tex., and Arlington, Va.—charges members a monthly fee for access to an array of tools, including sewing machines, soldering irons, 3D printers, and design software. That model helped the company grow to $6.5 million in revenue in 2012, from less than $1 million in 2009.
Charting the economic impact of the makers who use TechShop and similar facilities is more difficult. In part, that's because it includes hobbyists and entrepreneurs across an array of industries. Etsy, the online crafts marketplace, handled more than $1.35 billion in sales last year, but nearly two-thirds of the website's 1 million sellers don't envision growing to a point where they would have to add employees. Those business aren't soon likely to need a wind tunnel to test products.
One way to think about the potential impact of the new equipment-sharing program is to consider it a stepping-stone for the Small Business Innovation Research Program, which requires eleven federal agencies—including the Department of Agriculture, the Department of Energy, and NASA—to spend a minimum portion of their research and development budgets to fund grants to small companies. In the past, SBIR participants have included Qualcomm and Genentech and accounted for about 25 percent of top U.S. innovations (PDF) since 1997, according to a 2008 study from researchers at the University of California, Davis.
Building a better pipeline into SBIR would be a good thing, especially if the government can streamline administration of the program. Last year, the Government Accountability Office reported that inconsistent protocols for tracking SBIR spending has made it unclear whether the agencies are providing as much money to high-tech entrepreneurs as they're supposed to.
Before it's here, it's on the Bloomberg Terminal.
LEARN MORE