Brookfield Said Close to Filling Lower Manhattan Vacancy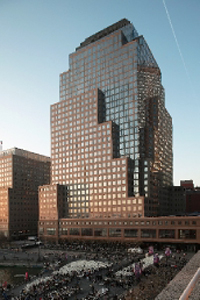 Brookfield Property Partners LP is close to filling most of the lower Manhattan office space formerly rented by Merrill Lynch & Co., the investment bank whose buyout was a symbol of the financial crisis.
Brookfield is in the late stages of negotiating a lease for 140,000 square feet (13,000 square meters) at 250 Vesey St. to Jane Street Capital LLC, a trading firm that specializes in exchange-traded funds and other financial products, said two people with knowledge of the discussions who weren't authorized to speak publicly. The deal would bring occupancy at the 2 million square foot skyscraper, once Merrill's headquarters, to more than 90 percent.
Bank of America Corp., which agreed to buy Merrill in 2008 as the investment bank was close to collapse, left behind about 3 million square feet of offices at the former World Financial Center complex, renamed Brookfield Place. If the Jane Street deal and two pending agreements at 225 Liberty St. are completed, less than 400,000 square feet of that space will remain, one of the people said. The vacancies have weighed on the downtown market, which has more than 2 million square feet of new, unrented offices at the nearby World Trade Center.
"Things have changed," said Jessica Lappin, president of the Alliance for Downtown New York, an advocacy group. Leases at Brookfield Place show "that there's clearly demand, the market is robust, and that people want modern, state-of-the-art office space, and they want it downtown."
Matthew Cherry, a spokesman for Bermuda-based Brookfield, declined to comment on the pending leases. Calls made to Jane Street two days last week and a phone message left yesterday for Jack Johnson, the firm's human resources director, weren't returned.
BNY Mellon
One of the leases said to be close to completion is with Bank of New York Mellon Corp. for about 400,000 square feet at 225 Liberty St., the building where Time Inc. agreed to rent 700,000 square feet. The magazine publisher last month said it would move its headquarters from Midtown to Brookfield's tower.
Among other recent leases at Brookfield Place, the law firm Jones Day in November took 330,000 square feet at 250 Vesey St.
While many financial firms are scaling back, Jane Street is expanding. The company, which uses quantitative analysis to guide its trading strategy, plans to more than double its office space when it leaves 1 New York Plaza, a tower on the east side of lower Manhattan, according to one of the people with knowledge of the talks. Jane Street rents about 60,000 square feet in that building, which Brookfield also owns.
Trading Floor
At 250 Vesey St., most of the slab between two stories will be removed, creating a 40,000-square-foot double-height trading floor, one of the people said. Jane Street trades more than $8 billion of equities worldwide on its busiest days, according to its website.
Brookfield has been renovating its namesake complex in an attempt to make it more appealing to technology and media tenants. While Jane Street is a financial company, it rejects the Wall Street dress code of expensive suits and wing-tip shoes, encouraging employees to wear jeans and sport shirts to work, one of the people said.
The firm's current offices have game rooms, gyms and fully stocked kitchens, according to the website. A list of upcoming speakers includes Houston Rockets General Manager Daryl Morey, billed as the "Billy Beane of basketball." Beane was the subject of Michael Lewis' book "Moneyball," about how the Oakland Athletics executive built a winning baseball team using statistical analysis.
Jane Street is being represented by brokers at Cushman & Wakefield Inc., whose spokesman, Nicholas Derasmo, declined to comment.
Before it's here, it's on the Bloomberg Terminal.
LEARN MORE