Billionaire Mikitani Open to M&A After Bond Debut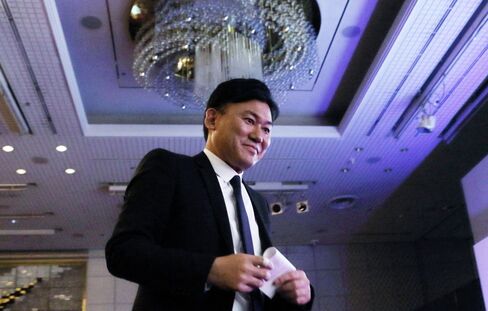 Billionaire Hiroshi Mikitani's Rakuten Inc., Japan's largest Internet cybermall, indicated it's open to more large-scale acquisitions after tapping borrowing costs at an 11-year low.
"The Internet and high-tech world is fast moving, so if there is a good deal, we should consider it," said Chief Financial Officer Yoshihisa Yamada, after last week's 30 billion yen ($294 million) debut sale of three-year bonds. "There's no 'let's become defensive now' after coming this far."
The first public debt offering since Rakuten was founded in 1997 strengthened finances after it bought messaging service Viber Media for $900 million in March, intensifying competition with companies such as SoftBank Corp., Amazon.com Inc. and Facebook Inc. Yamada said in an interview at the company's Tokyo headquarters that future bond sales should be considered given the attractive yen pricing and investor demand, though no specific deal has been decided.
Rakuten sold 10 billion yen in three-year notes to institutional investors at 27 basis points over government debt last week, compared with an average yield premium of 20 basis points for one- to three-year domestic securities, Bank of America Merrill Lynch index data show. U.S. company debentures with similar maturities pay a spread of 57 basis points.
Golden Eagles
The Internet retailer is also the owner of the Tohoku Rakuten Golden Eagles baseball team that won its first Japanese baseball series last season. The company's 20 billion yen of bonds sold to individual investors were named after the team.
Rakuten is the first e-commerce company to sell notes publicly in Japan, where about 125 trillion yen in straight bonds have been issued since 1999, Bloomberg-compiled data show.
"Although Rakuten has consolidated its reputation as an e-commerce firm, it is still hard to judge the stability of Internet-related companies," said Yoshihiro Nakatani, a senior fund manager at Asahi Life Asset Management Co. in Tokyo. "The Internet industry isn't really suited to the bond market, unlike the equity market."
There are still high "latent risks" for Internet-related companies, according to Nakatani, who said the spread on Rakuten's bonds was "too tight" for his liking. Nakatani said he would have liked an additional 20 basis points or so on the company's notes over the debt of a similarly-rated issuer in a more stable sector. A basis point is 0.01 percentage point.
Investment Grade
Rakuten is graded A- by Japan Credit Rating Agency Ltd., four levels above junk grade, and evaluated at BBB+ by Rating & Investment Information Inc., one step below JCR's score.
Ube Industries Ltd., a Japanese chemical maker with the same credit rating from JCR as Rakuten, has bonds due 2017 that are trading at an extra yield of 16 basis points, according to Bloomberg-compiled data. Notes maturing in 2017 issued by SoftBank Corp., the wireless carrier led by billionaire Masayoshi Son that also has an A- score from JCR, have a spread of 85 basis points, the data show.
Corporate borrowing costs have plunged since the central bank announced its about 7 trillion yen a month buying of sovereign notes in April 2013 to banish deflation. The average yield on corporate debentures was 0.4058 percent yesterday, the lowest since June 2003, Bank of America Merrill Lynch data show.
Japan's benchmark 10-year bond yield has dropped 14 1/2 basis points to 0.59 percent this year. The yen has strengthened 3.3 percent in 2014 to 101.96 per dollar as of 4:37 p.m. in Tokyo, after sinking 18 percent last year.
'Experimental' Sale
Rakuten's first public bond sale was "experimental" and borrowings from domestic lenders will probably remain the source for most of its funding needs, Yamada said yesterday. The company won't use the funds from last week's debt offering to help finance its Viber acquisition or accelerate purchases because of the issuance, he said.
The funds will be used to refinance commercial paper debt and ultimately for working capital and investments in facilities, he said.
Mikitani, who goes by the nickname 'Mickey', is Japan's third-richest person and No. 186 in the world, Bloomberg data show. The 49-year-old prefers employees be fluent in English to extend Rakuten's global reach. He has a net worth of $7.2 billion, according to the Bloomberg Billionaires Index.
Rakuten last month reported a 13 percent increase in first quarter net income to 16.1 billion yen from the previous year. Operating profit for the period fell 1.5 percent, while sales gained 22 percent.
Mikitani's company has bought online businesses including U.S. retailer Buy.com Inc., French electronics seller PriceMinister SA, and Brazil's Ikeda.
Viber had a $29.5 million net loss last year. Rakuten is discussing how to "monetize" its latest acquisition without slowing the pace of growth in Viber's user numbers, Yamada said.
"More than a few of Rakuten's acquisitions are still in the red," said Takashi Aoki, a Tokyo-based fund manager at Mizuho Asset Management Co. "It would probably be preferable for them to undertake the next acquisition after a road-map for turning those profitable has been established."