Tusk Defends Polish Central Banker Belka in Tape Scandal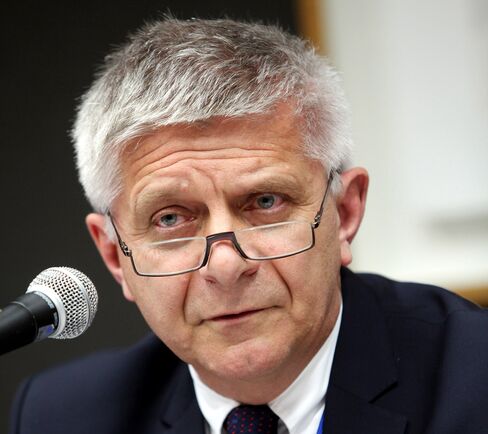 Poland's Prime Minister Donald Tusk threw his weight behind central bank Governor Marek Belka, saying the policy maker didn't appear to violate laws in a secretly-taped conversation with a government minister.
"I share the opinion of the central bank governor that no matter how hideous the comments were, they were talking about ways to help Poland," Tusk told reporters today in Warsaw.
Confidence in Belka as an independent policy maker has been shaken after Wprost magazine released a July 2013 recording in which the central banker is heard discussing possible support for the government before next year's election. The Narodowy Bank Polski chief said in a TVN television interview that he won't resign and called the conversation "private."
The zloty traded 0.6 percent weaker at 4.1430 per euro at 7:05 p.m. in Warsaw, paring the steepest decline in three months, data compiled by Bloomberg show. The WIG30 stock index closed 0.7 percent lower. Yields on five-year notes limited their advance to trade four basis points higher at 3.06 percent.
On the leaked tape, Interior Minister Bartlomiej Sienkiewicz is heard asking Belka whether the central bank would be able to help the government support the economy if weak growth and budget inflows coincide with a surge in support for the opposition Law and Justice party.
'Play Ball'
Belka is heard replying that he'd be ready to "play ball" with the rate-setting Monetary Policy Council if Finance Minister Jacek Rostowski is replaced by a "technical and apolitical" figure. Tusk picked Mateusz Szczurek, an economist at ING Groep NV with no political experience, to replace Rostowski in November.
Tusk denied he'd sent Sienkiewicz to speak to Belka and that the replacement of the finance minister resulted from their meeting.
Belka, who's also heard hurling insults at the 10-member Monetary Policy Council, especially at Jerzy Hausner, said yesterday he "regrets" the language he used.
The comments are "unfair and disrespectful" to the rate-setting council, policy maker Andrzej Kazmierczak said today by phone. Belka will be asked for explanations at the council working meeting tomorrow, he and another rate-setter, Elzbieta Chojna-Duch, said.
While the governor "went too far" with his proposals in the conversation with Sienkiewicz, he didn't break any laws, Chojna-Duch said on Polsat News television today.
Constitutional Duty
The bank is required to cooperate with the government on economic policy as long as it doesn't compromise its constitutional duty to protect the currency. At the same time, the governor can't belong to a political party or engage in public activities that can't be reconciled with "the dignity of his office," according to the constitution.
Peter Attard Montalto, an emerging-market economist at Nomura International Plc in London, said Belka staying on could harm the central bank's image.
"Overall our concern remains that given Belka's comments and especially an inappropriate quasi-political role he took on himself, his staying on at the NBP casts a damaging shadow over the institution even if no law was broken," he said by e-mail.
Jaroslaw Kaczynski, the leader of Law and Justice, said today that there's "every reason to believe that this government needs to go" and threatened to call a no-confidence motion in parliament if Tusk doesn't resign.