Thai Stocks Enter Bull Market on Bets Junta Will Revive Economy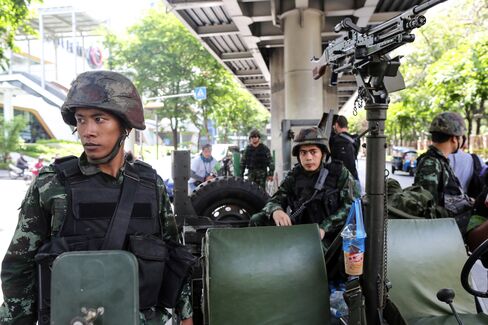 Thai stocks rose, boosting the benchmark index more than 20 percent from this year's low, on speculation the military government will fast-track measures to revive an economy battered by six months of political deadlock.
The SET Index climbed 1.1 percent to 1,471.85 at the close, entering a bull market after rallying from 1,224.62 on Jan. 3. Shares of energy and utility companies led today's advance, which sent the gauge to the highest level since October 2013.
Thai stocks have outpaced regional peers since May 22, when the army took over power for the 12th time since 1932 amid escalating tensions between opposition politicians and former Prime Minister Yingluck Shinawatra's party. The junta has deployed troops to prevent violent protests and unveiled plans to speed up infrastructure spending, including a train project that was ruled unconstitutional under Yingluck's government.
Investors are "optimistic the restoration of political stability will revive domestic consumption and investments," Prinn Panitchpakdi, CLSA Ltd.'s country manager for Thailand, told an investment conference in Bangkok today. "With this improving outlook, the SET Index has a good chance of testing the record level that it reached before the 1997 crisis."
Global funds pumped about $840 million into Thai stocks and bonds this month, after pulling $2.24 billion out in May, exchange data show. The SET index is valued at 13.5 times earnings estimates for the next 12 months, versus the five-year average of 11.8 times.
Growth Outlook
Southeast Asia's second-biggest economy may expand between 2 percent and 2.5 percent this year, led by a recovery in local consumption and an acceleration of state spending following the coup, according to a private industry group that includes the Board of Trade, Federation of Thai Industries and Thai Bankers' Association.
Gross domestic product fell 0.6 percent in the first quarter from a year earlier, compared with the median estimate in a Bloomberg survey for a 0.4 percent increase. The economy shrank 2.1 percent from the previous three months.
An index of consumer confidence rose to 70.7 in May from 67.8 in April, the first gain in 14 months, according to the University of the Thai Chamber of Commerce. Violent political demonstrations in Bangkok haven't been reported since May 15, when grenade and gunshot attacks killed 3 and injured 22 anti-government protesters, according to the Bangkok Emergency Medical Service's website.
The junta lifted an overnight curfew in Bangkok last week after earlier easing restrictions in the country's main tourist cities, as the army chief seeks to draw back travelers and investors. Total visitor arrivals to the country fell 20 percent after martial law was declared May 20, the tourism ministry estimated.
— With assistance by Anuchit Nguyen
Before it's here, it's on the Bloomberg Terminal.
LEARN MORE