Swatch Waiting With Apple for Smartwatch Market to Grow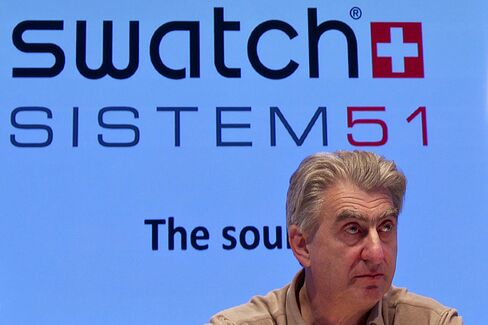 Swatch Group AG Chief Executive Officer Nick Hayek doesn't mind losing the lead in smartwatches. For now, he's happy to wait and see whether anyone actually wants to buy them.
As technophiles speculate about Apple Inc.'s plans to join Samsung Electronics Co., Sony Corp. and LG Electronics Inc. in making electronic gadgets for the wrist, the world's largest watchmaker is steering clear of a market it unsuccessfully tried to pioneer over the past two decades.
"You won't see us participating in a race of who's going to introduce what first," Hayek said over coffee in his cluttered office in Biel, Switzerland. "There's still big resistance from the consumer, so we're going to wait."
Hayek says his company has all the technology it needs to make a smartwatch. His plan is to sell components to others, a quiet way to benefit from a potential revolution in the $62 billion watch industry. If demand crystallizes, the company is ready to jump in and push a smartwatch through its extensive distribution network.
Swatch knows the perils of moving too fast. The company still has unsold models of a 1991 pager that flopped, and of the Paparazzi, a mid-2000s attempt with Microsoft Corp. to sell a watch that could receive messages and stock quotes.
'Smart Objects'
"I believe in the smartwatch, but not as a replacement for watches," said Hayek, who wears a timepiece on each arm but uses an older model Nokia mobile phone that does little more than make voice calls. "If a market for smart objects on the wrist really develops, then we'll be there."
While Hayek wouldn't name clients who buy components for intelligent wrist devices, he said they include a U.S. maker of fitness bands. Increased sales of parts for smartwatches could boost Swatch's sales by 200 million Swiss francs ($222 million), brokerage Kepler Cheuvreux estimates.
"They're keeping one foot in the door, so the risk isn't too high," said Jean-Paul Jeckelmann, chief investment officer at Banque Bonhote & Cie. in Neuchatel, Switzerland. "Once the market develops, they'll be ready to go in at full-speed."
Swatch shares rose 0.5 percent to 530 francs at the close of trading in Zurich. They've dropped 10 percent this year, heading for the first annual decline since 2011.
Apple could add as much as $11 billion in annual revenue by selling a smartwatch, RBC Capital Markets predicts. Samsung and Sony already sell second-generation versions of their offerings. Google's Glass eyewear, with features similar to those found on smartwatches, went on sale this year. UBS analysts say Apple may introduce a smartwatch by year-end. Apple declined to comment on its plans for the devices.
Holding Back
"Everyone is waiting for Apple and Swatch to come out with a smartwatch, and exactly those two players haven't jumped into the pool yet," said Rene Weber, an analyst at Bank Vontobel AG in Zurich. "Swatch will definitely wait to see what Apple's product is before it joins the others."
Swatch has decades of experience developing technology that might go into a smartwatch, such as long-lasting batteries so thin they're bendable. The company's Tissot brand has made watches with touch-screens since 1999 that now offer an altimeter, a compass, and sensors to record a diver's descent.
Hayek has called his company's Breguet and Blancpain timepieces -- which can cost more than $100,000 -- "smart watches" because they make the wearer "look like a smart guy." However, the term generally refers to watches that transmit and receive data or phone calls, which Swatch's current offerings can't do, though it's developing Bluetooth functions for some of its models.
Paparazzi Watch
The company's most ambitious "connected" watch was the Paparazzi, a bulky $150 timepiece that Hayek and Bill Gates unveiled in 2004. The watch, which displayed news, weather, horoscopes and stock quotes for a $59 annual subscription fee, was later dropped, and Microsoft has discontinued the service that provided it with data.
Swatch has been getting increasingly frequent visits from tech companies interested in its smartwatch expertise, Hayek said. Yet he remains skeptical of the concept, saying the disadvantages include small screens, the need to recharge batteries, and that they often require two hands to use effectively. Consumers also want to change their timepieces and don't wear the same thing to an opera and to the beach, he said.
Watch Aesthetics
"Many developers in the electronics devices industry only think about technology, not about the beauty and emotions of the product itself," Hayek said as he fiddled with an unlit Tudor Macanudo cigar.
The Swiss watch industry ignored the threat of battery-powered quartz watches in the 1970s, which drove many producers out of business. Swatch may be similarly underestimating the potential impact or smartwatches, said Trung-Tin Nguyen, a hedge-fund manager at Trimax Capital AG in Zurich.
Most at risk would be lower-priced marques such as Swatch's namesake brand, Nguyen said. He suggests cooperation with a company like Samsung or HTC Corp., which could benefit from Swatch's distribution network.
"They need an alliance, or at least need to do something, or they may miss the boat," Nguyen said.
While researcher IDC has forecast shipments of wearable gadgets, including eyewear and smartwatches, will reach 112 million units in 2018, up from about 19 million this year, Hayek says he's in no hurry.
"Smartwatches can give us new opportunities," Hayek said. "But there is no need for us to rush and create that market."
Before it's here, it's on the Bloomberg Terminal.
LEARN MORE