Luxury Goes Vertical in Frankfurt as High-Rises Spread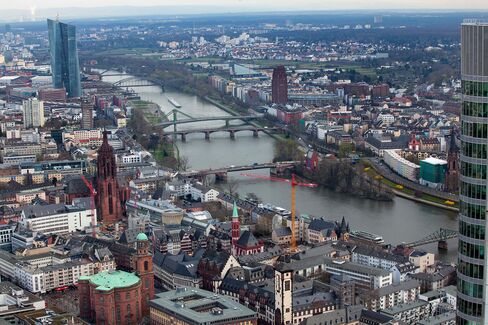 June 17 (Bloomberg) -- Alexander Dimolaidis is moving on up, going somewhere he thought he'd never go: to the 21st floor.
Until now, he associated high-rise living with the ugly behemoths on the fringes of Frankfurt reserved for subsidized housing. Last month, he bought a one-bedroom unit in the 40-story Henninger Turm.
"I like the freedom of being up so high, the open views," said Dimolaidis, 43, an advertising executive who fell for the 140-meter (460-foot) skyscraper, which is due to be completed in 2016. It features concierge service, mosaic floors and unobstructed views of the Taunus hills. "It's very different from the ghettoized life in the high-rises on the outskirts."
From London to Warsaw, high-rises are losing their reputation as grim necessities on the Old Continent. Europeans, like buyers in New York, Hong Kong and Dubai, are increasingly drawn to their amenities and convenience. Developers, seeking to maximize profit in densely built cities, are feeding the demand with a record pace of construction.
Henninger Turm is one of at least seven upscale residential towers planned in Frankfurt, home of the European Central Bank and the euro area's financial capital. There is now just one such property: the 21-story Skylight, built by Deutsche Telekom AG more than a decade ago.
Warsaw, Paris
At least 135 residential high-rises -- defined by Los Angeles-based property broker CBRE Group Inc. as buildings taller than 20 stories -- are planned for London. They include One Blackfriars and Newfoundland. In Warsaw, Daniel Libeskind designed the Zlota 44. In Paris, Norman Foster is working on Hermitage Plaza. In Berlin, Frank Gehry won a competition to design a 39-story twisting tower that will be Germany's tallest apartment block.
"Going up vertically gives you a greater gross development value," said James Price, head of international residential development at London-based broker Knight Frank LLP.
Prices for Henninger Turm's 207 apartments start at 4,500 euros ($6,100) per square meter, 35 percent higher than the city average. Perched on a hill in the touristy Sachsenhausen district, the building replaced a 120-meter tall granary built for a brewery in the 1960s and dismantled last year.
A population gain also is driving up housing costs.
Population Growth
The number of Frankfurters increased 6 percent in the five years through 2012, surpassing 700,000, while the number of apartments grew by 3 percent, local government data show. That gap has helped lift sales prices 53 percent in the past three years to an average 3,880 euros per square meter, and rents by 23 percent to 13.50 euros per square meter, according to data compiled by the broker Jones Lang LaSalle Inc.
Demand is concentrated in the 32-square kilometer (12-square mile) center, an area about half the size of Manhattan. While the density of 6,000 residents per square kilometer is half of London's and lower than in Berlin or Munich, developers are running out of lots; most of the land is taken up by offices, parks and ornate townhouses that survived World War II.
"Frankfurt is tiny compared to Germany's other large cities, so we always face the question of how to use the space efficiently," said Olaf Cunitz, head of urban planning and construction in the city government. "We've always built up for offices, and now we're building up for homes."
Vertical Living
Apartments in high-rises will make up about a tenth of all homes built there in the next three years, estimates Laura Mueller, a residential analyst at property-research firm Bulwiengesa AG in Frankfurt. Developers have started building or are planning 1,500 apartments to be sold at market rates in towers taller than 60 meters, compared with 40 units that exist now, the firm estimates.
Virtually all the existing residential high-rises were built by the city government in the 1960s and 1970s. They "had a bad reputation as urban cauldrons," Mueller said. Now, "the high-rise is becoming fit for polite company."
To be sure, the new buildings fall short of New York and London standards. The towers will range in height from 60 meters to 160 meters, which is slightly shorter than the Washington Monument. By comparison, One57, New York's tallest apartment building, measures about 306 meters.
International buyers are growing particularly interested in Frankfurt, said Joachim Poes, head of city development at Nassauische Heimstaette Wohnungs- und Entwicklungsgesellschaft mbH, which is building the 19-story Praedium in the Europaviertel district near the city's exhibition grounds.
International Buyers
Almost half of the buyers at the Praedium, whose developers promise residents "living like on Central Park," are from countries including China, Brazil, the U.K, and Russia, said Poes. Apartments start at about 3,200 euros per square meter, and the best units probably will sell for as much as 8,000 euros, he said. About 20 percent of the apartments, due for completion at the end of 2016, have been sold, he said.
Frankfurt's government, eager to breathe around-the-clock life into the financial and shopping districts, which shut down after dark, has been urging developers to build towers for middle- and upper-income residents since the 1990s.
Many developers found it unprofitable to build standalone residential towers, said Ralf Sadowski, head of developments at Frankfurt-based Wilma Wohnen Sued GmbH, which is building the 19-story Axis tower not far from the Praedium.
While construction and land costs rose in the 1990s as a booming financial sector fuelled the construction of offices, apartment prices stagnated until about five years ago. Wilma Wohnen in October began building the Axis after keeping a blueprint in the drawer for five years.
Construction Costs
"It costs about 50 percent more to construct a high-rise than to build a conventional building," said Sadowski. "At the moment you can earn that back in the residential market, but that wasn't the case five years ago.
Wilma Wohnen has sold about half of the apartments in the Axis, which will have a gold- and silver-colored lobby and an in-house dog-cleaning station.
Cities across Germany are grappling with housing shortages, as builders race to catch up with demand.
The number of Germans living in its largest 10 cities rose 3.8 percent between 2006 and 2011, while the number of residents in rural areas dropped by about 2.9 percent, according to government data.
Frankfurt needs 17,500 homes, according to a 2013 study by Hanover-based economic-research group Pestel Institut. Last year, officials issued construction permits for 5,300 apartments, the most in 50 years, and 55 percent more than in 2012.
Main Riverfront
Frankfurt's attraction during the past decade has increased as a growing number of regulators add staff and the city develops the formerly under-utilized Main riverfront.
High-rises will fill only a small part of the housing gap. City planners are zoning new residential areas in industrial, agricultural and red-light districts.
In Ostend, near the new ECB headquarters, architect Stefan Forster is tearing down the notorious Sudfass brothel to put up low-rise apartment buildings with walking paths to the river.
''We need homes desperately in central Frankfurt, and to waste space on brothels where men come to relieve their sexual urges is a total waste," said Forster.
To contact the reporter on this story: Dalia Fahmy in Berlin at dfahmy1@bloomberg.net
To contact the editors responsible for this story: Andrew Blackman at ablackman@bloomberg.net James Hertling