Kurds Grab Fourth-Largest Iraq Oilfield Amid ISIL Advance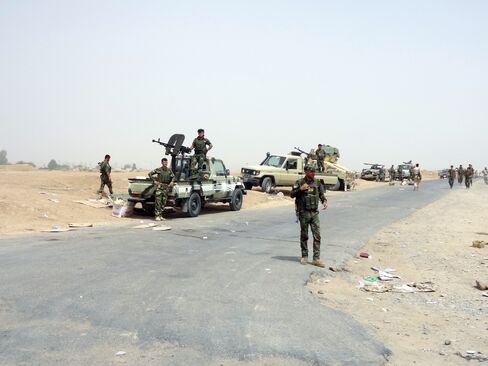 Kurdish troops were defending Iraq's fourth-biggest oilfield against Islamist militants after deploying outside their semi-autonomous region in the country's north to seize the deposit claimed by the central government.
More than 100,000 Kurdish fighters, known as Peshmerga, are guarding a "front line" from Iraq's eastern border with Iran to the northern town of Fishkabur near Turkey, Jabbar Yawar, Peshmerga Ministry secretary-general, said yesterday in an interview in Erbil, the Kurdish region's capital. They now occupy the contested city of Kirkuk as well as areas around it where BP Plc has been in talks with Iraq's government to help reverse declining output at the oilfield discovered in 1927.
Iraq's army abandoned Kirkuk last week amid an offensive by militants from the Islamic State in Iraq and the Levant. Peshmerga now control all energy facilities and oil deposits in the Kirkuk area other than a refinery in Baiji, 50 miles (80 kilometers) to the southwest, which ISIL forces have surrounded, Yawar said. ISIL also seized part of a pipeline for oil exports from Kirkuk to Turkey, he said. Crude flows through the pipeline have been halted for security reasons since March 2, according to Iraq's Oil Ministry.
"Currently all disputed areas are inside the Kurdistan region or protected by the region's forces," Yawar said. "It is not possible that the Iraqi government return and fill these huge areas that it left."
OPEC Producer
Media officials at the Oil Ministry in Baghdad, Iraq's capital, didn't answer at least five phone calls for comment.
Prime Minister Nouri al-Maliki's Shiite-led government is seeking to reverse the battlefield gains of ISIL, a breakaway al-Qaeda Sunni Muslim group that captured the northern city of Mosul on June 10 and then advanced south toward Baghdad. Sectarian strife is pushing the second-largest oil producer in the Organization of Petroleum Exporting Countries closer to civil war, three years after the U.S. withdrew its forces from the country.
Iraq, excluding the Kurdish region, holds 150 billion barrels in proven crude reserves, the world's fifth-biggest deposits. The Kurdistan Regional Government controls 45 billion barrels and has attracted international oil companies including Exxon Mobil Corp. and Total SA with financial terms many investors see as more generous than those available in the rest of the country.
'Limited' Threat
Brent crude surged 4.4 percent last week, the biggest gain since July, as the escalating violence fanned concern that supplies may be disrupted. August futures slid as much as 0.7 percent today and were 50 cents higher at $113.44 a barrel at 4:04 p.m. in London on the ICE Futures Europe exchange. The fighting hasn't spread to the south, which the U.S. Energy Information Administration says is home to three-quarters of Iraq's crude output.
"I don't believe that this kind of difficulty and instability will spread all the way far south," BP Chief Executive Officer Bob Dudley said today at an industry event in Moscow. "The implications for oil production at the moment appear limited."
The government's inability to take decisions on major projects will delay growth in output at southern fields, Bloomberg oil strategist Julian Lee said yesterday. Limited pumping capacity on pipelines to the Basra Oil Terminal may also cap exports from the south, though the terminals can theoretically handle more than 3 million barrels a day, he said.
Turkey's Role
Oil exports from the Kirkuk region probably won't resume until at least the fourth quarter because political upheaval and military conflict will prevent pipeline repairs, Lee said.
Iraq's semi-autonomous Kurds may be able to gain more independence and boost crude output after taking control of Kirkuk, analysts from Saxo Bank A/S and JBC Energy GmbH said.
Maliki's government has for years disputed with the KRG over oil revenue and territory. Tensions increased last month when the Kurds started last month to export crude to Turkey through a separate pipeline without approval from the central government. Two tankers loaded crude from the Kurdish region on Turkey's Mediterranean coast amid Iraqi threats of legal action against any buyers of the oil.
"The central government has tried to halt exports from the region, but it is weak and the Kurdish north could potentially be heading for independence," Ole Hansen, head of commodity strategy at Saxo Bank A/S in Copenhagen, said by e-mail. "It could potentially mean increased supply."
Tanker Loadings
Turkey is "playing with fire" by helping the Kurds sell independently, and both have been warned, Iraq's Deputy Prime Minister Hussain al-Shahristani said today on state-sponsored Iraqiya TV. "They think that the Iraqis are now going through hard times so they won't be able to protect their wealth," he said. "They are wrong. The Iraqi people won't forget those who conspired against them during tough times."
Two more tankers will be filled with Kurdish crude this week, and the cargoes have already been sold, Ashti Hawrami, the KRG natural resources minister, said today at a conference in London. The KRG is sending 125,000 barrels a day by pipeline to Turkey and targets exports of 400,000 a day by year-end, he said.
Kirkuk, which is also a province and the name of the oilfield, has been a flashpoint in the strained relations between Kurds and Iraqi Arabs. The city historically had a sizable Kurdish population, and Saddam Hussein, Iraq's former president, settled Arabs there to change its ethnic composition. The field contains 8.9 billion barrels of crude reserves, according to data compiled by Bloomberg, and the KRG has criticized BP's planned oilfield work there.
Better Position
Fields around Kirkuk are still producing crude, though at a lower level since Iraq stopped using its northern pipeline more than three months ago, Fayyad al-Nima, Iraq's deputy oil minister for refining affairs, said late yesterday by phone. Deposits near the city were together pumping at least 650,000 barrels a day until March, when the pipeline halt caused output to drop to 300,000, state-run North Oil Co. said today in a statement.
"The Kurds are obviously in a much better position as long as they don't overreach," Robin Mills, the head of consulting at Dubai-based Manaar Energy Consulting and Project Management, said in a June 15 phone interview. "I find it extremely hard to see how they would withdraw."