Kenyan Government Hunts Attackers After 48 Killed in Coast Towns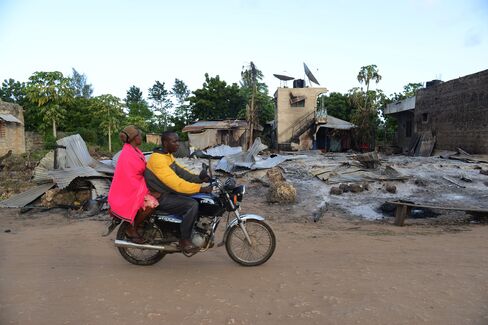 Kenya's government hunted for gunmen who killed at least 48 people in an attack on two coastal towns that officials said may either have been carried out by Islamist militants or an armed militia linked to domestic politics.
About 50 assailants on June 15 attacked the towns of Mpeketoni and nearby Kibaoni, about 220 kilometers (137 miles) northeast of the port city of Mombasa, police spokeswoman Zipporah Mboroki said in a phone interview yesterday. They shot indiscriminately while burning buildings including two hotels, an Equity Bank Ltd. branch, shops and houses, she said.
Agence France-Presse reported al-Shabaab issued a statement claiming responsibility for the attack and warning foreign tourists not to visit the country because it is a "war zone." The claim was also reported by two Somali websites previously used by the al-Qaeda-linked militia to make pronouncements.
Kenya has faced a spate of attacks since it deployed troops in Somalia to fight al-Shabaab, which is trying to overthrow the government and establish an Islamic state. The latest incident is the deadliest since al-Shabaab's Sept. 21 assault on the Westgate Mall in Nairobi killed at least 67 people.
The attacks have hurt tourism, with arrivals to the country falling to 1.4 million last year from 1.7 million in 2012. The industry is the nation's second-biggest source of foreign currency, generating $1.1 billion in 2013. The shilling fell as much as 0.1 percent to 88.05 per dollar yesterday, the weakest level since December 2011.
The Mpeketoni and Kibaoni raids will "further dampen Kenya's security and economic outlook, especially since the perpetrators specifically targeted hotels and restaurants in an area frequented by tourists," Ahmed Salim, senior associate at Teneo Intelligence in Dubai, said in an e-mailed note.
Travel Advisories
Last month, the U.K.'s Foreign Office advised against travel to Mombasa and surrounding areas because of threats to security. Other countries including the U.S. and Australia have issued similar advisories. On June 13, the U.K. High Commission said it closed its consular office in Mombasa.
Since Westgate, at least 64 people have been killed and another 263 injured in "terrorist attacks" in Kenya, according to Maplecroft, the Bath, U.K.-based risk consultancy.
Police are hunting the perpetrators of the Mpeketoni incident who fled into the nearby Boni Forest, Interior Secretary Joseph Ole Lenku told reporters in Nairobi. Security has been beefed up across the country, he said
'Destructive Politics'
While army spokesman Major Emmanuel Chirchir said earlier on his Twitter account that the attackers were "likely" to be al-Shabaab militants, Ole Lenku said the incident may be related to Kenyan politics. "We don't rule it out," he told reporters today in Nairobi.
He urged Kenyan politicians he didn't identify to "desist from destructive politics and ethnic profiling that may be responsible for this heinous act."
Kenyan opposition leader Raila Odinga on June 13 began a series of planned rallies to press the government to hold a national dialog to discuss issues including growing insecurity, and the rising cost of living. President Uhuru Kenyatta has rejected the request.
Odinga last year lost his third bid to become president in an election that Kenyatta won with 50.5 percent of the vote.
The rallies will culminate in a gathering in the capital, Nairobi, on July 7. That date marks Saba Saba day in Kenya, which commemorates a government crackdown on pro-democracy demonstrations in 1990 that left more than 100 people dead, according to Human Rights Watch. The protests helped usher in multiparty democracy in Kenya.
Ethnic Clashes
Mpeketoni is situated in Kenya's coastal region where last year clashes between rival ethnic communities, partly over land and other resources, left hundreds of people dead, according to a panel established to investigate the fighting.
In the 1970s, the government of former President Jomo Kenyatta settled about 30,000 ethnic Kikuyu from central Kenya in Mpeketoni, dispossessing some local communities of land, according to a paper commissioned by the state-run Commission on Revenue Allocation. It said the Lake Kenyatta Settlement Scheme in the area failed to provide for indigenous and Muslim villages in the area.
Before it's here, it's on the Bloomberg Terminal.
LEARN MORE