Japan Inc. Steps on Lobby Turf as Abe Reforms Farming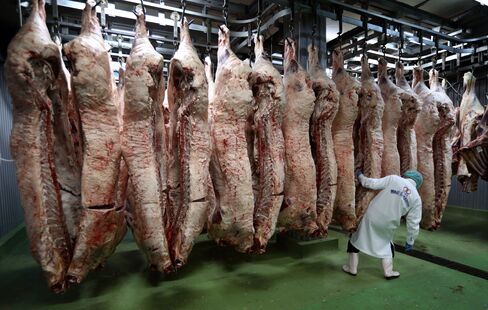 Japan's ruling party wants to increase corporate participation in agriculture to boost the competitiveness of the nation's farms as pressure increases to cut import tariffs.
Prime Minister Shinzo Abe's Liberal Democratic Party is considering allowing non-food companies to own almost 50 percent stakes in farming entities from the current 25 percent, according to Hiroshi Moriyama, the head of the party's farm-reform committee. The LDP also wants to streamline approvals of land sales by individuals to farming corporations.
The rule changes would increase the number of agricultural ventures between farmers and companies and reduce the power of JA-Zenchu, the nation's largest farm lobby and an opponent of the U.S.-led Trans-Pacific Partnership trade plan. The government will review the lobby's role as it seeks to bolster the independence of local farm cooperatives, Moriyama said in a speech in Tokyo on June 12.
"With the government eager to expand free-trade agreements to accelerate economic growth, partnerships with companies are more important to the survival of farmers than reliance on the farm lobby," said Takaki Shigemoto, an analyst at JSC Corp., a commodities researcher in Tokyo. "They are moving in the right direction to reform the agricultural sector."
Abe's cabinet will decide on a growth strategy including agricultural reform plans by the end of this month, based on recommendations from his advisers and the ruling party, according to Moriyama. Akira Banzai, the chairman of Zenchu, said in a statement on June 10 that the group will come up with its own reform plans.
Doubling Exports
Abe set a goal of more than doubling food exports to 1 trillion yen ($9.8 billion) by 2020 as part of an economic growth strategy that began with unprecedented monetary easing and fiscal stimulus. Japan aims to boost beef exports five-fold from 2012 to 25 billion yen by 2020, exports of rice and rice-based products to 60 billion yen from 13 billion yen, and fruits and vegetable exports to 25 billion yen from 8 billion yen.
The number of farming corporations rose 15 percent to 13,561 in the three years after rules were relaxed in December 2009 allowing food companies to take stakes of almost 50 percent in farming ventures and other firms to own as much as 25 percent, from less than 10 percent previously, according to data from the Agriculture Ministry.
Lawson, Seven & I
Convenience store chains Lawson Inc. and Seven & I Holdings Co. are investing in cropland and training young people to work the fields. They're expanding as Abe cuts subsidy payments to food-rice growers and creates land banks to consolidate small holdings into large tracts that can be leased by companies as older farmers put down their plows.
Tetsuhide Mikamo, a director at Marubeni Research Institute, said the government may not succeed with all its plans because LDP lawmakers in rural areas rely on votes from JA members.
Zenchu lobbies for JA Group, Japan's largest farm organization with 9.8 million members and businesses ranging from production and marketing of produce to banking, insurance, fuel supply and health care. Zenchu also supervises the operations of regional agricultural cooperatives.
Economic advisers to Abe have said the lobby has added to farming costs by preventing sales of agrochemicals and machinery by non-JA companies to JA members.
The LDP aims to submit a revision to the law on the role of agricultural cooperatives to parliament next year, Moriyama said.
An economic advisory panel to Abe proposed on May 22 that the government end Zenchu's supervision of local agricultural cooperatives, and turn Zen-Noh, the trading arm of JA Group, into a joint-stock company. They recommended shifting the banking and insurance operations of agricultural cooperatives to Norinchukin Bank, the group's financial institute.
Before it's here, it's on the Bloomberg Terminal.
LEARN MORE