How the Rainbow Loom Fad Made Millions for Michaels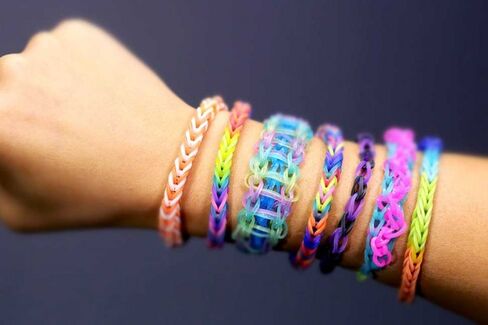 When the bankers go out to pitch Michaels Stores stock to pension fund managers and other IPO investors, it might make sense to show up wearing garish bracelets made out of tiny rubber bands. Especially if the would-be investors have kids under age 12.
Rainbow Loom, a jewelry-making product that's shot to the top of the toy industry in the past two years, is a huge part of the growth story at Michaels. (Editor's note: Kyle Stock owns a Rainbow Loom key chain.) The chain of craft shops is crammed with a wide array of knickknacks, from puffy paints to picture frames. But the Rainbow Loom alone accounted for 2.9 percent of same-store sales growth last year, and Michaels sold the bracelet-making device for only six months of that period. All told, Michaels moved roughly $4 million worth of tiny rubber bands and plastic hooks.
As such, the Rainbow Loom is also a potential liability. Michaels went so far as to call out the hot product in the risk factors it's required to divulge in its Securities and Exchange Commission filing: "We expect that the popularity of this product will diminish over time, and our results of operations could be affected by our inability to anticipate demand for this product."
It's a shockingly simple product to play such a major part in an initial public offering. The Rainbow Loom has no microchips, carbon-fiber materials, or fancy chemical compositions—just a small board full of plastic pegs and a hook for stretching the rubber bands into patterns. The first prototype, created by the mechanical engineer who invented the Rainbow Loom, involved thumbtacks and a dental instrument.
But the Rainbow Looms is also like an iPhone operating system, lending itself to a rash of secondary products: books, manuals, storage kits, and lots and lots of extra rubber bands. There's even a brisk secondary market for the finished bracelets.
Michaels was quick to the Rainbow Loom trend, striking a deal about a year ago to carry the product. The retailer describes itself as the only big-box store with those rights. The problem is that plenty of other places sell these things, including Amazon.com and smaller toy and craft shops. And there are a number of similar products out there: Wal-Mart Stores has the Wonder Loom; Toys "R" Us has the Cra-Z-Loom. There's even a flurry of patent-infringement lawsuits zipping around.
If Michaels is savvy, it will convince potential investors that its business model is tuned to find the next hit product—and the one after that, etc. Of course, anticipating the whims of 8-year-olds is a far more fraught endeavor than relying on massive economies of scale like Wal-Mart, or maintaining a hugely efficient distribution network like Amazon. It's probably also a lot trickier than weaving an IPO, for that matter.
Before it's here, it's on the Bloomberg Terminal.
LEARN MORE