GM's Recall Tally Hits 20 Million With New Ignition Fix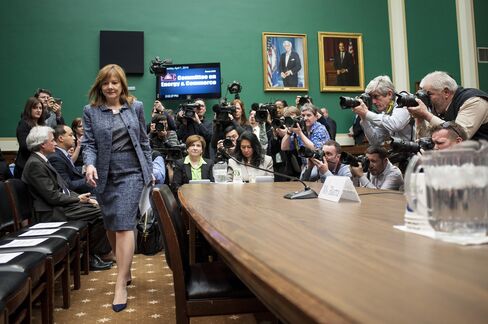 General Motors Co. said the engineer responsible for flawed ignitions linked to 13 deaths also oversaw switches in more than 3 million cars recalled today.
The recall covers seven different models and involved ignitions slipping out of the "run" position, like the action that covered 2.59 million small cars earlier this year. While the newly recalled vehicles have a different switch, they shared the same design release engineer, said Alan Adler, a GM spokesman, in an e-mail.
Ray DeGiorgio was named in an internal report released this month as being responsible for the faulty ignition switch in Chevrolet Cobalts and Saturn Ions recalled in February. He and 14 other people were ousted by Chief Executive Officer Mary Barra for their roles in the company's mishandling and years-long delay in recalling the fatally flawed vehicles.
"A certain amount of people inside GM knew this issue existed and their assumption was it's a pain, it's not a death sentence, it's just an annoyance," Karl Brauer, a senior analyst at Kelley Blue Book, said in an interview.
GM today is calling back 3.36 million more vehicles, including some Chevrolet Impalas and Cadillac Devilles, just two days before Barra returns to Congress to answer questions about why the company waited years to fix the Cobalt and Ion. GM said its second-quarter charges to cover its safety actions would reach $700 million.
20 Million
Today's recall includes 3.16 million vehicles in the U.S. GM has recalled 20 million vehicles in North America for various fixes so far this year, more than double the number of cars and trucks it sold worldwide last year. By comparison, Americans are expected to buy 16.1 million new cars and trucks industrywide this year, according to the average of analysts' estimates compiled by Bloomberg.
GM took a $1.3 billion charge in the first quarter and had previously estimated its cost from recalls in the second quarter at $400 million.
The seven models being recalled today are: the Buick Lacrosse from 2005-2009; the 2006-2014 Chevrolet Impala; 2000–2005 Cadillac Deville; 2004–2011 Cadillac DTS; 2006–2011 Buick Lucerne; 2004–2005 Buick Regal LS and GS; and the 2006–2008 Chevy Monte Carlo.
The ignition switch may inadvertently move out of the "run" position if the key is carrying extra weight and is jarred, the Detroit-based company said in a statement. GM said it's aware of eight related crashes and six injuries.
Changing Culture
The new recalls, along with last week's Chevrolet Camaro to fix a key design, signal a change in thinking at GM, said Brauer of Kelley Blue Book.
"A stall is now seen as an absolute undeniable safety risk as opposed to an annoyance or an inconvenience -- that's what's changed," Brauer said.
A June 13 recall of more than 500,000 cars covered the iconic Chevy Camaro muscle car, over concerns a driver's knee could bump the ignition out of "run."
In the latest recall, GM will replace the cars' keys to avoid the possibility that a "jarring event like striking a pothole" could cause stalling, according to a statement. GM will add an insert or issue a new key to better handle extra weight. GM is cautioning vehicle owners to drive with only their ignition key in the switch until their repairs are complete.
Cadillac Sedans
Separately, GM is recalling five other cars for defects unrelated to ignition switches. The largest of these actions includes 68,887 Cadillac ATS and 21,863 Cadillac CTS sedans to fix brackets that hold their automatic transmission shift cables in place.
The other recalls: the Chevy Silverado and GMC Sierra 2500/3500 heavy-duty pickups to inspect power-steering hose clamps, which could break and result in a loss of power steering or power brakes; the 2011 Cadillac CTS sedan to fix a gasket leak near the constant-velocity joint, covering 16,932 vehicles; 712 2014 Chevrolet Corvettes for a redesigned air bag; and 184 Chevrolet Silverado and GMC Sierra pickups to replace their floor mats.
GM released the results of an internal probe into its February recall this month. The report blamed a lack of urgency in the company's engineering and legal departments in dealing with problems, though no conspiracy to hide facts.
Government Fine
Anton Valukas, the Jenner & Block attorney who conducted the internal review, is scheduled to join Barra at the June 18 hearing before the U.S. House Energy and Commerce Committee. Why GM initially accepted an ignition switch that didn't meet its specifications and why so many employees didn't consider stalling a safety issue will be explored by lawmakers, according to a statement from the committee.
Barra testified in April before two congressional committees to explain why the company took years to publicize the faulty ignition switches. Since then, GM has told owners of millions more vehicles to bring their cars to dealers for repairs to shift cables, seat belts and other parts.
The company agreed last month to pay a $35 million fine as part of the U.S. Transportation Department's investigation into how GM handled the February recall. The company also has added about 35 investigators as it shows a willingness to take vehicles off the road for a variety of issues.
Prior to today's order, GM recalled 14,401,773 vehicles in the U.S. this year, and 16,488,514 in North America.
GM's recall total exceeds the 10.7 million-vehicle mark set by the automaker in 2004, according to the U.S. National Highway Traffic Safety Administration.