Philippine Equity Rally Leaves Bourse Behind: Southeast Asia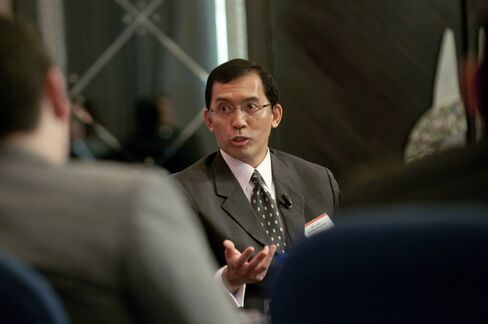 For the first time in eight years, a rally in Philippine equities is leaving the country's stock exchange behind.
While the benchmark index has climbed 18 percent from its August low, spurring a 39 percent jump in trading, shares of Philippine Stock Exchange Inc. have retreated 3.5 percent. The 90-day correlation between moves in the bourse's stock and the market turned negative this month for the first time since 2006, data compiled by Bloomberg show.
The problem for shares of the exchange is that nobody wants to trade them, says Hans Sicat, the bourse's president. With a daily turnover that's just 3 percent of the average for stocks in the benchmark index, it's easier for investors to bet on a market rally by purchasing more actively-traded companies, Sicat said in an interview. The exchange, which is valued at a 13 percent premium versus the Philippine index, is still too pricey for investors to bear the liquidity risk, according to Metropolitan Bank & Trust Co. and PCCI Securities Brokers Corp.
"The market has rallied quite a bit, and that would have given the PSE shares a push, but the stock comes out as expensive," said James Lago, the head of research at PCCI Securities in Manila.
The Philippine Stock Exchange Index has rallied to within 1.8 percentage points of entering a bull market after the nation won a credit rating upgrade from Standard & Poor's and foreign investors poured money into shares for a fourth straight month in May. The bourse's 30-day average trading volume has climbed to about 1.84 billion shares from 1.32 billion on Aug. 28, according to data compiled by Bloomberg.
Philippine Stock Exchange shares fell 0.3 percent to 284 pesos at the close of trading in Manila today, while the benchmark index fell 0.4 percent.
Correlation Breakdown
Diverging moves in the benchmark index and shares of the exchange sent their 90-day correlation to minus 0.02 on June 4, versus an average level of 0.3 during the past decade, according to data compiled by Bloomberg. A reading of 1 means the two are moving in lockstep, while minus 1 shows they go in opposite directions.
Some money managers are avoiding PSE shares because the stock is too thinly traded to build a "meaningful" position, Sicat said. A daily average of about 5.1 million pesos of PSE shares traded during the past 30 days, versus about 185 million pesos for the average stock in the benchmark index, according to data compiled by Bloomberg.
Disappointment over stalled merger talks between the PSE and the nation's bond exchange has also weighed on the stock, PCCI's Lago said. A potential combination of the bourses had fueled an 82 percent gain for the shares in 2012.
Dividend Yield
PSE's stock is under-appreciated by the market, according to Sicat. Profit at the bourse jumped 35 percent to a record 844.8 million pesos last year as stock trading increased 44 percent, while income from listings rose 29 percent. Earnings grew 7.9 percent in the first quarter.
Philippine Long Distance Telephone Co., which owns about 9 percent of the exchange through its retirement fund, is still happy with its investment in part because the bourse pays an attractive dividend, Ray Espinosa, a director at the nation's biggest phone company and vice chairman at its retirement fund, said in an interview.
The bourse has been paying dividends annually since 2003 and its payout in the past five years has grown 22 percent, according to data compiled by Bloomberg. The stock's 3.17 percent dividend yield compares with 2.15 percent for the benchmark index.
Expensive Shares
By some metrics, the shares still look expensive. PSE is valued at 24 times 12-month reported earnings, compared with a multiple of 21 for the benchmark index and 23 for both Singapore Exchange Ltd. and Bursa Malaysia Bhd., according to data compiled by Bloomberg. PSE trades at 9.9 times net assets, versus 8.8 for the Singapore bourse.
Metropolitan Bank, the third-largest Philippine money manager, has been avoiding PSE shares and has no plans to buy.
"The stock isn't cheap," said Allan Yu, who helps manage about $7.3 billion as first vice president at Metropolitan Bank. The bourse "doesn't have a big investor following, so the room for price appreciation is limited. It's better to invest in other shares."