Emerging Market Shares Fall as S&P 500 Is Little Changed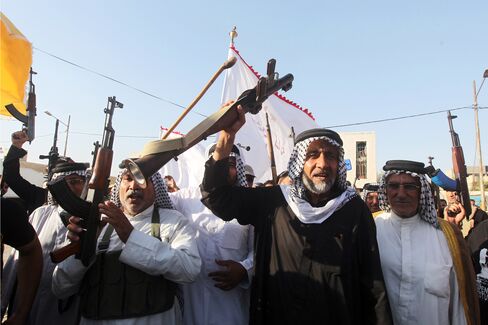 Emerging market shares fell, while U.S. stocks ended little changed following last week's drop as escalating violence in Iraq offset takeovers and growth in American industrial output. Treasuries reversed most of their early gains while oil held near a nine-month high.
The MSCI Emerging Markets Index slipped 0.3 percent for a fourth straight loss, its longest retreat since January. The Standard & Poor's 500 Index rose less than 0.1 percent to 1,937.78 at 4 p.m. in New York after earlier rising and falling as much as 0.3 percent. Canada's S&P/TSX briefly climbed above its closing record. Japan's currency rose against 12 of its 16 major peers. Ten-year Treasury yields fell less than one basis point to 2.60 percent.
Iraq's sectarian violence showed no sign of abating, with Sunni Muslim militants and government forces fighting to control Tal Afar. Prime Minister Nouri al-Maliki, a Shiite, is fighting to reverse the advance of ISIL militants, who captured Iraqi's largest northern city and other towns last week. U.S. industrial production climbed more than forecast, a sign gains in manufacturing are supporting growth as the economy picks up.
"The market is going to be very choppy over the summer and the market should prepare for more volatility," Matt McCormick, who helps oversee $11 billion as a portfolio manager at Cincinnati, Ohio-based Bahl & Gaynor Inc., said in a phone interview. "A lot of people are worried about the negative events that occurred over the weekend."
In the U.S. stock market, General Electric Co. slipped 0.8 percent after a group led by Siemens AG made a joint bid to carve up the energy unit of France's Alstom SA. Yahoo! Inc. lost 5.8 percent after Alibaba Group Holding Ltd. reported a slowdown in quarterly revenue growth. Covidien Plc surged 20 percent after Medtronic Inc. agreed to buy the Irish company for $42.9 billion. Williams Cos. jumped 19 percent after agreeing to buy control of Access Midstream Partners LP for $6 billion.
Growth Forecast
The International Monetary Fund cut its growth forecast for the U.S. economy this year. The IMF now sees the world's largest economy growing 2 percent, down from an April estimate of 2.8 percent. The IMF left a 2015 prediction unchanged at 3 percent, and said it doesn't expect the U.S. to see full employment until the end of 2017, amid low inflation.
For the Fed, the forecast means "policy rates could afford to stay at zero for longer than the mid-2015 date currently foreseen by markets," the fund said in its annual assessment of the U.S. economy. The Fed is scheduled to release its latest policy decision on June 18 following a two-day meeting.
Treasury 10-year notes reversed most of their earlier gains. Benchmark 10-year yields were down less than one basis point after falling as much as three basis points, or 0.03 percentage point, to 2.57 percent earlier.
Factory Data
Output at factories, mines and utilities rose 0.6 percent after a revised 0.3 percent drop in April that was smaller than previously estimated, a report from the Fed showed in Washington. The median forecast in a Bloomberg survey called for a 0.5 percent increase.
Brent crude climbed, extending its premium over West Texas Intermediate to the highest this month, as the crisis in Iraq showed no signs of abating. Brent for August settlement gained 0.4 percent to $112.94 a barrel. West Texas Intermediate crude fell 1 cent to $106.90 after closing last week at the highest price since Sept. 18.
Iraq's government is seeking to reassert control over territory taken by a breakaway al-Qaeda group, whose advance puts in doubt the long-term unity of the Persian Gulf country. Sectarian strife is pushing Iraq closer to civil war, three years after the U.S. withdrew its forces.
In Ukraine, Russia cut natural gas supplies after demanding fuel payments be made in advance, the first time shipments have been affected in this year's crisis in relations between the two countries.
Canadian Markets
Financial, energy and industrial companies led gains in Canada's S&P/TSX today. The index has rallied 99 percent from a five-year low in March 2009. The advance has been led by a more than 800 percent surge in Valeant Pharmaceuticals International Inc. Financial services companies jumped 168 percent during the bull market and the nation's largest lenders including Royal Bank of Canada, Toronto-Dominion Bank and Bank of Nova Scotia touched records this year.
The equity benchmark trades at more than 20 times reported earnings, the highest level in three years, according to data compiled by Bloomberg.
U.K. front-month natural gas climbed as much as 8.8 percent, the biggest increase since March 3, the first trading day after Russia took control of Crimea, on the ICE Futures Europe exchange and was recently up 1.8 percent.
Poland's zloty weakened after leaked recordings cast doubts that the central bank governor can stay in his job. The zloty weakening 0.6 percent to a two-week low of 4.1432 per euro.
The pound advanced as Bank of England Deputy Governor Charlie Bean said he'd welcome an increase in interest rates as a sign that the economy was returning to normal. Sterling was up 0.1 percent at $1.6980 after reaching $1.7011, the highest since August 2009. It climbed 1 percent last week, the most since the period ended Feb. 14.
Before it's here, it's on the Bloomberg Terminal.
LEARN MORE