Hang Seng Bank Tops List of Strongest Lenders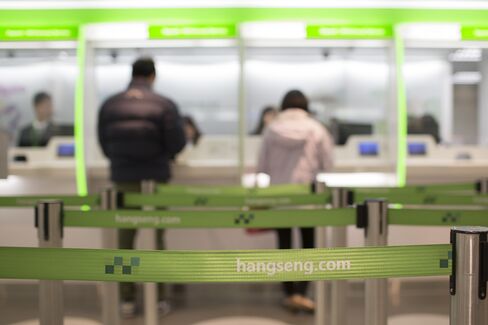 June 16 (Bloomberg) -- In June 1984, a three-man delegation of business leaders from Hong Kong made a pilgrimage to Beijing to meet with paramount leader Deng Xiaoping. One member of the group was Lee Quo-wei, then executive chairman of Hang Seng Bank Ltd., creator of the Hang Seng Index and one of the most prominent financial institutions in the territory.
The group spent an hour with Deng in the Great Hall of the People, telling him that in the ongoing negotiations regarding the handover of Hong Kong to China, scheduled for 1997, the territory needed assurances that Beijing wouldn't undermine its thriving free-market economy.
Deng, puffing on a cigarette, told them resolutely that the city's autonomy would be ensured and the central government wouldn't take a single coin from Hong Kong, according to the book "Hong Kong's Journey to Reunification," by Sze-yuen Chung, Bloomberg Markets magazine will report in its July-August issue.
The next year, Hang Seng began operations in China. It has since expanded rapidly, both in Hong Kong and on the mainland, under the "one country, two systems" policy. As of the end of 2013, assets had grown to HK$1.14 trillion ($147 billion), up 53 percent since 2007. The bank has also shored up its capital base in the aftermath of a disastrous 2008 -- when the stock fell 37 percent -- and cut back on risky investments.
Partly as a result, Hang Seng is the world's strongest bank, according to the annual ranking by Bloomberg Markets magazine. Hang Seng jumps to the top of the list after ranking No. 10 last year.
Risk Buffers
The lender, which is majority owned by London-based HSBC Holdings Plc, has been building up its risk buffers since 2009, in part by paring dividends, as it prepares for the more-stringent regulatory requirements being phased in by the Hong Kong Monetary Authority to comply with Basel III international guidelines.
Hang Seng also benefits from being the second-biggest retail bank in Hong Kong (population: 7.2 million), with 220 branches. The HKMA has followed the U.S. Federal Reserve and kept its benchmark interest rate near zero.
"With the deposit costs being so low, they can lend more safely on the asset side," says Alexander Lee, a Hong Kong–based analyst at DBS Vickers Hong Kong Ltd. "They don't need to take on as much risk to generate higher returns."
Hang Seng vaulted to the top in a ranking dominated for a third consecutive year by Asian lenders. Eight of the 21 banks in the list are Asian, with Hang Seng's rival, BOC Hong Kong (Holdings) Ltd., ranked No. 10. The ranking covers the banks' 2013 fiscal year.
OCBC No. 4
Singapore's Oversea-Chinese Banking Corp., No. 1 for the years 2010 and 2011, falls to No. 4 from No. 2 in last year's ranking. It's one of three Singapore institutions on the list. Canada is also well represented, with three banks in the ranking. Qatar National Bank SAQ, No. 1 last year, drops to No. 5. It is the strongest bank in the Middle East and Africa, followed on the Bloomberg Markets list of regional leaders by Standard Bank of South Africa.
The strongest-bank ranking includes lenders with at least $100 billion in assets as of May 1. This year, private banks are included in the database, and two such institutions, Canada's Desjardins Group and Tokyo-based Norinchukin Bank, are tied for the No. 2 slot. Both are cooperative banks: Desjardins is an alliance of credit unions, while Norinchukin serves 3,800 farm, fishing and forestry co-ops.
The ranking weights and combines five criteria, including Tier 1 capital compared with risk-weighted assets; nonperforming assets against total assets; and efficiency, a measure of costs against revenue. Only banks that provided data in all five categories were included.
One U.S. Bank
Desjardins's No. 2 rank makes it the strongest bank in North America. The only U.S. bank to make the cut is Minneapolis-based U.S. Bancorp, at No. 19.
Bayerische Landesbank of Germany is the strongest European bank, at No. 6, one of three German banks on the list.
Hang Seng's current strength conceals its humble origins. Hang Seng Ngan Ho started as a money-changing shop in Hong Kong's Sheung Wan district in 1933, posting a net profit of HK$10,389 in its first year, according to the bank's website. The company ventured into commercial banking in 1952 as the city began transforming into a manufacturing hub.
In April 1965, Hang Seng -- by then Hong Kong's second-largest bank by deposits -- fell into crisis as plunging property prices led to the collapse of smaller lenders and sapped confidence in all banks. Customers withdrew HK$80 million in a single day.
HSBC to Rescue
Hongkong & Shanghai Banking Corp., now HSBC, rescued Hang Seng, buying a 51 percent stake for HK$51 million. Its holding is now 62 percent and was worth HK$152 billion as of May 30, making Hang Seng "the jewel in the crown" of HSBC, says Jim Antos, an analyst at Mizuho Securities Asia Ltd.
Hang Seng operates separately from HSBC, though its chief executive officer, Rose Lee, spent 35 years at HSBC before her appointment to head Hang Seng in 2012. Lee, 61, is one of only two women serving as a CEO of the 50 companies that make up the Hang Seng Index.
Retail banking and wealth management in Hong Kong is Hang Seng's biggest business, accounting for 31.4 percent of its HK$28.5 billion in pretax profit for 2013. Corporate banking generated a further 22 percent, while operations in China contributed 29.7 percent.
China has become key to the bank's growth, with mainland companies accounting for more than half of its new corporate customers in Hong Kong in 2013, Hang Seng said in its latest annual report.
Deceleration
The bank has curbed expansion on the mainland as economic growth there decelerated to its slowest pace since 1999. Lee, who has a degree in business administration from the University of Hawaii, says the bank remains committed to its Chinese operations.
"The slowdown in economic growth, intensifying market competition and changes in the regulatory environment have created challenging operating conditions on the mainland," she wrote in an e-mailed response to questions.
China's banks have been seriously weakened by its slowing economy. The 10 largest lenders on the mainland reported that overdue loans reached $94 billion at the end of 2013, a 21 percent increase over the previous year. The banking industry's nonperforming loans have increased for 10 straight quarters.
While the China Banking Regulatory Commission contends bad loans accounted for just 1.04 percent of total loans as of the end of March, analysts are skeptical. The valuation of the 16 publicly traded Chinese banks implies that investors have priced in a nonperforming loan ratio as high as 5.8 percent, according to an April report from Guotai Junan Securities Co.
High ROE
Shunning an aggressive expansion policy and focusing on maintaining a high return on equity has paid off for Hang Seng, says Edmond Law, a Hong Kong–based analyst at UOB Kay Hian (Hong Kong) Ltd., who recommends that clients buy the shares.
"Even during the financial crisis, their overall operation was still quite solid," Law says. "That shows the culture of Hang Seng. The capital strength is sort of a norm in Hong Kong's banking sector."
Hang Seng's Tier 1 ratio, at 13.8 percent, is well above the 8.5 percent that Basel III requires. In a public company, Tier 1 capital consists of a bank's cash reserves, common equity and some classes of preferred stock, all of which combine to act as a shock absorber against losses when the economy hits a rough patch.
For Japan's Norinchukin, its No. 2 slot in the Bloomberg Markets ranking represents a return from near collapse. In the year ended on March 31, 2009, it lost 572 billion yen ($5.7 billion) after it loaded up on U.S. mortgage-backed securities that proved to be toxic. The CEO resigned, and the cooperative bank was forced to raise 1.9 trillion yen from its members to boost capital. He was replaced by his deputy, Yoshio Kono.
Holding On
"I became president in our worst time," Kono, 65, said at a news conference on May 22. "Thanks to the capital injection from our members, we were able to hold on to investment securities that tumbled in value during the market rout."
Since 2009, Norinchukin, which was founded as a government-owned cooperative 90 years ago and privatized in 1959, has become more conservative. The bank is mostly an investment vehicle for Japan's struggling farm co-ops, which rely on its returns to supplement their declining income. In 2013, Norinchukin invested 67 percent of its assets in overseas and domestic bonds. During the five years ended on March 31, it reduced its holdings of structured securities by 12 percent to 5.4 trillion yen.
Booming Markets
The bank posted net income of 155.7 billion yen for the year ended on March 31, its highest amount since the crisis. Booming global markets helped the bank book a 1.8 trillion yen gain in the value of its securities for the same year.
The bank has been hoarding those profits; it boasted a Tier 1 capital ratio of 16.1 percent as of March 31, 2013, up from 9.6 percent four years earlier, according to Norihiro Takahashi, senior managing director at the bank. The ratio increased to 17.6 for this year.
"The crisis made us very sensitive to the market environment," says Takahashi, who's in charge of the company's financial controls and planning. "I want to always keep our capital ratio slightly higher than those for top global banks."
Takahashi has a risk-averse soul mate 10,300 kilometers (6,400 miles) away in Quebec, where Desjardins Group CEO Monique Leroux presides over a network of 376 credit unions -- known as caisses -- mostly in the French-speaking province of Quebec and in Ontario. Desjardins serves more than 6 million members and clients and employs 45,000 workers. It had C$223 billion ($206 billion) in assets as of March 31.
'Liquidity is Important'
Quebec-based Desjardins boasts a Tier 1 capital ratio of 15.7 percent. Because it's not publicly listed, most of that capital is cash held as reserves or retained earnings. "Liquidity is important for us," says Leroux, who turns 60 on Aug. 11. She is sitting in a meeting room adjacent to her 40th-floor office at Complexe Desjardins, which features a panoramic view of Old Montreal and the St. Lawrence River.
"If you compare the situation of Desjardins to other banks, we've over the years been able to make sure we have a solid basis of liquidity."
Desjardins was founded in 1900 as Caisse Populaire de Levis -- Levis is a town on the southern shore of the St. Lawrence -- by Alphonse Desjardins, a French stenographer in Canada's parliament. He was angered by the extortionate interest rates -- as high as 3,000 percent -- that prevailed at the time. Modeled on European cooperatives, the new financial institution offered loans at reasonable rates and provided Quebecois with a savings repository.
Bon Mots
Leroux admires Alphonse Desjardins; in 2012, she published a collection of quotes and bons mots from the founder.
"Behind Desjardins's strength is the very strong retail-banking franchise they have," says David Beattie, a senior credit officer at Moody's Investors Service. "They've been at it for a long time, and they do it very well."
Desjardins's status as a private institution means there's no incentive to maximize short-term profits, Beattie says.
"They're not under the same kind of return-on-equity pressure that the other banks are," he says, "so they can afford to run a little rich on capital and not get beaten up by their shareholders."
Desjardins offers personal and commercial banking, wealth management, insurance and brokerage services. Part of its strength, Leroux says, is rooted in how the cooperative is governed. Its executives develop high-level strategies that are discussed and approved by the elected directors of the caisses. Desjardins is not a risk taker.
Risk Management
"Our profile in risk management is quite conservative compared to other large organizations," says Leroux, who has been chairman and CEO of the group since 2008.
In her youth, Leroux hoped to be a concert pianist. Instead, she became a chartered accountant and worked for 17 years at Ernst & Young LLP, rising to managing partner. From 1995 to 2000, she was a senior vice president at Royal Bank of Canada. What she's learned at Desjardins, she says, is the importance of fundamentals.
"Like Alphonse Desjardins wrote many years ago," Leroux says, "it's all about capital, liquidity, performance and productivity."
How We Crunched The Numbers
To identify the world's strongest banks, we used the Equity Screening (EQS) function on the Bloomberg Professional service to obtain a list of public and private banks with total assets of $100 billion or more as of May 1. The banks were evaluated in five categories.
The ratio of a bank's Tier 1 capital to its risk-weighted assets accounted for 40 percent of each bank's overall score. The ratio of nonperforming assets to total assets got a weighting of 20 percent, as did the ratio of reserves for loan losses to nonperforming assets. The ratio of deposits to funding accounted for 15 percent of the score. And the efficiency ratio, which compares costs with revenue, received a 5 percent weighting.
Banks were ranked on each criterion, and the ranking positions were weighted and combined to determine the banks' overall scores. Lenders that reported a loss in net income for 2013 or that failed the U.S. Federal Reserve's most recent stress test were excluded.
All data are for the banks' 2013 fiscal year, which in most cases ended on Dec. 31. (Japanese institutions, such as Norinchukin Bank, have a March fiscal year; their ranking was based on data for the year ended on March 31, 2013.)
Banks that hadn't reported data for fiscal year 2013 by May 1 were excluded. Only banks that provided Bloomberg with data in all five categories were considered. In total, 97 banks were ranked.
To contact the reporters on this story: Aipeng Soo in Beijing at asoo4@bloomberg.net; Monami Yui in Tokyo at myui1@bloomberg.net; Doug Alexander in Toronto at dalexander3@bloomberg.net
To contact the editors responsible for this story: Michael Serrill at mserrill@bloomberg.net