Polls Close in Colombia Presidential Runoff Election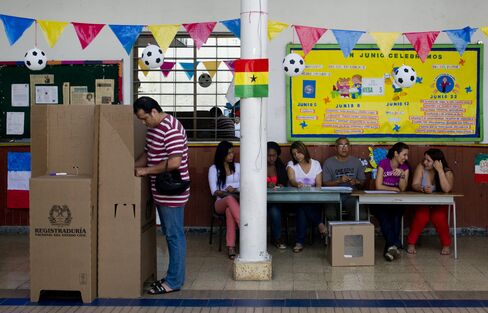 Colombians voted today in a runoff presidential election between Oscar Ivan Zuluaga, who demands a tougher line on Marxist rebels, and incumbent President Juan Manuel Santos.
Polling stations opened at 8 a.m. and closed at 4 p.m. local time (9 a.m.-5 p.m. New York time). The electoral commission typically releases partial results within an hour of the polls closing.
Zuluaga favors many of the same economic policies as Santos, such as support for foreign oil and mining investment, while opposing the current peace negotiations with Marxist guerrillas of the Revolutionary Armed Forces of Colombia, or FARC. The Santos administration has held talks in Cuba with the FARC since 2012 in an attempt to end an insurgency that began in 1964 and has cost more than 200,000 lives.
"It's probably the main thing where they have a real difference of opinion," said Adam Isacson, a Colombia specialist at the Washington Office on Latin America. "Economic and security policy would be remarkably similar, and foreign policy would be similarly aligned with the United States."
Santos, 62, pledges to continue the talks in a second term, and doesn't rule out offering FARC leaders congressional seats as part of a deal. Zuluaga, 55, who served as finance minister from 2007-2010 during the presidency of Alvaro Uribe, demands a unilateral cease-fire from the rebels before he'll sit down with them, and says they shouldn't be rewarded with seats in congress for murdering soldiers and civilians.
Zuluaga beat Santos and three other candidates in the first round of voting on May 25, with 29.3 percent, compared to 25.7 percent for the president. A Gallup poll published June 5 gave Zuluaga the backing of 48.5 percent in the second round, compared with 47.7 percent for Santos. The poll of 1,200 people has a margin of error of 3 percentage points.
A decline in support for Santos in the run-up to the election came even as Colombia's economy grew 4.3 percent last year, outpacing Brazil, Mexico and Chile, while the inflation rate fell to a six-decade low of 1.8 percent in November.
Colombia's dollar bonds have returned 25 percent since Santos took office, after receiving investment grade from Standard & Poor's, Fitch Ratings and Moody's Investors Service in 2011.