BOE's Carney Tackling Housing Boom Backed by Economist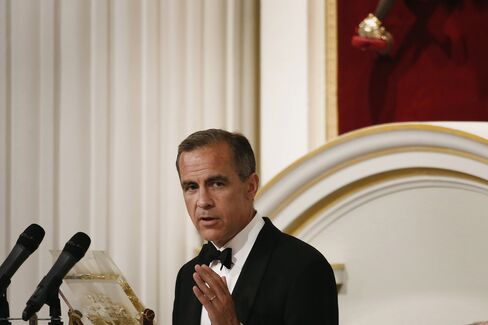 Bank of England Governor Mark Carney is edging closer to putting restraints on the U.K. housing market, and economists say that's the right thing to do.
In a monthly Bloomberg survey, 85 percent of economists said the BOE's Financial Policy Committee should take steps to cool demand for real estate when Carney chairs its next meeting tomorrow. Options include putting a minimum limit on down payments for houses, making banks hold more capital against mortgage lending and toughening affordability tests.
The meeting comes as the debate about the risks posed by the housing market intensifies. Chancellor of the Exchequer George Osborne plans to give the FPC new powers to curb lending and Carney said last week the panel is considering wielding its macroprudential tools to head off any threats to the economy.
"The central bank is gearing up to take action to rein in the housing market," said Rob Wood, an economist at Berenberg Bank and a former BOE official. "It's likely to be gradual and gentle, but make no mistake, it is on the way."
Carney gave his latest warning on housing June 12 when he signaled the benchmark interest rate might start to rise earlier than anticipated from its record-low 0.5 percent. Investors have responded by pricing in a rate increase by January compared with previous bets for May, Sonia contracts showed.
Since Carney made his comments, the two-year government bond yield has gained 17 basis points to 0.90 percent, the highest in more than three years, and the pound has extended its gain against the dollar over the past 12 months to more than 8 percent.
Pressure Building
Pressure to act has mounted as house prices increase faster than wage growth, stretching affordability for homebuyers. The number of high loan-to-income mortgages is rising and Carney warned last week of signs that banks are weakening underwriting standards.
Britons owed a record 1.28 trillion pounds ($2.2 trillion) on their homes in April, an amount equal to about 76 percent of gross domestic product, latest BOE figures show. According to the Council of Mortgage Lenders, first-time buyers in London are borrowing almost four times their gross income and the average loan is 200,000 pounds -- almost double the U.K. as a whole.
A report from property-website operator Rightmove Plc today showed asking prices for U.K. homes rising 7.7 percent in June from a year earlier, with average values in London surging 14.5 percent to the equivalent of $1 million. That growth has prompted warnings from the International Monetary Fund and the Organisation for Economic Cooperation and Development.
BOE Warnings
BOE officials have acknowledged the dangers. Deputy Governor for Financial Stability Jon Cunliffe has said it would be "dangerous" to ignore the momentum, while fellow policy maker Ben Broadbent said last week that housing is a risk to the economy.
Twenty nine of 34 economists, or 85 percent, in Bloomberg's June survey said Britain's housing market is at risk from overheating. That's up from 82 percent in May and the highest since the question was first posed in November. When asked in May if the FPC will take steps this month to cool the housing market, only about two-thirds of respondents agreed.
Carney said last week that the FPC will weigh "the merits of graduated and proportionate actions to mitigate the potential vulnerabilities arising from what is the greatest risk to the domestic economy."
'Clear Hint'
Those comments were "a clear hint that the FPC will take action at its coming meeting," according to David Tinsley, an economist at BNP Paribas SA in London and a former BOE official.
Out of the economists who say policy makers should take action, the most favored option, supported by 63 percent, is the capping of loan-to-value ratios on mortgages. Increasing sectoral capital requirements was backed by 41 percent and reducing the maximum value of properties eligible under Help to Buy, a government program to aid people with small down payments, was supported by 37 percent.
"Given where the Bank of England is, given the Help to Buy program the government still has in place, given the fact that the housing market is overheating more than the economy as a whole, they have to at least try the macroprudential tools before they do a big interest-rate rise," Adam Posen, president of the Peterson Institute for International Economics and a former BOE policy maker, said on Bloomberg Television today.
Rate Forecasts
The FPC will publish the results of the meeting on June 26.
Economists' interest-rate forecasts are centered on the first half of 2015, though the monthly poll was conducted before Carney's comments on the potential timing of the first rate increase. Some economists have changed their predictions since then.
Credit Suisse Group AG and Commerzbank AG both today predicted a rate rise in November instead of 2015. Banks that changed forecasts last week include Societe Generale SA, which now expects a quarter-point increase in the fourth quarter and says an earlier move is possible. Deutsche Bank AG also brought forward its prediction by six months to November.
"The governor has made it very clear that we should be gearing up for a rate rise later this year," said George Buckley, an economist at Deutsche Bank in London.