Last-Ditch Russian Gas Talks to Resume as Ukrainian Jet Downed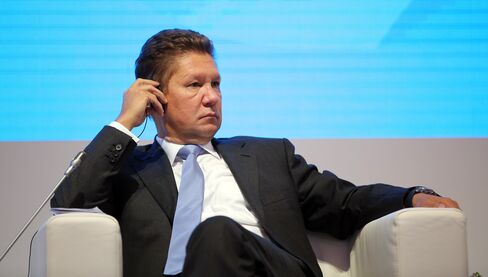 Ukraine, Russia and the European Union will start today a new round of talks to prevent cutoff of natural gas flows, as the downing of a military plane by pro-Russian rebels raised tensions in the east of the country.
Ukraine and Russia have failed to reach an agreement in EU-brokered meetings since they started last month, with Russia declining to change the pricing mechanism and Ukraine rejecting a 20 percent discount offered by the Kremlin.
"The aim is to continue the discussions on issues related to gas supplies from Russia to Ukraine, with the objective of finding a solution that secures stable deliveries," the European Commission, the EU's executive arm, said in a statement today in Brussels.
The showdown over gas heaps pressure on Ukraine's new president Petro Poroshenko, who's struggling to fulfill an election pledge to halt an uprising by the rebels. Poroshenko announced a day of national mourning for tomorrow after rebels shot down the military transport plane as it approached Luhansk airport, killing 40 soldiers and nine crew.
In the talks this evening in Kiev, Russia will be represented by Alexey Miller, chief executive officer of OAO Gazprom, the commission said. On the Ukrainian side, Prime Minister Arseniy Yatsenyuk, Energy Minister Yuri Prodan and chief executive officer of national energy company NAK Naftogaz Ukrainy Andriy Kobolyev will be present. The EU is sending its Energy Commissioner Guenther Oettinger.
Yatsenyuk yesterday instructed authorities to prepare for a gas cut-off once a debt payment deadline of 10 a.m. on June 16 set by OAO Gazprom expires.
The EU is dependent on Russian gas piped through Ukraine for about 15 percent of its supplies.
'Fair Price'
Ukraine refused to pay for gas supplies after Russia raised the price of the fuel by 81 percent in April. President Vladimir Putin stripped the country of a 2010 export-duty break that it exchanged for a lease on its Black Sea fleet's port in Crimea, which Russia annexed in March. The state-run natural-gas exporter Gazprom rescinded a price discount granted to Ukraine in December citing mounting debt.
Ukraine must pay $1.95 billion by June 16 to partially cover its debt for past supplies, according to Gazprom. Prodan has said his country is ready to pay Russia once it sets a "fair" market-based price. A proposed government discount may be canceled at any time, he said.
The EU suggested an interim price of $326 per 1,000 cubic meters, which Ukraine would accept, Naftogaz's Kobolyev told reporters in Kiev yesterday. Gazprom's final offer is $385, the Moscow-based company said yesterday.
Gazprom Position
Russia's position in talks with Ukraine remains "extremely clear and consistent," Gazprom spokesman Sergei Kupriyanov said by telephone today.
"We are ready to look for a compromise, but it's useless to put pressure on us," he said. "Now we are preparing a new meeting in Kiev, which will be held in a different format than the previous consultations. Let's see how it ends."
Yatsenyuk yesterday ordered Ukraine's Foreign Ministry and Energy Ministry to inform EU countries and the U.S. that Russia "deliberately" undermined the talks on gas supplies and rejected constructive proposals. He also instructed Naftogaz to file for international arbitration against Gazprom and called for an "economically justified" rate for fuel transit to Europe, according to a government statement.
Russia rejects Ukraine's accusations that it is deliberately compromising the talks, Interfax said yesterday, citing Dmitry Peskov, a spokesman for President Vladimir Putin.
Before it's here, it's on the Bloomberg Terminal.
LEARN MORE