Kings Take Stanley Cup by Finishing Off Rangers in 2 Overtimes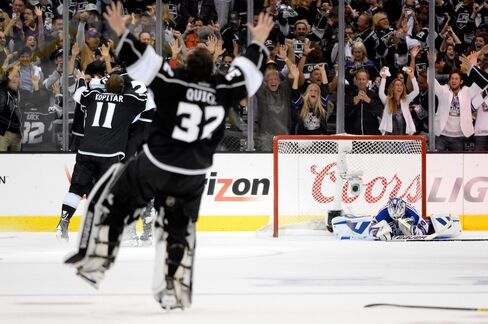 Alec Martinez scored with five minutes left in the second overtime period and the Los Angeles Kings defeated the New York Rangers 3-2 to capture their second Stanley Cup title in three years.
The Kings, who won three overtime games at home in the finals, captured the best-of-seven National Hockey League championship series four games to one.
Martinez, who scored the overtime goal in Game 7 of the Western Conference finals as the Kings defeated the Chicago Blackhawks and moved on to the Stanley Cup finals, knocked a rebound past Rangers goalie Henrik Lundqvist for the winning score that set off a wild celebration on the ice at the Staples Center.
"Fortunately, the rebound came to me and I put it in," Matinez said in a television interview. "We just had to dig deep and keep grinding."
The Kings' Marian Gaborik scored on a power play eight minutes into the third period to tie the game 2-2 and send it into overtime. It was his 14th goal this postseason.
Chris Kreider and Brian Boyle had scored in a four-minute span late in the second period to give the Rangers a 2-1 lead as New York tried to stay alive in the series.
Kreider scored on a power play with 4 1/2 minutes remaining in the period to tie the game 1-1, and Boyle added a shorthanded goal with 30 seconds left before the break.
Justin Williams, who was chosen the series Most Valuable Player, slid a rebound through a pile of players and between the skates of Lundqvist for the Kings' first goal six minutes into the game.
The Kings, who didn't hold a lead in the series until the first period of Game 3, became the first team to win two Stanley Cup titles in a three-year span since the Detroit Red Wings repeated as champions in 1997 and 1998.
Before it's here, it's on the Bloomberg Terminal.
LEARN MORE