World Cup Fans Packing Extra Dollars as Brazil Real Soars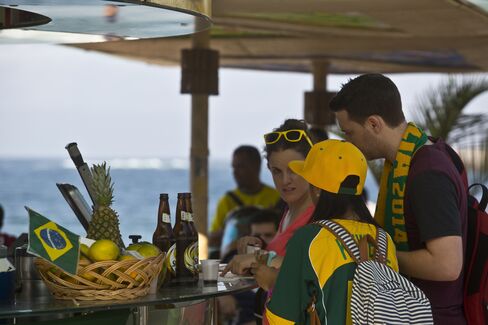 June 13 (Bloomberg) -- For foreign soccer fans swapping their dollars for reais as they arrive in Brazil for the World Cup, the tournament could hardly come at a worse time.
The real has gained 5.5 percent against the greenback this year, the most among 31 major currencies, making everything from hotels in Copacabana to Brazil's signature caipirinha cocktails more expensive for foreign visitors. Six months from now, when the tournament's over, the currency will be almost 7 percent cheaper at 2.4 to the dollar, according to the median forecast of 28 strategists surveyed by Bloomberg.
"Planning the trip to Brazil has been a logistical nightmare," said Joe Street, a 37-year-old New Yorker. He anticipates spending about 40 percent more in Brazil than he did going to watch the World Cup in South Africa in 2010, citing the cost of everything from hotel rooms to airfares. "I really want to see it despite all the factors that make it harder."
The 600,000 foreign fans that government officials expect for the World Cup are getting squeezed as central bank President Alexandre Tombini intervenes in the foreign exchange market to prop up the real and curb inflation. The Tourism Ministry estimates foreigners will spend about 5,500 reais ($2,460) each, plowing a total of $1.5 billion into shops and restaurants.
Currency Swaps
The real climbed to a six-month high of 2.1832 per dollar on April 10 and traded at 2.2395 at 10:13 a.m. in New York. That's down 0.4 percent from yesterday, when Brazil beat Croatia 3-to-1 in the tournament's opening match. The currency's gains this year follow three straight years of losses when it plunged 33 percent.
Soccer fans from Europe will find the euro 6.6 percent weaker versus the real this year, while British fans will get less for their money after the pound fell 2.9 percent against the Brazilian currency.
Policy makers have sold foreign-exchange swaps and dollar credit lines to support the real since August, when the currency fell to a five-year low of 2.4549 per dollar. The central bank extended its $60 billion currency intervention program this month after inflation accelerated to 6.37 percent in May, approaching the 6.5 percent top of the country's target.
The rally will turn into a slump as economic growth sputters and the current-account gap widens, according to strategists at HSBC Holdings Plc and Credit Agricole SA.
Foreign institutional investors placed $25 billion worth of bets in the futures market that the real will decline, according to data from BM&FBovespa, South America's largest exchange. The wagers reached a record $29 billion on May 5.
'Secondary Role'
"Central-bank interventions have been the main determinant" of the real, though "in the second half of the year they should play a secondary role," Vladimir Caramaschi, the chief strategist at Credit Agricole in Sao Paulo, said in a June 11 phone interview. "The tendency is for the real to decline."
Caramaschi, who plans to attend Brazil's June 23 match against Cameroon, forecast the real will tumble 10 percent to 2.5 per dollar by year-end.
The predicted declines will be of little comfort to fans gathering today to watch Mexico play Cameroon in Brazil's northeastern city of Natal, or traveling to Salvador to see Spain face off against the Netherlands.
While the real's advance doesn't affect the price foreigners pay for match tickets, which are charged in dollars, it pushes up the cost of almost everything else. McDonald's Corp.'s Big Mac hamburger, which costs the equivalent of about $5.60 in Brazil, was 7 percent cheaper in January, data compiled by Bloomberg show.
Sluggish Economy
"Brazil's intervention policy is definitely going to make the visitors' trips even more expensive," Joao Paulo de Gracia Correa, a currency trader at Curitiba, Brazil-based brokerage Correparti Corretora de Cambio, said yesterday by phone. "But by year-end, we should see the real depreciating considerably and falling to around 2.40 per dollar."
While a convenient way for Brazil's authorities to curb inflation, the stronger real is weighing on the economy by making exports less competitive.
That will eventually feed through to losses in the currency, according to HSBC, the most accurate forecaster for the real in the first quarter. It predicts a decline to 2.5 per dollar by year-end.
The real's recent appreciation "doesn't change the trend for the medium term," Marjorie Hernandez, a currency strategist at HSBC in New York, said by phone on June 10. "Economic data is getting worse. Inflation is very stubborn. At some point, it's going to resume the decline."
Determined Traveler
The World Bank cut its estimate for Brazil's 2014 economic growth this week to 1.5 percent from 2.4 percent. That would bring the average annual expansion during President Dilma Rousseff's four-year term to 1.9 percent, about half that of the past decade. The deficit in the current account, the broadest measure of Brazil's trade and services, widened to $8.3 billion in April, from $6.3 billion a month earlier.
The real's appreciation hasn't put off Penny Levendis, a 31-year-old trader and analyst from New York, who has been planning her trip to the World Cup since 2008.
"I played football myself for 20 years," Levendis, who saved money by changing her cash months ago, said in a June 6 phone interview from New York. "I decided I'd go anyway, no matter how much it cost me."
To contact the reporters on this story: Ye Xie in New York at yxie6@bloomberg.net; Filipe Pacheco in Sao Paulo at fpacheco4@bloomberg.net
To contact the editors responsible for this story: Brendan Walsh at bwalsh8@bloomberg.net; Paul Armstrong at parmstrong10@bloomberg.net David Papadopoulos, Justin Carrigan