Dutch Rout World Champion Spain 5-1 as Chile, Mexico Get Wins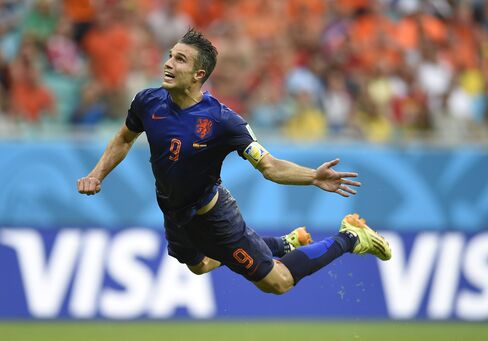 June 14 (Bloomberg) -- The Netherlands rallied from a goal down to hand defending champion Spain a 5-1 mauling as Chile and Mexico also won at the 2014 soccer World Cup in Brazil.
In a rematch of the 2010 final, which Spain won 1-0, Robin van Persie and Arjen Robben each scored two goals for the Dutch, with Stefan de Vrij adding the other. Xabi Alonso had given Spain the lead with a penalty kick in the first half.
"These are three beautiful points, but it's not enough to make the next round," Van Persie told reporters after yesterday's match. "Let's just enjoy it."
Spain, which was upset by Switzerland in its first game of the last World Cup in South Africa, faces Chile and Australia in its other Group B games. In yesterday's other games, Chile defeated Australia 3-1 and Mexico held on to beat Cameroon 1-0 in Group B.
Two teams from each group advance to the round of 16, with the runner-up in Group B facing the winner of Group A, which comprises host nation and tournament favorite Brazil, Cameroon, Mexico and Croatia.
"Practically nothing went right for us," Spain midfielder Andres Iniesta told reporters. "This game is over. We have to put it behind us and look to the next one."
There are four games today, with Colombia taking on Greece and Ivory Coast meeting Japan in Group C matches. In Group D, Uruguay faces Costa Rica and England plays Italy.
Alonso scored after Diego Costa went down under a challenge by de Vrij. Costa, who was born about 150 miles (240 kilometers) from Salvador in northeast Brazil and got dual nationality after several years playing in Spain's La Liga, was booed by the crowd at Fonte Nova stadium.
Goal Blitz
Van Persie leveled for the Dutch two minutes before halftime when he looped a diving header over Spain goalkeeper Iker Casillas. Robben added a second after 54 minutes, when he beat defender Gerard Pique and fired in.
De Vrij made it 3-1 after 66 minutes when he squeezed the ball into the net after Casillas, challenged by Van Persie, failed to catch the ball. The Spain goalkeeper received a yellow card for complaining to Italian referee Nicola Rizzoli that he was impeded.
Casillas failed to control the ball with his foot three minutes later, allowing Van Persie to get another goal. Robben added the fifth goal after a defensive mix-up between Casillas and Sergio Ramos.
Chile Wins
Chile beat Australia 3-1 in their World Cup opening-round match after two quick strikes from Alexis Sanchez and Jorge Valdivia and a goal from Jean Beausejour in the final minutes.
Tim Cahill's headed goal brought Australia back into the game in the first half, and his team had good chances but Beausejour finished the match with a left-footed shot from outside the penalty area in the 92nd minute.
In the first half, Sanchez took advantage of confusion among the Australian defenders and scored in the 12th minute in Cuiaba. Chile got another two minutes later as the defenders chased the ball and Sanchez passed it back for Valdivia, who placed it over goalkeeper Mat Ryan.
'Punished Us'
Cahill got the Australians back into the match by outjumping Gary Medel and forcing his header past Chile goalkeeper Claudio Bravo in the 35th minute. In two previous matches against South American opposition in earlier World Cups, Australia had failed to score. Cahill has four of the Socceroos' nine World Cup goals.
"Chile got in twice and punished us but after that you could see their legs were going and we knew we could get something from this game," Cahill said. "We really stood up strong. Not a lot went our way and it showed."
Earlier, Mexico beat Cameroon 1-0 on Oribe Peralta's second-half goal.
In the 10th minute, Mexico's Giovani Dos Santos volleyed in a shot and was ruled offside. Twenty minutes later, he headed a goal in from a corner and was again ruled offside, incorrectly, as the ball had come off the head of a Cameroon defender before reaching the Mexican.
In the opening match of the tournament, Croatian coach Niko Kovac complained that Brazil benefited from a questionable referee decision to give the host nation a penalty kick that broke a 1-1 tie in the second half. Brazil won the game 3-1, and leads the group.
To contact the reporters on this story: Christopher Elser in Rio de Janeiro at celser@bloomberg.net; Alex Duff in Salvador, Brazil at aduff4@bloomberg.net
To contact the editors responsible for this story: Christopher Elser at celser@bloomberg.net Rob Gloster