Park Shakes Up Cabinet to Regain Confidence After Ferry Disaster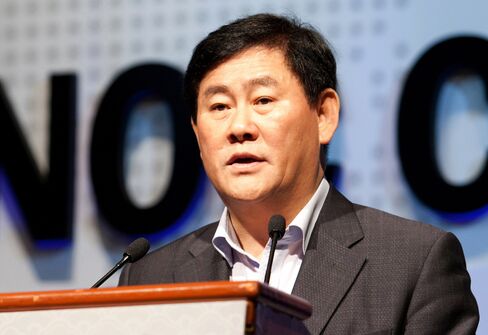 South Korean President Park Geun Hye carried out her first cabinet shakeup since taking office as she strives to regain public support and sustain economic growth after the deadly Sewol ferry sinking.
Park shuffled more than a third of her ministers, naming Choi Kyung Hwan, a ruling party lawmaker and the former chief economist for the European Bank for Reconstruction and Development, as both finance minister and deputy premier for the economy. She also named six other new cabinet members, her spokesman Min Kyung Wook said today at a televised briefing.
Park's approval ratings tumbled to its lowest in more than a year after the Sewol disaster, threatening to erode voters' support for her policies. She pledged to revamp her government after criticizing "a failed" rescue operation after the April 16 sinking that killed more than 300 people, most of them school children, and sparked an outpouring of national anger.
"Economic sentiment is very much dampened," Choi told reporters following the nomination. "I feel a grave responsibility from the deputy prime minister nomination as the unexpected Sewol accident during a trend of recovery created difficulties for people's economic interests."
Choi would face challenges from a won trading near a six-year high against the dollar, weakness in domestic demand and record household debt.
Drastic Moves
"We're seeing some drastic moves in the foreign-exchange market now and there are big concerns about this," Oh Jung Gun, an economist at the Korea Economic Research Institute and a former Bank of Korea official, said in Seoul before the announcement. "He is likely to stand firm on taking measures against foreign-exchange volatility."
Other cabinet nominees today included those dealing with education, labor, safety, culture, science and gender equality. They face confirmation hearings at the National Assembly, whose approval isn't required for their formal appointments.
The revamp came at a time when Park is struggling to name a new premier after Prime Minister Chung Hong Won offered his resignation in April over the ferry sinking.
"It's problematic that a cabinet reorganization took place when the new premier hasn't been appointed," Keum Tae Sup, a spokesman for the main opposition New Politics Alliance for Democracy, said in a statement posted on the website of the party, discounting today's shakeup as "not at all fresh."
'God's Plan'
Park's current pick for premier, who needs parliamentary sanction, is facing opposition after public broadcaster KBS on June 11 aired footage of him calling Japan's 35-year occupation of the Korean peninsula God's plan. Moon Chang Keuk yesterday refused to apologize and said his remark was taken out of context.
Moon is Park's second nominee for the post in three weeks. Last month her first choice withdrew from consideration after denying graft allegations by opposition lawmakers.
Park yesterday named another ruling party legislator as her chief economic adviser. An Chong Bum would help boost the economy by supporting Park in implementing her three-year economic plan announced early this year, Min said. The plan also seeks to increase the nation's per capita income to near $40,000 and raise the employment rate to 70 percent.
Botched appointments troubled Park after she won the December 2012 election. She had four cabinet picks withdraw amid graft allegations and two for personal reasons when she tried to form a government last year. She also fired her chief spokesman after he was accused of groping an intern at South Korea's embassy in Washington during her U.S. trip last year.
Park and the opposition NPAD split the results of last week's local elections, her first electoral test as president.
In South Korea the president holds executive power, with the prime minister having limited responsibilities.