Italy Said to Weigh Public Backstop for Banks Before Stress Test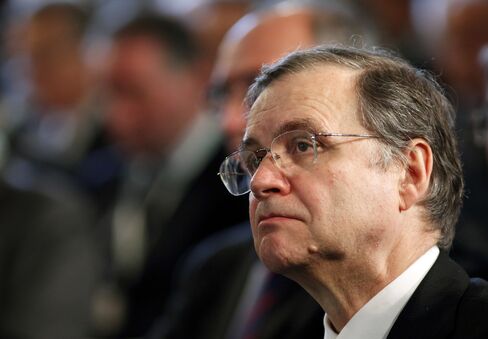 June 13 (Bloomberg) -- The Italian government is considering options for a public backstop to cover potential shortfalls in bank capital ahead of European stress tests in October, two people with knowledge of the plan said.
Officials are weighing multiple options, according to the people who asked not to be named because the review is private. The government may set up a fully financed pool that would be ready for use immediately or draw up the legal framework without raising funds, said one of the people. The government may also opt to do nothing, the person said.
The biggest European banks are undergoing examinations on their ability to withstand economic downturns before the European Central Bank takes over as pan-European supervisor in November. Banks may be required to raise capital if they are judged to have a shortfall.
While a Europe-wide backstop will eventually be in place as part of a planned multi-nation banking union that process may require months, or even years. In the meantime, national authorities may consider providing support to banks in need.
La Repubblica reported the plan earlier today.
The credibility and success of the stress tests "require that instruments of public intervention be available to act as financial backstops," Bank of Italy Governor Ignazio Visco said in a speech May 30.
The plan will probably be in place by October, said one of the people. Expectations about the results of the stress test will determine which option is ultimately selected, the other person said.
Filippo Sensi, spokesman for Prime Minister Matteo Renzi, didn't return a call and a text message seeking comment.
The stress test is the third and final stage of the ECB's Comprehensive Assessment, an evaluation of whether lenders can survive a downturn. The first phase identified potentially problematic loans and the second stage is the Asset Quality Review to identify any capital shortfalls.
To contact the reporters on this story: Andrew Frye in Rome at afrye@bloomberg.net; Lorenzo Totaro in Rome at ltotaro@bloomberg.net
To contact the editors responsible for this story: Alan Crawford at acrawford6@bloomberg.net; Craig Stirling at cstirling1@bloomberg.net Ben Sills