Iraq Shiites Issue Call to Arms as U.S. Carrier Moved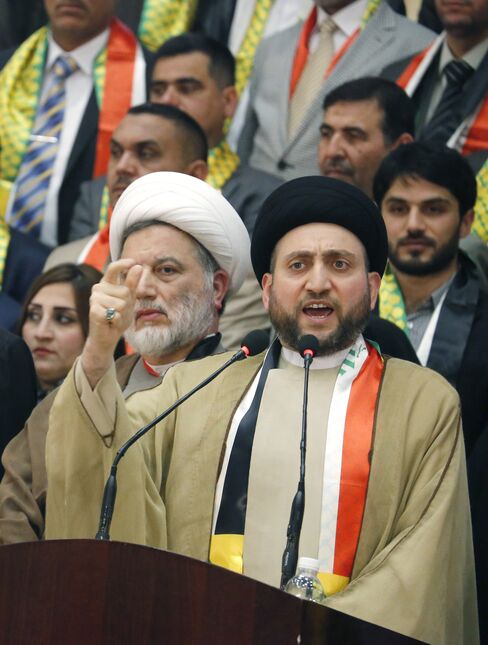 The U.S. ordered an aircraft carrier to head into the Persian Gulf as President Barack Obama weighs options on how to aid Iraq's Shiite-led government in its fight against Sunni militants threatening to re-ignite sectarian conflict in OPEC's second-largest oil producer.
The Pentagon in dispatching today the USS George H.W. Bush, which has been in the North Arabian Sea, said its new location "will provide the commander-in-chief additional flexibility should military options be required to protect American lives, citizens and interests in Iraq."
The carrier, which will be accompanied by the guided-missile cruiser USS Philippine Sea and the guided-missile destroyer USS Truxtun, the Pentagon's press secretary, Rear Admiral John Kirby, said. The ships are expected to arrive later today, he said.
The movements provide the U.S. with a floating base within short flying distance of Iraq, in case U.S. aircraft based at fields in Qatar, Kuwait and other locations aren't allowed to fly missions for political reasons.
In Iraq, Ammar al-Hakim, head of the country's Shiite Islamic Supreme Council, volunteered to fight the insurgents, as a spokesman for Grand Ayatollah Ali Al Sistani, the top Shiite religious leader, said Iraqis should combat "terror." Prime Minister Nouri al-Maliki called on citizens to be ready to "shoulder the burden" and join the fight against the Islamic State in Iraq and the Levant.
Iran Help
Iran, a Shiite ally, stands ready to help should the Iraqi government ask for assistance, Iranian President Hassan Rouhani said today at a televised news conference. At the same time, a key Sunni Muslim tribal leader said his forces are helping the government battle the militants, the first indication that Maliki retains some support among the minority Sunni population.
ISIL, which has also been fighting Bashar al-Assad's forces in Syria's civil war, captured the northern Iraqi towns of Mosul and Tikrit earlier this week as the army abandoned its bases. Its advance through the country, abetted by Sunni factions of Saddam Hussein's former Baathist regime and tribal groups disillusioned with the Shiite-led government, highlights the breakdown of central authority and raises the prospect of the country disintegrating.
Symbolic Visit
In a symbolic move, Maliki yesterday traveled to Samarra, 120 kilometers (75 miles) northwest of Baghdad, where Iraqi government forces were battling to repel ISIL fighters. The destruction of a Shiite mosque by Sunni insurgents in the city in 2006 sparked a sectarian war that peaked a year later.
Dozens of Iraqis were seen gathering at centers in Baghdad today to volunteer in the fight against ISIL, in footage aired by Sky News Arabia. The recruits will face militants whose firepower may be strengthened by the equipment they have access to after seizing army bases in Mosul, cash from the city's banks, and the release of 2,500 fighters from local jails, Eurasia Group, a New York-based political risk consultancy, said by e-mail on June 11.
Sheikh Ahmed Abu Risha, the Sunni tribal leader who's backing the government, said the country urgently needs the U.S. to intervene in the conflict.
'American Support'
"We've been fighting al-Qaeda in Anbar for the past six months and we're ready to fight for another six months, but we need American support," he said in a phone interview today from Ramadi in western Iraq. "The United States must take the decision to stage air strikes against the militants or send troops again to Iraq, even if it's for a limited time."
Abu Risha leads the Awakening Council in Anbar province. Also known as The Sahwa or the Sons of Iraq, the councils were organized by the American military to fight al-Qaeda during the civil war and their decision to turn against the terror network was hailed by the U.S. as key to a decline in violence.
Sunnis are a majority in Anbar province and in areas to the north of Baghdad, while Shiites account for the majority in the south, where 60 percent of the country's oil wealth resides. Iraq is OPEC's second-biggest crude producer.
Abu Risha's support of Maliki may not be matched by other Sunni groups, according to Theodore Karasik, director of research and consultancy at the Institute for Near East and Gulf Military Analysis in Dubai.
'Powerful Triangulation'
"The discourse that is running in Iraq right now seems to be favoring the Sunnis who are against al-Maliki because of the powerful triangulation between Sunni tribes, ISIL and disgruntled members of the old Saddam regime," he said. That would prevent the majority of Sunnis from supporting al-Maliki in "a violent struggle."
Many awakening councils are siding with ISIL because it represents to them "a force that can be used to garner greater Sunni rights," Karasik said.
Explaining the U.S. position yesterday, Obama said the country's problems aren't "solely, or even primarily, a military challenge," and called on Iraq's leaders to unite.
"This should be a wakeup call; Iraq's leaders have to demonstrate a willingness to make hard decisions and compromises on behalf of the Iraqi people in order to bring the country together," Obama said. "We can't do it for them."
At today's news conference, Iran's Rouhani said he and Obama have official and unofficial channels of communication that they use, though they haven't done so in relation to the current crisis in Iraq.
"America hasn't acted on this situation yet," Rouhani said. Whenever the U.S. makes a move, "then we can think about cooperation with them in Iraq."
(Updates with carrier moving from North Arabian Sea in second paragraph. Click EXTRA for more on Middle East unrest.)
Before it's here, it's on the Bloomberg Terminal.
LEARN MORE