China Eastern Makes Boeing's Biggest Order in the Country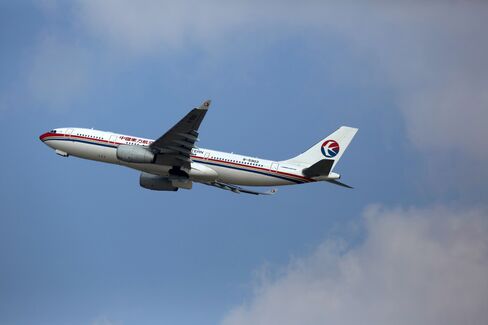 China Eastern Airlines Corp., the nation's third-largest carrier, agreed to buy 80 737 jets valued at $7.4 billion, marking the Asian country's biggest order from Boeing Co.
China Eastern will buy a mix of 737-800 and upgraded Max models, to be delivered starting in 2016, the company said in a statement to the Shanghai stock exchange yesterday. The carrier is also selling 15 older 737-300s and five 757s back to the planemaker, according to the statement.
Chinese carriers are bringing in more orders for Boeing and Toulouse, France-based Airbus Group NV as growth in the world's second-largest economy enables more people to fly. That expansion makes purchasing planes inevitable and at least 13 Chinese airlines, double the existing number, will have a fleet of 100 aircraft each by the end of the decade, market researcher CAPA Centre for Aviation said last month.
The order is a leg up for the world's largest aircraft maker in its competition with Airbus in the market for single-aisle jets, the workhorse of the global airline fleet. More than 50 percent of the commercial jetliners operating in China are Boeing planes, according to the company's website.
China Eastern, based in Shanghai, will fund the purchase from business operations, bank loans and other finances, according to the statement.
Chinese Assembly
Boeing, based in Chicago, said in February it doesn't rule out the possibility of building a final assembly line for single-aisle planes in China in the future. Boeing, for four consecutive years, has increased its estimate for demand from China and expects the country to need 5,580 new planes costing $780 billion through 2032.
Airbus, which has an assembly line in Tianjin, China, has forecast that China will supplant the U.S. as the world's largest market for aircraft by 2032.
In January, Boeing said it delivered a record 143 jets to China last year and expects to hand over a similar number of aircraft in 2014. In February, China said it will further lower the criteria for setting up a budget airline in the country and will study tax breaks for low-cost carriers to make flying more accessible.