Race For Cantor Seat is Between Basketball-Playing Profs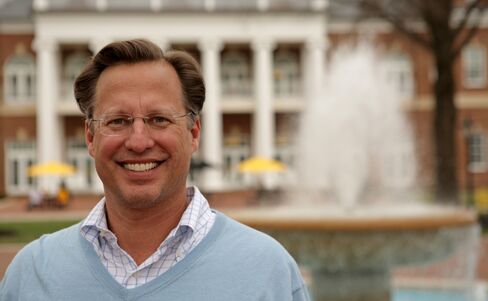 June 12 (Bloomberg) -- Before they were political adversaries, David Brat and Jack Trammell were teammates on a faculty basketball team.
With Trammell the Democratic nominee, Brat's surprise victory in Virginia's June 10 Republican primary over House Majority Leader Eric Cantor sets up a November race for Congress between two professors from the same small liberal arts school.
The prospect has energized the leafy campus of Randolph-Macon College in Ashland, Virginia, about 20 miles north of Richmond. A hashtag -- #Brammell -- has emerged on Twitter in a sign of solidarity. Administrators are offering to host a debate between the two, who a decade ago played on a faculty squad that competed against student intramural teams.
"Under those circumstances they were both willing to give the ball to each other," said Charles Gowan, the head of the school's biology department who also was on the team. "I don't know if that's the case politically or not."
Trammell, 50, gets slightly higher marks from students in an online ranking system, but Brat, 49, has the advantage heading into the general election in the reliably Republican district that includes parts of Richmond and some of its suburbs. Even as President Barack Obama won Virginia in his 2012 re-election, Republican challenger Mitt Romney won the 7th district by 15 percentage points.
Brat teaches economics and is known for peppering his lectures with instruction on ethics and morality. Trammell is an assistant professor of sociology who heads the school's Disability Support Services program, and an author of several books, including a history of the slave trade in Richmond.
Methodist Ties
The college, with about 1,300 students, was founded by Methodists in 1830 and maintains a "living tie" to the United Methodist Church, according to its website. U.S. News & World Report ranked Randolph-Macon 134th among national liberal arts colleges on its 2014 list.
A row of fraternity houses borders campus, where red-brick buildings dot green, trimmed lawns. The college, located within Ashland's historic district, has extended the debate invitation to the two campaigns as it basks in its heightened profile.
"Obviously, we love it, to have the national spotlight on our college," Robert Lindgren, Randolph-Macon's president, said in an interview. "If it causes a prospective student to think more seriously about the attributes of a residential liberal arts college like Randolph-Macon, that would be a particular bonus."
"I came to the college in 1968, and I don't remember anything like this," said James Scanlon, a retired professor who wrote a two-volume history of the school.
'Very Respectful'
Derek Dittmar, 20, a rising junior and communications major, said the race is likely to infuse a sense of civic responsibility.
"I realized that no matter who won, somebody who I respect academically, personally, will be going to Congress," he said. "I don't think we're going to be seeing any fistfights in the fountain. I think that people are going to be very respectful because we have candidates that are very respectful."
Randolph-Macon has been in a political spotlight before, albeit briefly. It was one of the first stops Romney made after announcing his presidential running mate would be Representative Paul Ryan, a Wisconsin Republican.
The school's alumni include Representative Randy Forbes, a Republican who represents Virginia's 4th congressional district.
Lindgren, the college's president, described both Brat and Trammell as engaged with the school. The two also are known to be friendly with one another, though they represent opposing political views.
Seminary Degree
Trammell, who didn't respond to an e-mail seeking comment, has a Ph.D. in educational research from Virginia Commonwealth University in Richmond. His one-page campaign website doesn't describe his political views. It does say that he worked on the presidential campaigns of Democrats Michael Dukakis and Bill Clinton.
Brat has a Ph.D. in economics from American University in Washington and a master of divinity from Princeton Theological Seminary. In a 2004 paper, Brat said that economists are "slow to acknowledge perhaps the most powerful institution in Western civilization: religion."
In classes, Brat "ties in philosophy to everything," especially the moral foundations of economic and governmental systems, said Sydney Jones, a 2010 graduate who was advised by the Republican and co-wrote a research paper with him on the mortgage crisis and credit crunch.
Professor Rankings
"He had us learn about different philosophers, helped us connect things in a different way and understand why countries have different" outcomes, Jones, now a business development coordinator at a law firm in London, said in a phone interview.
Brat and Trammell each received good grades on Ratemyprofessor.com, on which students anonymously rate their instructors. Trammell received slightly higher marks though each was awarded a red pepper, an indication of their "hotness."
Randolph-Macon Provost William Franz said he expected the campaign to be civil.
"Dave is Dave and Jack is Jack, and they're not different people today than they were on Monday," Franz said in an interview. "We tend to get along here and we respect one another's opinions."
He added: "They'll both be here after the race and we're going to need to continue to be a community then as well."
To contact the reporters on this story: Brian Wingfield in Washington at bwingfield3@bloomberg.net; Jim Snyder in Washington at jsnyder24@bloomberg.net
To contact the editors responsible for this story: Jon Morgan at jmorgan97@bloomberg.net Don Frederick