Peru Blows Up Gold Mine Machines in Bid to Legalize Activity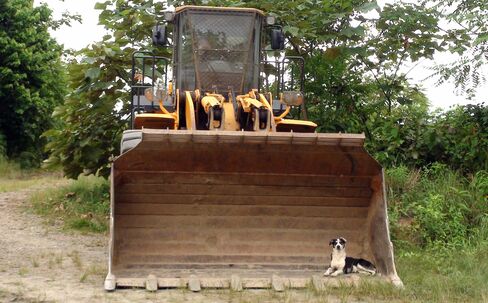 Crisologo Quispe says he halted operations at his gold mine in the Peruvian jungle in April after police used dynamite to blow up $350,000 loaders at a nearby site.
Quispe fired 17 workers and moved machinery elsewhere on concern his concession in 428 hectares (1,057 acres) of jungle bordering the Madre de Dios region of southeast Peru will become embroiled in a government campaign against illegal mining.
"I'm not operating for safety reasons until things become clearer," Quispe said last month in an interview in Cuzco, where he's applying for a mining permit. "I'm not illegal but I'm worried that what's happening to the illegal ones could happen to me. The raids don't differentiate."
Quispe owns one of 58,000 small mine operations that the government says have signed up for a process to operate legally and abide by environmental, labor and tax legislation. The crackdown on another 30,000 has fed a slump in gold exports from Latin America's largest producer. The government needs to streamline the permit process and stop attacking mines operating in areas where previously it encouraged mining, or it will face social conflict, according to Miguel Santillana, an economist at Lima-based Universidad San Martin de Porres.
Protests by mine owners and workers in April left one person dead in the jungle town of Mazuco as police sought to reopen a highway connecting Brazil with Peru's Pacific coast. Police clashed with as many as 2,000 miners marching towards Congress in March in Lima.
Success Story
Mine operators that signed up for formalization before an April deadline have been granted amnesty to continue operating and have nothing to fear from the raids, which only target illegal mines, said Daniel Urresti, a retired army general who's leading the crackdown.
Rising exports of copper and gold have helped Peru become South America's fastest growing economy over the past decade, expanding an average of 6.3 percent a year. Gross domestic product grew 4.8 percent in the first quarter.
Santillana, who has advised mining companies on community relations in Peru, estimates there are as many as 550,000 people working in informal mine tunnels in the mountains and mining pits in the jungle. The formal mining industry employs about 180,000, according to the Energy and Mines Ministry.
President Ollanta Humala's government passed legislation in April 2012 that gave small-scale mine operators two years to sign up for a six-step formalization process. The operators need to apply for certificates from five government entities, covering areas such as water, exploration, processing minerals and reforestation.
Falling Exports
Registered gold mines led by Newmont Mining Corp.'s Yanacocha unit produced 151 tons of gold last year. The government doesn't track illegal and informal production. Customs data, which until this year included gold from informal and illegal mines, show exports of 172 tons for 2013.
The value of gold exports tumbled 47 percent to $1.2 billion in the first quarter from a year earlier as international prices declined, formal mine output fell and the government clamped down on sales by illegal and informal mines.
Madre de Dios, which accounts for 11 percent of Peru's gold output, is the focus of the government campaign to eliminate illegal mining.
Laying Waste
Gold mining has turned more than 50,000 hectares of rain forest in Madre de Dios into a wasteland of craters and pools of brown water, according to a study last year by the Washington-based Carnegie Institution for Science and Peru's Environment Ministry. Illegal mine operators have encroached on the buffer zone of the Tambopata reserve, home to jaguars, capuchin monkeys, the endangered giant river otter and about 7 percent of the world's bird species.
The annual average rate of deforestation tripled between 2008 and 2012 after gold prices surged, the study said.
Since December the government has stepped up raids on illegal gold mines and limited the sale of gasoline in Madre de Dios to starve miners of fuel, Urresti said in a June 4 interview in Lima.
Urresti reports directly to Humala as head of the office for mine formalization, eradication of illegal mining and environmental remediation.
Humala was elected in 2011 on pledges to increase mining royalties and tighten environmental regulation. The government is taking steps to curb tax evasion and expand the tax base to offset lower metal prices, the Finance Ministry said April 23.
Protecting Nature
The cost of combating illegal mining in terms of falling incomes in gold-producing areas is outweighed by the benefits to the environment, labor conditions and tax revenue, said Elmer Cuba, a partner at research firm Macroconsult.
"It's a collateral effect of something that's positive for the country," Cuba said by phone from Lima.
One mine owner, who asked not to be identified for fear of retaliation by neighboring operators, says that after clearing an area of forest and extracting the gold, workers at the company put the soil back, top it with fertilizer and plant native trees and shrubs from an on-site nursery.
It hasn't done the mine owner any good. Excavators and dump trucks sit idly at the site in Mazuco while a dog sleeps in the bucket of a loader. The owner says there are no buyers for the mine's gold and even though the company pays income taxes and respects labor laws, it could be targeted by the police.
Causing Panic
The owner says the site's skeleton staff panic when they hear the sound of helicopters after police destroyed equipment at a nearby site.
Urresti says police explosive experts are authorized to destroy mining equipment in the presence of a public attorney after the Mines Ministry has confirmed the site is illegal. Impounding the equipment isn't an option as most of the jungle sites are far from any roads and the legal process is lengthy and costly, he said.
Rather than encouraging mines to operate legally, the campaign is putting out of business mines that are on their way to becoming legal, said the economist Santillana.
"The government is making an extraordinary effort to show people it's doing something," Santillana said in an interview in Lima. "Bombing is not the solution. Most of the mine workers are peasants who haven't finished primary school. They know the gold is there and at these prices they'll make more money extracting gold than growing maize or potatoes."
Informal Market
In December, customs officials began verifying exporters' gold comes from mines that comply with the new legislation, and seizing any metal that doesn't. As a result, many export companies have closed and the informal market for gold has collapsed, Urresti said.
About 60 illegal mines operate in Madre de Dios and the biggest built up a fleet of about 120 loaders and excavators, he said.
"This is a problem that had been swept under the carpet," Urresti said. "I've declared a fight to the death with illegal mining. We can't allow them to continue destroying the Amazon."
International gold prices have tripled in the past decade, and brought prosperity to Madre de Dios. The region's poverty rate fell to 3.8 percent last year from 28 percent a decade ago and is the lowest of Peru's 25 regions.
Everything is changing this year. In Mazuco, gold merchants and gas stations have closed and many other businesses are struggling.
Antonio Diaz says he used to earn 100 soles ($36) a day carrying workers or sacks of rice to local mines in his three-wheeled auto-rickshaw. His earnings have dropped to 20 soles and his son has had to suspend his pre-university course in Cuzco to take up a job in a bakery.
"The so-called formalization isn't working. It's a farce," said Luis Vargas, a 45-year-old mine owner who took part in the protests in Mazuco. "Miners have lost everything. There's no fuel for the equipment so there's no economy. People are ready to explode."
Losing Faith
Quispe, the mine operator, says the process to register mines is too complex and time consuming. He was the first of about 1,800 mine owners in Cuzco to sign up for formalization since April 2012 and is still waiting for the all-clear from the Mines Ministry, according to Olga Arana, who oversees the process for the regional government.
Twice as many miners in Cuzco probably would have signed up if her office had resources to travel to more mining areas to explain the formalization process, Arana said.
Quispe says the government's current approach probably will lead to more conflicts as mine owners and workers fight to protect their livelihoods.
"The government wants to get rid of the small and traditional producers," Quispe said. "We generate more jobs than big mining but no one's looking out for our interests. We're very vulnerable."