Carney Sees Housing Debt Risk as Rate Increases Near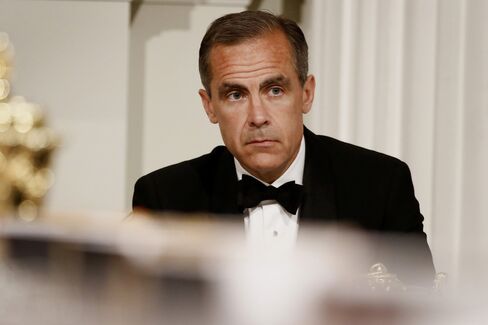 Mark Carney said rising U.K. mortgage debt may threaten Britain's recovery as he signaled interest rates might start to rise earlier than anticipated.
Investors pulled forward bets on the timing of the Bank of England's first benchmark rate increase from the record-low 0.5 percent after the central bank governor said it "could happen sooner than markets currently expect." Speaking yesterday at the annual Mansion House speech in the City of London, he said higher borrowing costs could stretch over-leveraged households and undermine financial stability.
The pound rose after the comments, which followed a pledge from Chancellor of the Exchequer George Osborne that the BOE's Financial Policy Committee will get new powers to curb mortgage lending as a surging housing market raises concern about a bubble. Using those measures to head off a potential crisis could allow Carney to keep interest rates on hold for longer.
Employing such macroprudential tools "might also give Mr. Carney a bit of breathing space," Neil MacKinnon, an economist at VTB Capital in London and a former U.K. Treasury official, said in a note. "However, market economists will be bringing forward the timing of the first U.K. rate hike into the end of this year."
MacKinnon said he will stick with his own forecast for an interest-rate increase in October. Before the speech, more than half the 29 financial institutions surveyed by Bloomberg predicted an increase in the key rate by March, while forward contracts based on the sterling overnight interbank average, or Sonia, showed investors were betting it would rise 25 basis points by May. Investors are now betting on a move by February.
Currency Strengthens
The pound reached the strongest level in 19 months against the euro as it rose for an eighth day, its longest such run since April 2010. Sterling also traded at a one-month high against the dollar. The currency was at $1.6976 and 79.94 pence per euro as of 10:15 a.m. in London.
The prospect of a BOE increase as soon as this year sets the U.K. central bank apart from the U.S. Federal Reserve and the European Central Bank. The Fed is still buying bonds to support the recovery while the ECB cut its key interest rate last week and may start quantitative easing to battle the risk of deflation.
If Britain's strengthening economic recovery does prompt a rate increase, that raises the prospect that consumers face a test of their resilience to higher borrowing costs months before Prime Minister David Cameron seeks a second term in office in a general election.
Vulnerable U.K.
While Carney said that borrowers need to brace for policy tightening, what's more important is the subsequent pace of rate increases. These will be "gradual and limited" because of headwinds including the strength of the pound and the weak euro-area economy, he said.
"Caution over the path of rate increases once they begin is also needed because we start at a point from which interest rates cannot easily be reduced," he said. "The effects of an excessive or an excessively rapid tightening of monetary policy could prove damaging and difficult to undo."
One reason for this is the U.K.'s "vulnerable position," according to Carney. Household debt is about 140 percent of disposable income, mortgages at high loan-to-income ratios are at a record and there are signs of a drop in banks' underwriting standards.
"This is concerning," said Carney, who will lead a meeting of the FPC on June 17. "Over-extended borrowers could threaten the resilience of the core of the financial system."
International Warnings
The surge in property activity has prompted organizations from the International Monetary Fund to the European Commission to say the U.K. may need to respond. Home values in England and Wales rose 8.5 percent to an average 266,013 pounds ($452,000) in the 12 months through May, Acadata Ltd. said today. There were some signs of cooling in the London market, which has driven U.K. gains, with prices in the capital rising the least in 10 months.
"The FPC is considering using macroprudential tools to insure against potential vulnerabilities associated with the housing market," Carney said. "Doing so could reduce the need for monetary policy to be diverted to address a sector-specific risk."
U.K. homebuilder shares fell today, with Bovis Homes Group falling 4 percent and Barratt Developments, Taylor Wimpey, Redrow and Persimmon all showing declines.
No Hesitation
Speaking alongside Carney at the event, Osborne said the BOE "should not hesitate" to act to cool the property market if needed.
The chancellor also acknowledged the difficulties inherent in any intervention in the property market, where regional disparities mean London prices are rising more than three times as fast as the rest of the country.
"The British people want our homes to go up in value, but also remain affordable; and we want more homes built, just not next to us," he said. "You can see why no one has managed yet to solve the problems of Britain's housing market."
On the outlook for the BOE's benchmark rate, Carney signaled he's not ready to push for an increase just yet, saying there is scope for more spare capacity in the economy to be used up. While the nine-person Monetary Policy Committee's central view is that the output gap amounts to about 1-1.5 percent of gross domestic product, there's a range of views among individual members.
The governor also said that when it comes to tackling the risks to financial stability -- and the economy -- from housing, the BOE's macroprudential tools are the preferred weapon.
"Monetary policy is the last line of defense against financial instability," he said. "Raising interest rates today would be the wrong response."
"The governor's speech effectively marks a reset in terms of the framing of the MPC debate," David Tinsley, an economist at BNP Paribas and a former BOE official, said in a note. Previously he'd "seemingly been at pains to keep rate-rise expectations from creeping into 2014. Last night, he removed that constraint."
Before it's here, it's on the Bloomberg Terminal.
LEARN MORE