BOJ Said to Mull Keeping Big Balance Sheet After Target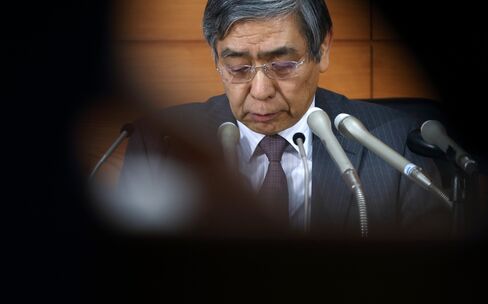 Bank of Japan officials are considering maintaining a large balance sheet for the central bank even after it achieves its inflation target, reducing the risk of a surge in long-term bond yields, according to people familiar with the discussions.
Under the potential strategy, the BOJ would use cash from maturing securities in its portfolio to buy long-term government debt, the people said, asking not to be named as the talks are private. Governor Haruhiko Kuroda and his colleagues have yet to meet their inflation target, and pledge to continue asset purchases until consumer prices are rising at a 2 percent pace.
The possibility of permanently large balance sheets -- in Japan's case, now amounting to more than half the size of the economy -- may become a global legacy of unprecedented stimulus measures. The BOJ discussions parallel preparations at the Federal Reserve to avoid an exit strategy of asset sales.
"There's no need for the BOJ balance sheet to go back to where it was," said Hiromichi Shirakawa, chief Japan economist at Credit Suisse Group AG in Tokyo and a former central bank official. "It's a realistic approach to keep the size of the balance sheet large for a while to avoid a spike in yields."
Any abrupt end to government bond purchases by Japan's central bank could send borrowing costs soaring, because the BOJ currently purchases the equivalent of about 70 percent of the new securities issued. Kuroda, 69, has repeatedly said it's too early to map out an exit strategy from stimulus.
Balance Sheet
The central bank's balance sheet has expanded to 52 percent of gross domestic product since Kuroda unleashed record easing in April 2013, compared with 25 percent for the Fed and 24 percent for the Bank of England. The BOJ held 165 trillion yen ($1.6 trillion) of long-term Japanese government bonds as of May 31.
In the U.S., Fed officials are preparing to keep their balance sheet close to record levels for years on concern that selling bonds from a $4.3 trillion portfolio could crush the U.S. recovery. Minutes of their last meeting made no mention of asset sales.
Officials worry that such sales would spark an abrupt increase in long-term interest rates, making it more expensive for consumers to buy goods on credit and companies to invest, according to James Bullard, president of the Federal Reserve Bank of St. Louis.
Government Financing
In Japan, 10-year bond yields remain the lowest in the world, trading at about 0.6 percent, even as the BOJ starts to drive inflation higher. Consumer prices excluding fresh food rose 1.5 percent in April from a year earlier, based on a BOJ estimate stripped of the effect of a sales-tax increase.
If the BOJ prolonged large-scale bond purchases after reaching its inflation goal, it would need to avoid creating the impression that it was financing government spending, the people said. Any extension of the purchases would come only after a debate, since not all of the people taking part in BOJ discussions say they would be in favor.
Declining liquidity suggests the central bank's purchases may be distorting the world's biggest debt market after the U.S. For a fourth day, the benchmark note in Japan's $9.6 trillion bond market opened late in Tokyo, changing hands almost two hours after the usual open, according to Japan Bond Trading Co., the country's largest inter-dealer debt broker.
The central bank's next policy decision will be tomorrow, with analysts projecting no change in a policy of expanding the monetary base at a pace of 60 trillion yen to 70 trillion yen per year.