Zalando, Rocket IPOs Herald Tech Startup Wave in Berlin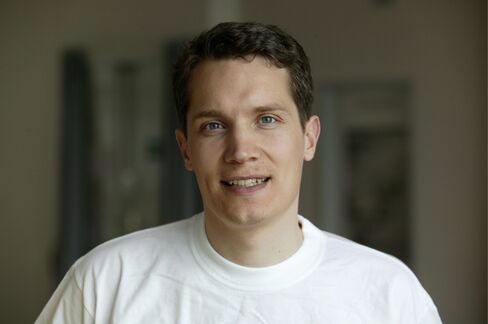 Berlin's ultra-coolness -- not to mention low rents -- has attracted a bevy of startup technology companies in recent years. Now hipster hard work might pay off with the first tech listing from the German capital since 2007.
Rocket Internet GmbH, an investor in online startups founded by Germany's Samwer brothers, and online retailer Zalando SE, backed by Rocket, are among the most high-profile companies considering initial public offerings. Zalando could be valued at about 4 billion euros ($5.4 billion) and Rocket at more than 3 billion euros in Frankfurt listings, people familiar with the matter told Bloomberg News.
Berlin may see four IPOs this year in a sign the nascent technology startup scene is starting to jell. That would be welcome news for a city with an unemployment rate of 11.7 percent, almost double Germany's average. While western German cities such as Dusseldorf, Hamburg and Munich have enjoyed postwar prosperity, Berlin has failed to reclaim the industrial base it lost after its destruction in World War II.
"Startups like Zalando have become pillars in this ecosystem and it feels like this is just the beginning," said Ijad Madisch, chief executive officer and co-founder of ResearchGate, a networking website for scientists that relocated from Boston to Berlin in October 2010.
ResearchGate, which counts Microsoft Corp. co-founder Bill Gates as an investor, is among companies considering an IPO though it has no immediate plans, said Madisch.
Rocket Shares
Other Berlin-based businesses looking at selling shares are mobile-game developer Wooga GmbH and online optician Mister Spex GmbH, people familiar with the matter told Bloomberg. Spokesmen for Wooga and Mister Spex said IPOs remain an option, though there aren't current plans to list. Representatives for Rocket and Zalando declined to comment on IPO plans.
Rocket, which calls itself the world's largest Internet incubator, has stakes in more than 75 companies. Zalando employs more than 5,000 people, and 2,000 in Berlin alone. Game maker Wooga, which was started five years ago, has more than 250 employees.
Berlin hasn't seen one of its technology companies sell shares since Internet-based financial-services company Hypoport AG's 92 million-euro IPO in 2007, according to data compiled by Bloomberg. The sale came near the end of investor appetite for the industry before the global recession.
Zalando's Possibility
Zalando, Europe's largest shoe and fashion Web retailer, could sell shares as early as next quarter, people familiar said.
The Europe STOXX 600 Technology Index has gained about 18 percent in the last year, trailing the 20 percent gains in the Stoxx Europe 600 Index.
Berlin joins cities including Madrid and Lisbon in producing an increasing number of IPO hopefuls as investors return to Europe's market on the strength of an economic recovery. Issuers have raised about $31 billion from listings in 2014, the most in that period in any year since 2011, data compiled by Bloomberg show.
"These IPOs and the general buzz about the new startup scene is certainly a step in the direction of making Berlin a center where innovators meet financiers," said Christian Schlag, professor of finance at Goethe University in Frankfurt.
Technology firms from Germany's capital looking to list stock this year typically have annual growth rates of more than 50 percent, and valuations ranging from 1 billion euros to 1.5 billion euros, said Christian Gaertner, a managing director at Bank of America Corp. in London. Frankfurt or New York would be the likely listing sites, he said, while declining to name any specific companies.
'Poor, Sexy'
In only a few years, Berlin has established itself as a top location for entrepreneurs in Germany. For every new business starting in Munich, there are 2.8 in Berlin, according to research from McKinsey & Co. published in October 2013.
Dubbed "poor but sexy" by Mayor Klaus Wowereit, the city's draw in part is its cheap residential and office rents compared with tech hubs like London. The average commercial rent in Berlin is less than a fifth of the U.K. capital's, and about 15 percent below Munich's, brokerage JLL estimates. Residential rents in Berlin were cheaper than in any other major city in Germany, according to JLL.
'Packed' Events
"Back in early 2009 when we started Betahaus, the startup scene in Berlin was pretty small and young," Madeleine Gummer von Mohl, CEO and co-founder of Betahaus, which provides office space for startups, wrote in an e-mail. "Now a few years later you can attend a startup event almost every day and it is packed with people."
In March, Berlin became the first city in the world with its own Internet domain name, according to dotBERLIN GmbH, which began lobbying for it in 2004. Companies and individuals can now request Internet addresses ending in .berlin, it said.
Investors have already pumped money into many of these companies. German and international venture capitalists invested 136 million euros in startups in Berlin in 2013, up from 34 million euros in 2009, according to data supplied by McKinsey. Berlin replaced Munich as Germany's main hub for venture-capital funding over the past three years, a trend that intensified in the first half of 2013, according to the Institute of the German Economy.
Suitors' Visits
Accel Partners, the venture-capital firm that made $6 billion from its early investment in Facebook Inc., London-based Balderton Capital and Index Ventures, an early investor in photo-sharing service Dropbox Inc., all regularly visit Berlin to meet startups, according to Hans Raffauf, co-founder of Clue, a developer based in the city of an app that allows women to keep track of their fertility cycles.
Still, lacking a financial center and grappling with high unemployment, Berlin isn't soon to replace London and New York as an international startup hub, according to Volker Breuer, co-founder and CEO at Payfriendz, a peer-to-peer mobile-payment provider that relocated from Berlin to the U.K. capital in 2013.
"In general, access to capital is much better in London," he said. "It is still going to take a while before we see that in Berlin."
"The market was dead for eight years," said Claus-Georg Mueller, CEO of Mic AG, a Munich-based specialist in financing technology companies. "Now we feel the market is ready for tech IPOs if you have a good story with some good management on board."
SoundCloud's Arrival
One company that has been the subject of IPO speculation in recent months is SoundCloud Ltd., a music-sharing social network with 10 million users. SoundCloud had been considered as a possible acquisition target by Twitter Inc. until the micro-blogging website backed out of talks, according to a Wall Street Journal report that cited a person familiar with the matter.
In the summer of 2007, SoundCloud founders Alex Ljung and Eric Wahlforss walked through the doors of St. Oberholz, a sprawling cafe in Berlin's Mitte district that has become a meeting and workplace hub for city entrepreneurs, and decided to stay, as Ljung tells it. SoundCloud has since moved on from its humble origins to offices in San Francisco and New York, along with Berlin.
"The Berlin tech scene is still growing at a fantastic rate, and what appeals to us is that the city exudes a counter-culture vibe -- a way of doing things differently," Ljung said in an e-mail.