Uber at $17 Billion? Try $5.9 Billion Instead: Chart of the Day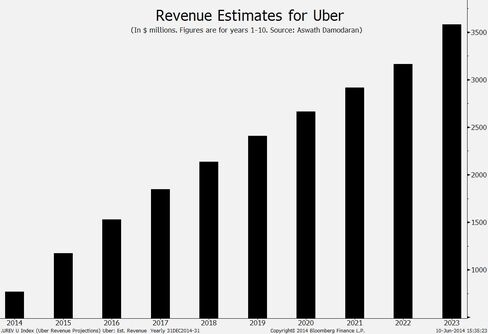 Uber Technologies Inc. may be worth far less than the $17 billion valuation in the transportation service's latest round of fundraising, according to Aswath Damodaran, a finance professor at New York University.
"The numbers seem to indicate that Uber is being overpriced," Damodaran wrote two days ago on his Musings on Markets blog. He valued the company's assets at $5.9 billion, and wrote that the figure was based on optimistic assumptions about the taxi industry's growth and the San Francisco-based company's market share and profitability.
The CHART OF THE DAY shows annual revenue projections by Damodaran, who has written four books on company valuation, for the next 10 years. The figures were based on assumptions of a $100 billion taxi market worldwide, a 6 percent annual growth rate and an Uber market share of no more than 10 percent.
Uber, which enables users to order taxis and car services from smartphones, raised $1.2 billion from investors headed by Fidelity Investments. BlackRock Inc., Kleiner Perkins Caufield & Byers, Menlo Ventures, Summit Partners, Wellington Management and the Google Ventures unit of Google Inc. participated.
"Since these investors are presumably sophisticated players, how would I explain their pricing?" Damodaran wrote. "I will not try, since I did not pay the price, but it is worth remembering that even smart investors can collectively make big mistakes, especially if they lose perspective."
The $17 billion valuation for Uber rose almost fivefold from the $3.5 billion used in a financing round last year. It also surpassed the market value of about half the companies in the Standard & Poor's 500 Index as of yesterday, according to data compiled by Bloomberg.