U.K. Unemployment Falls; Payrolls Surge to Record High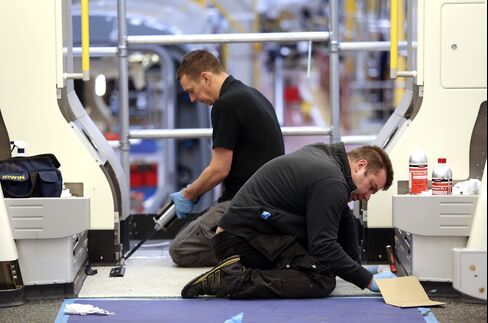 U.K. unemployment fell to the lowest level in more than five years as the strengthening economic recovery boosted payrolls by a record.
The jobless rate dropped to 6.6 in the three months through April from 6.8 percent in the first quarter, the Office for National Statistics said in London today. While employment rose 345,000, the biggest increase since records began in 1971, the data also showed wage growth slowed.
Bank of England officials have pledged to keep the key interest rate at a record-low 0.5 percent until slack in the labor market is used up. Policy makers are divided on the amount of capacity remaining, with some suggesting that the first rate increase may be approaching.
"Policy makers will no doubt want to be sure that pay growth is picking up substantially before making the first move in tightening policy," said Chris Williamson, chief economist at Markit in London. "But today's data will add to expectations the first rate hike will take place this year rather than next."
Economists had forecast that the jobless rate as measured by International Labour Organization methods would decline to 6.7 percent, based on the median of 34 estimates.
Single-month figures showed the ILO jobless rate fell to 6.4 percent in April from 6.8 percent in March.
Jobless Claims
Jobless claims, a narrower measure of unemployment, fell 27,400 in May, compared with a forecast for a 25,000 drop. It was the 19th straight decline and took the claimant-count rate to 3.2 percent, the lowest since October 2008. The ILO unemployment total fell 161,000 to 2.17 million in the three months through April from the period through January. The number of people in work rose to a record 30.5 million.
Today's report may give a boost to Prime Minister David Cameron, whose Conservative Party is trailing the opposition Labour Party in voter opinion polls with a general election in less than a year.
Wage growth slowed to 0.7 percent from 1.9 percent, partly reflecting strong figures a year earlier as bonuses payments were pushed into April to take advantage of a cut in the top income-tax rate to 45 percent. Wages excluding bonus payments slowed to 0.9 percent from 1.3 percent. That's slower than economists had forecast.
The number of people working in central and local government in the first quarter fell 13,000 from the fourth quarter to 5.22 million, the lowest level for 13 years. Total public-sector employment dropped by 103,000, reflecting the return of Lloyds Banking Group Plc to the private sector.
Carney Speech
BOE Governor Mark Carney will join Chancellor of the Exchequer George Osborne in delivering the annual Mansion House speeches to U.K. bankers in London tomorrow. The event is a traditional venue for the officials to announce economic policy, and they'll be speaking at a time when rising house prices are raising concern on the strategy to leave the key rate unchanged.
Investors are betting the BOE will make its first rate increase before the election. Derivatives known as Sonia contracts indicate the Monetary Policy Committee will begin tightening policy by April.
"Over the next few months we're expecting the rate to head down, possibly to 6 percent," said Stuart Green, an economist at Santander SA in London. "We're looking for the first rate increase to come in November, and a big part of that is the strengthening in the labor market."