Ross's $678 Million Gain Leaves Irish Bank Chasing Growth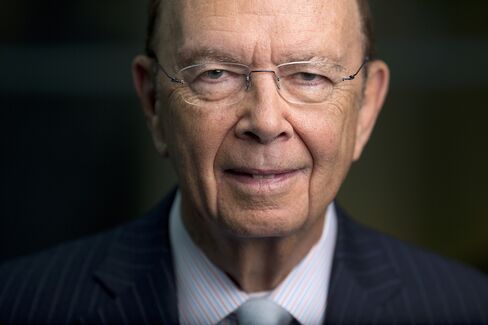 June 11 (Bloomberg) -- As U.S. billionaire Wilbur Ross exits Bank of Ireland Plc with a 500 million-euro ($678 million) profit, he leaves a financial industry struggling to grow.
Ross, part of a group of investors that helped rescue Ireland's biggest bank in 2011, sold his remaining shares at 26.5 euro cents each this week. While that compares favorably with the 10 cents he paid three years ago, it's 20 percent below the price at which he began selling his stake in March.
"The sale of Ross's remaining stake, giving up a board seat which he held for just under three years, reinforces our view that there remains little in the way of incremental positive catalysts on the horizon," said Scott Sheridan, an analyst at Nomura Holdings Inc. in London, who yesterday cut his price target on the stock to 28 cents from 30 cents.
Ireland's troubled recent economic history is bound up with 76-year-old Ross. His investment started as Moody's Investors Service cut the country's credit rating to junk following a bailout from the European Union and International Monetary Fund and ends six months after it completed the rescue program.
Irish banks are past the stage where their existence is in jeopardy. The difficulty now, like in Spain and Italy, is increasing loans and rebuilding profit as borrowers focus on paying debt after the worst Irish recession since records began in 1948. The three surviving banks' loan books shrank 45 percent to about 176 billion euros over the past five years.
Bank of Ireland fell 2.2 percent to 27 cents as of 8:37 a.m. in Dublin trading, with Finance Minister Michael Noonan telling lawmakers late yesterday that he has "no current plans to start selling" the government's 14 percent stake.
Confidence Vote
In July 2011, eight months after losses at banks forced the country to seek a bailout, Ross and a group of investors paid 1.1 billion euros for a 35 percent stake Bank of Ireland. At that time, yields on 10-year Irish bonds were 14.2 percent.
"It is worth recalling that the state secured this investment for Ireland at time when few others investors were prepared to invest," Noonan said in parliament. "Slowly but surely our reputation has been restored and Mr. Ross's investment has been followed by billions of euros worth of investment from others."
Ross's wager paid off. With the yield on 10-year government bonds declining -- it's at 2.42 percent today -- Ireland exited its bailout program in December.
Shares in Bank of Ireland, led by Chief Executive Officer Richie Boucher, have almost tripled since Ross invested and he decided it's time to exit as he puts money into companies elsewhere, including Greece's Eurobank Ergasias SA.
"This has been a terrific investment for us," Ross said in an e-mail response to questions two days ago, without saying how much he made. "I have every confidence that Richie Boucher and his team will continue to do a great job."
Loans Shrink
Ross's profit was calculated by Bloomberg from company filings showing his purchases in 2011 and sales this year and don't include costs and fees. Bank of Ireland spokeswoman Anne Mathews declined to comment beyond the bank's statement on June 9 confirming Ross's exit and giving up his board seat. Boucher wasn't available for interview, she said.
The move by Ross comes as the recovery starts to lose some momentum and lending continues to contract after banks transferred risk commercial real estate loans to the government's bad bank and set aside money to cover losses. Outstanding loans to Irish households fell almost 4 percent in the year through March, the central bank said this week.
Bank of Ireland's loans shrank to 83.3 billion euros in the first quarter from 84.5 billion euros in December. Boucher, who is aiming to increase loans to 90 billion euros, said in March it is "hard to call" when loans will begin to grow again.
Margin Expansion
Bank of Ireland widened the difference between the rate at which it borrows and lends to customers in the past two years to 2.05 percent from 1.20 percent as it cut deposit rates and increased costs for existing borrowers where possible.
Boucher said in March that future margin growth will be driven by pace at which it can lend.
Last week, the European Central Bank cut its benchmark rate to a record 0.15 percent, meaning more losses for Irish banks on tracker mortgages because their own costs of funding the loans surpass borrowers' repayments, which are linked to ECB rates.
David Duffy, CEO of rival Allied Irish Banks Plc, said in May he probably won't see net loan growth until the end of 2015. Spokeswoman Niamh Hennessy said he wasn't available yesterday.
"As Ross leaves, one of the biggest challenges left facing Irish banks is how to reignite net loan growth whilst expanding net interest margin," said Ciaran Callaghan, an analyst at Merrion Capital in Dublin, who has a hold rating on the stock. "This is a particularly difficult task given that Irish domestic deleveraging still has a long way to run."
Enough Capital
For now, though, it looks like Irish banks won't need more capital. In all, the state had to inject 64 billion euros into the financial system after the real estate bubble burst in 2008, tipping the nation into a bailout.
While Irish banks face a third round of European stress tests since 2010 this year, Boucher said on March 3 "we don't think it's probable" the lender will need more capital. AIB's Duffy said last month that he doesn't expect the bank, 99.8 percent state-owned, to need further capital.
"Irish banks are past the existential stage of the crisis, where people were wondering whether they were going to survive," said Philip O'Sullivan, an economist at Investec Plc in Dublin. "The new phase, working out how they are going to generate new loans and build their income will take time."
To contact the reporter on this story: Joe Brennan in Dublin at jbrennan29@bloomberg.net
To contact the editors responsible for this story: Edward Evans at eevans3@bloomberg.net Dara Doyle, Rodney Jefferson