How I Got My 15 Minutes of Fame at Cannes Film Festival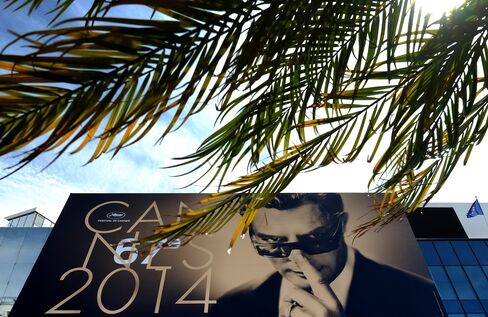 The eyes of Marcello Mastroianni seemed to follow me everywhere. His photo adorned the poster for Cannes 2014 and gave the Palais and the Croisette, the center of the Cannes Film Festival, an elegant, almost Oz-like quality.
I went to Cannes because my short film, "Here's Lookin' at You, Kid" -- a spoof of "Casablanca" -- had been chosen for the Cannes Short Film Corner. And while this honor gave me great standing among my friends, in Cannes this was no big deal. Because, you see, almost everyone you meet there has made a film, usually on a much higher level.
In Cannes, a caste system is in place. Movie stars, of course, are on top, followed by directors, producers, dealmakers. Almost as soon as I arrived in the seaside French resort, I realized I was occupying one of the lower rungs -- the Gallic equivalent of chopped liver. From inside the Palais, the bunkerlike complex where festival screenings are held, came a distinct chilliness.
Still, the glamour and the glitz! The celebrity sightings on the Croisette, the palm-lined boulevard by the beach! The bubbles rising from a thousand bottles of expensive Champagne! I know all of that was happening, though in a universe that seemed to run parallel to mine.
How I came to be at Cannes seemed surreal in itself. I'm an editor at Bloomberg News who had never said "Cut!" or "Action!" before making this short, though I had longed to ever since I was a film student at New York University and the University of Paris.
After winning an award for a short script, I made an existential decision. I seized the day. (Full disclosure: Producing and directing a film on practically no money is exhausting and terrifying. Also really fun.)
Movie Stars
The Cannes Film Festival was created in 1939 by Louis Lumiere, one of the world's first directors. Yet it didn't really get into full swing until a year after the war ended, in 1946. Movie stars like Brigitte Bardot, Cary Grant and Sophia Loren started coming in 1950s, creating the sense of glamour that still endures.
The intellectuals also started coming. In 1959, Cahiers du Cinema critic Francois Truffaut's first feature film, "The 400 Blows," had its debut there. Fellow Cahiers critic Jean-Luc Godard traveled to the festival that year to ask Truffaut if he could use a story about a car thief they had both collaborated on. That would become "Breathless," and though it didn't win any awards at Cannes in 1960, it would change movies forever.
Godard's new film, "Adieu to Language," won the Jury Prize this year, along with wunderkind Xavier Dolan's "Mommy." Godard didn't attend. Instead, he sent an elaborate filmed message about why he hadn't.
Red Carpet
While I had no hopes of winning any prizes, I did have a certain dream, not really for making a deal for my film -- although, of course, that would have been grand -- but of making the scene, walking the red carpet up the Palais steps, wearing the fancy dresses I had brought from RenttheRunway in New York.
The philosopher Ralph Waldo Emerson once wrote to "beware of all enterprises that require new clothes." For this adventure, I had amassed a terrifyingly large pile of shoes and evening clothes I thought I would need for these events.
I was getting shut out of everything. And I wasn't the only one. Desperate souls lined the street outside the Palais, holding signs with the words "Mommy, Invite Please!" (referring to Dolan's film) or "Clouds of Sils Maria!! Please I need an invitation!" (referring to Olivier Assayas's entry starring Juliette Binoche and Kristen Stewart). This scene would be repeated every night for every premiere.
Uninvited Tuxedos
They would stand there outside the Palais all dressed up in their tuxedos and evening dresses, with their sad signs begging for invitations. Very few, if any, seemed to get them. They were the lowest caste at Cannes, the Uninvited. And, unfortunately, I was one of them. I was getting shut out of every red-carpet event.
Getting tickets to these premieres is like a lottery, and unless you know someone important it's almost impossible. The people with the most coveted badges, which are white, get first pick. I had a blue badge. Whenever I went to sign up, the computer would tell me to come back at some obscure time in the evening. And when I did, it was all over.
Still, it was magical. Sometimes I felt like Dorothy Gale of Kansas who had been blown into Oz. At other times like Alice in a Wonderland where everything revolved around movies.
And it did.
No Sleep
It may sound strange to say, but the Cannes Film Festival can be an arduous experience. Physical needs are discounted. You shouldn't have to eat or sleep -- just a quick gulp of water or maybe a puff of a Gauloise. Then you're set for the next film. A war-weariness sets in. Still, you don't dare pull back and rest, because there's always the next film that could change your life.
And I saw some beauties. Michel Hazanavicius's "The Search," "Clouds of Sils Maria," "Bridges of Sarajevo" and the Dardenne brothers' latest, "Two Days, One Night," with Marion Cotillard, were all standouts.
The Short Film Corner at Cannes is an offshoot of the official shorts competition. While it doesn't offer prizes, it gives you a chance to show your film -- and meet people who might be able to help. As an invitee to the Short Film Corner, you're offered 15 minutes and a small screening room. I picked Friday at 12:45 and took the biggest room -- about 12 people. I worried about how I would fill the space, knowing nobody. The young woman booking the room wasn't very helpful.
"You just invite people," she said, "and hope they show up." She said it in French. It sounded more ominous that way.
Faced with filling the room, I reassured myself with the thought: Go big or go home.
Late Arrival
On the morning of the screening, I hadn't asked for a wakeup call. Still jet-lagged, I lay there in my hotel room, fantasizing about what I should wear when I showed my movie. But I had misjudged the time. It was already noon, and I knew there would be no second chances.
I grabbed the first clothes I saw and ran almost a mile to the Palais. Disheveled, sweating, wearing little makeup and caffeine-deprived, I arrived for my premiere. So much for the fancy dresses.
Yet there were actually people there to see the film! Some even applauded and laughed in all the right places. Some even compared it to the comedies of Mel Brooks. Magic!
Closed Doors
That night I wanted to celebrate, though all the parties were invitation-only. I heard about a party at a villa up in the hills. It would cost 80 euros in taxi fare to get there and back. I heard the Mexicans were having a party over at their Pavilion. I wandered over and heard "Oles!" yet the doors remained firmly closed. I considered going to the Gotha nightclub, but I couldn't face the velvet rope.
In the end, I went to Cinema on the Beach, where they were showing "Pulp Fiction." Quentin Tarantino, Uma Thurman and John Travolta were in town for the film's 20th anniversary. I stood there smoking Gauloises and trying to look cool. Later, I put on my super high heels and some false eye lashes and sat at the bar at Fouquet's, drinking Champagne. I saw Tommy Lee Jones, but I don't think he saw me.
(Karen Goldfarb is an editor on Bloomberg's media monitoring desk and a self-described cinephiliac.)
Before it's here, it's on the Bloomberg Terminal.
LEARN MORE