H&R Block Net Income Advances 35% as Higher Prices Boost Revenue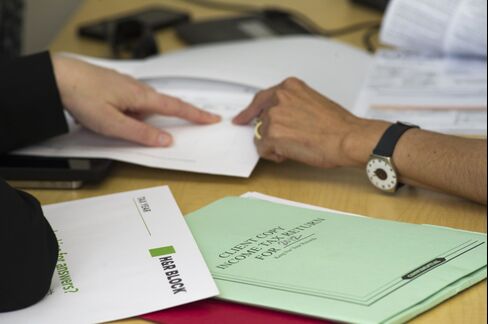 H&R Block Inc., the biggest U.S. tax preparer, said fiscal fourth-quarter profit rose 35 percent as higher prices for its services and more online business boosted revenue.
Net income for the period ended April 30 climbed to $929.1 million, or $3.36 a share, from $688.9 million or $2.51, a year earlier, the Kansas City, Missouri-based company said today in a statement. The average estimate of eight analysts surveyed by Bloomberg was for adjusted profit of $3.23 a share.
H&R Block, led by Chief Executive Officer Bill Cobb, agreed to sell its banking unit in April to exit Federal Reserve oversight and focus on tax preparation. Quarterly revenue climbed 16 percent to $2.56 billion from a year earlier even as company handled 2.6 percent fewer tax returns in the U.S. during the 2014 filing season, according to the statement.
H&R Block gained 0.4 percent to close yesterday at $30.73 in New York. The shares have climbed 5.8 percent this year, just beating the 5.5 percent advance of the Standard & Poor's 500 Index.