Graham Defeats Six to Win South Carolina Republican Senate Race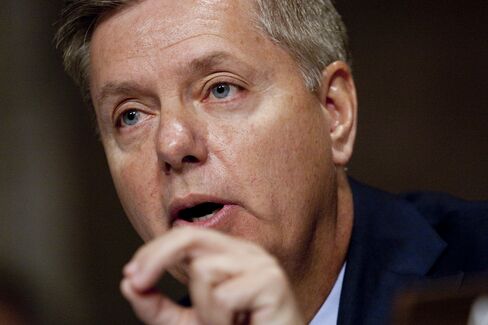 U.S. Senator Lindsey Graham of South Carolina won nomination to a third term in yesterday's Republican primary, defeating six opponents who had criticized his support for revising immigration laws.
With 98 percent of precincts reporting, Graham had 56.3 percent of the vote, according to the Associated Press tally. He needed at least 50 percent to avoid a runoff. Graham's closest challenger, Lee Bright, had 15.5 percent.
Graham's opponents attacked him for supporting a bill the Senate passed last June to revise U.S. immigration laws. That measure, which stalled in the House, called for $46.3 billion in border-security measures while creating a path to citizenship for the estimated 11 million undocumented immigrants in the U.S.
"Immigration is a problem that's not gonna get fixed by yelling about it," Graham said at a June 7 candidate debate in which he weathered attacks on the issue.
Graham, 58, is favored to win November's general election in a state that leans Republican. He has been a leading critic of the Obama administration's handling of the deadly 2012 attacks on a U.S. mission in Benghazi, Libya.
He will face Democrat Brad Hutto, 56, a state senator who won his party's two-candidate primary with 77 percent of the vote in the AP tally.
Before it's here, it's on the Bloomberg Terminal.
LEARN MORE