Student-Loan Debt Burden Takes Center Stage in Washington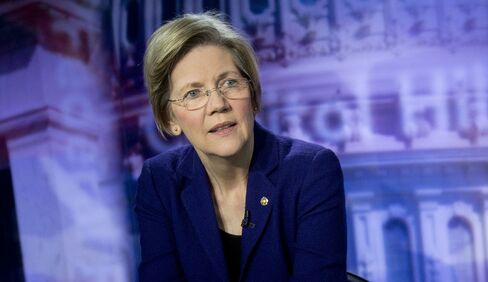 Jennifer Day spends 12 percent of her monthly take-home pay on debt that funded a master's degree in urban and regional planning, money she'd rather be saving toward a home.
"I spend $364 a month for student loans," said Day, 33, who conducts market research for the hospitality industry at a consulting firm in New Orleans. "To me, that is a down payment or ultimately savings down the line."
Under legislation sponsored by U.S. Senator Elizabeth Warren of Massachusetts, Day would save about $75 a month on her payments. The bill, which could come up for a vote on the Senate floor as soon as tomorrow, would let 25 million borrowers with federal and private loans refinance their balances at lower interest rates, according to Education Department estimates.
Alleviating the burden on student-loan borrowers, who have amassed more than $1.2 trillion in debt, has been a focus this week for Democrats such as Warren, concerned about the drag on the economy as young people avoid buying homes or cars or starting a business.
"That makes this an emergency situation," Warren said today on Bloomberg TV.
President Barack Obama issued an executive order yesterday to expand a program easing student-loan payments. He also endorsed Warren's bill, which would help former graduate students like Day, whose federal loans typically carry higher rates than those on undergraduate loans, with some as high as 8.5 percent.
Five Republicans
The bill, co-sponsored by Democratic senators including Al Franken of Minnesota and Dick Durbin of Illinois, would be paid for by imposing new taxes on wealthy individuals. It would let borrowers refinance using 2013-2014 interest rates set for their type of loan. For example, someone who took out an undergraduate Stafford loan in the 2011-2012 year at a 6.8 percent interest rate could refinance at the 2013-2014 rate of 3.86 percent.
To advance the measure, Democrats would need the support of at least five Republicans. Democrats control 55 seats in the 100-member chamber and 60 votes are needed to move it forward. Senator John Thune, a South Dakota Republican, said he has concerns about the bill, including that it doesn't help current or future college students.
"The thing that people who have college debt need right now more than anything is a good job," said Thune, the third-ranking Republican in the Senate. That's where Congress should focus its attention, he said.
Tax Increase
Senate Republican Leader Mitch McConnell advised members against supporting the bill, calling it a "tax increase styled as a student-loan bill."
Warren deflected the criticism:
"If you have another idea, bring it forward," Warren said in the interview. "We've got to find a way to bring the interest rates down."
Day, the consultant, is already enrolled in one federal program that lets her pay less each month by stretching out her payments to 25 years. Her loans have interest rates of 6.8 percent and 7.9 percent. She's rarely missed a payment, yet her balance of $46,749 has barely budged from when she graduated four years ago because most of her payment goes toward interest. Day had no debt from her undergraduate years at the University of Wisconsin-Eau Claire.
Eligibility Widened
Under a different program, the 2010 "Pay as You Earn" law, borrowers make repayments of no more than 10 percent of their monthly income. The benefit applies to those who started borrowing after October 2007, shortly before the recession began. Obama's executive order would widen the eligibility to people who took out loans before then. The new rules, which would affect an additional 5 million borrowers, would begin in December 2015, according to the White House.
"While most students are able to repay their loans, many feel burdened by debt, especially as they seek to start a family, buy a home, launch a business, or save for retirement," the White House press office said in a statement.
Senator Warren sat in the front row yesterday as Obama announced his student-debt plan at the White House.
Mary Kate Brunell said she has a good job working for a government contractor in Washington, yet said she's constrained by the $108,000 she carries in student debt, mostly for a graduate degree in public administration from Columbia University in New York.
Her largest single loan of $45,000 at an 8.5 percent interest rate is killing her ability to move forward, Brunell, 31, said.
"You can get a mortgage for half of that interest rate," said Brunell, who wants to pay off her debt before starting a family. "It definitely impacts decisions, big and small."
"While I don't regret the decision to go to school, my student loans constitute long-term financial slavery," Brunell said. "I don't think any 18-year-old is fully prepared for the daily impact of actually paying them off."